You must try this delicious low carb banana bread recipe! This recipe uses almond flour and real bananas! It has keto option too!
Note: adjust the amount of bananas for your desired diet.
Banana is available all year round so I always make sure there's a banana on the table every day. I usually use bananas for my daily smoothies. See my 13 favorite smoothie recipes here.
I was in the mood to make something different for breakfast and banana bread recipe is the easiest recipe I found online.
It is shocking to know how healthy minded people are nowadays. A simple banana bread recipe can now have several healthy versions like low carb, sugar-free, gluten-free, keto, paleo etc.
So joining the hype, this recipe is a low carb banana bread. I also call this almond flour banana bread, because instead of regular flour, almond flour was used. This low carb bread recipe is an amended version of this original keto bread recipe.
Stevia is my sugar substitute. The original recipe does not have this, I was kind of worried that it will taste bland, so I added stevia. This is totally optional though.
Ingredients you need to make low-carb banana bread
For this recipe, you need the following ingredients that you usually have in your fridge and pantry.
Bananas - (depending on you diet, adjust the amount or number of bananas or use

banana extract

if you're worried about your diet goals)
Eggs - there are a lot of egg varieties in the grocery so choose whatever you like
Almond flour - this kind of flour is quite expensive by the way, but if you're serious about following a low carb diet, the benefit outweighs the cost. You may also mix in some coconut flour (1 3/4 cup almond flour and 1/4 cup coconut flour)
Olive oil or coconut oil. Fat source and oil is important to make the bread tender and easy to slice.
Sweetener, sugar substitute but for this recipe I used

stevia

. A word of warning, if you used too much stevia, expect a bitter or salty aftertaste. 1 cup of sugar is equivalent to 1 teaspoon stevia powdered extract. Visit

this chart

for the conversion.
Walnuts or pecans or any nuts of your choice or no nuts at all if you are allergic to them (optional)
For extra added aroma, you can also add vanilla extract and cinnamon (optional)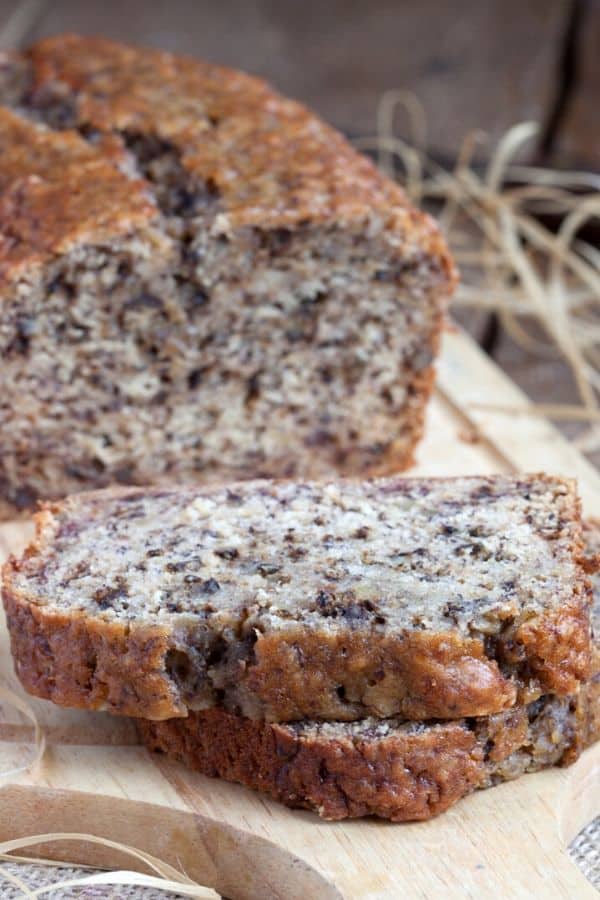 What I love about baking is that you can experiment and adjust the number of ingredients for your desired diet or taste.
In my chemistry class in high school, my teacher told me that in order to achieve an exact level of consistency, combine the dry and wet ingredients separately first before combining everything together.
How to Make Low-Carb Banana Bread
So for the method of baking for this recipe, combine the eggs, bananas, oil together.
Then separately combine the flour, baking soda and stevia. To make a batter, combine the two mixtures together. Pour in a loaf pan and fold some nuts of choice if desired.
The baking process for this recipe is usually 60-75 minutes but if you decided to adjust the ingredients, check your oven once the baking reached 30 minutes.
If it's not fully baked, continue baking but check if it's cooked every after 15 minutes. Do a toothpick test, if the toothpick comes out clean then it's cooked.
If baking in a muffin pan, bake for 18-20 minutes.
Some Notes
Use an oven thermometer to get the right temperature when baking. Do not follow the automatic preheating timer of your oven. If you don't have an oven thermometer, preheat your oven atleast 15 minutes.
If you do not want real bananas on your banana bread, use

banana extract

(2tsp).
For me, this recipe is the best keto bread recipe because of how it's easy and quick to do plus it is so healthy too.
(UPDATED 2020)
***Nutrition Facts is based on 1 piece of banana ingredient. To calculate the net carbs according to healthline, just subtract the fiber from the total carbs. So this recipe has 4.1g net carbs per slice.
Let me know how it went for you by writing your comments below.
If you love bagels, try my version of KETO BAGELS RECIPE!!!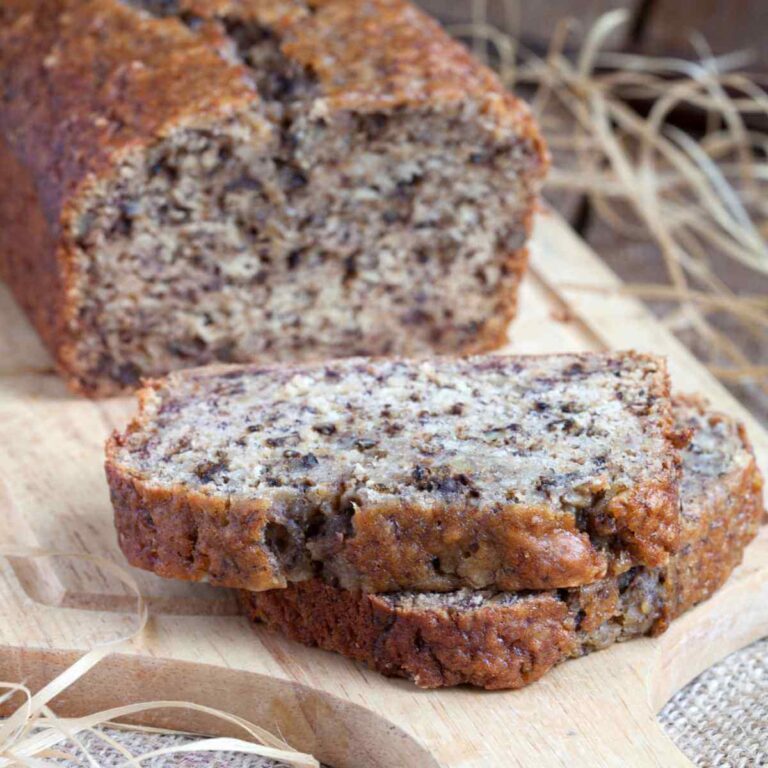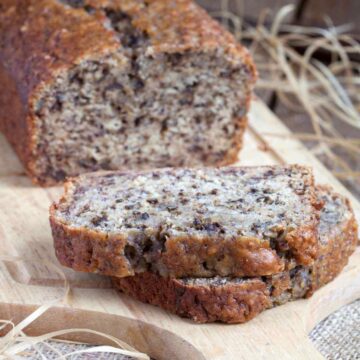 The Best Low Carb Banana Bread (keto-friendly)
This banana bread recipe is the best low carb bread recipe. If you are looking for an easy and healthy bread recipe, you should never miss this low carb banana bread or almond flour banana bread.
Ingredients
1-3

medium overripe banana, mashed

for keto option: use 2 teaspoons banana extract

3

large

eggs

2

cups

almond flour

1/4

cup

olive oil or coconut oil

1

tsp

baking soda

1

tsp

pure powdered stevia

or more depending on your sweetener

1/2

cup

walnuts

(optional)

1

tablespoon

oil ( for spraying/greasing the pan)
Instructions
Preheat oven to 350 degrees F.

In a food processor or a bowl, add eggs and beat. Add mashed banana. Add olive oil. Mix.


In a separate bowl mix together the almond flour, baking soda, and stevia.


Combine the two mixtures together until well blended. Toss in the walnuts.


Spray/grease the loaf pan with coconut oil and pour batter. You may also use parchment paper if you don't like greasing your pan.

Bake for 45-60 minutes. Use a tester or a toothpick, if it comes out clean then it's baked well. If making muffins, bake for 15-20 minutes.
Notes
***Mine was baked for 60-70 minutes but some testers were able to bake it to half the original cooking time posted. So bake for 30-35 minutes minimum.
***Cooking time depends on the number of bananas you used, so if you put only 1 banana, bake for 30-35 minutes minimum.
***Nutrition Facts are based on 1 pc banana ingredient. To calculate the net carbs according to Healthline, just subtract the fiber from the total carbs. So this recipe has 4.1g net carbs per slice.
Other breads in the blog you'll surely love:
Don't forget to share!