Learn how to decorate your very own turkey cupcakes for Thanksgiving with these easy turkey cupcake ideas.
They will make your Thanksgiving table bright and festive! Though these are called turkey cupcakes, there is no actual turkey on these desserts.
Obviously, I love cupcakes. If you're going to make a search within my blog, you'll find every kind of cupcakes, from keto cupcakes to fall-inspired cupcakes.
Cupcakes just go with any season or occasion. So once you're done with the Thanksgiving dinner, serve these cute Turkey-inspired cupcakes.
Decorating turkey cupcakes is easy and is a fun activity with the kids and the kids at heart.
And if you're looking for ideas, look no more because below are 25 turkey cupcake ideas you can easily whip up.
How to Make Turkey Cupcakes?
The very first thing you need to do is bake the cupcakes (recipe at the very bottom of this post). You can choose to bake from scratch or make do with store-bought cake mix. Feel also free to go for whatever flavor you like whether it's vanilla, chocolate or red velvet.
The fun part of making this cupcake does not happen until the decorating part. You will need:
Buttercream frosting and icing
Decorating Kit
Food coloring - red, yellow orange, brown, white
Candies, chocolates and cookies

candy corn
m&ms
reese's pieces
nutter butter
oreo cookies
hershey's kisses
chocolate sprinkles
chocolate bars
Note: This post contains affiliate links, I earn commission for qualifying purchases.
25 Turkey Cupcake Ideas
To decorate this turkey topper you will need fudge stripe cookies, oreo cookies, candy corn and M&M's chocolate. It'll also be easier if you have Wilton Turkey Cupcake Decorating Kit on hand.
These turkey cupcake idea is made up of pretzels, m&ms, candy corn and edible googly eyes.
The feathers and the eye are made of reese's pieces and the beak is made of hershey's kisses chocolates.
If you like to make your cupcake literally look like a real turkey, this recipe is an eye candy.
These cupcakes' feather frostings are just adorable. Watch the video for piping tips.
To make this cupcake, you will need chocolate sprinkles, chocolate pudding, candy corn, candy eyes and reese's pieces.
So creative and unique turkey decoration using oreo cookies, whoppers, peanut butter cups, candy corn, icing.
You will need Wilton No. 103 piping tip to decorate this bright and festive fall-inspired turkey cupcakes.
A delicious combination of pumpkin cupcakes, caramel frosting, and ginger cookies, this turkey will be gobbled up in no time
The easiest recipe in this line up, top your cupcake with chocolate frosting and decorate with candy corn and candy eyes to make a turkey face.
Gobble gobble up these adorable chocolate turkey cupcakes stuffed with caramel.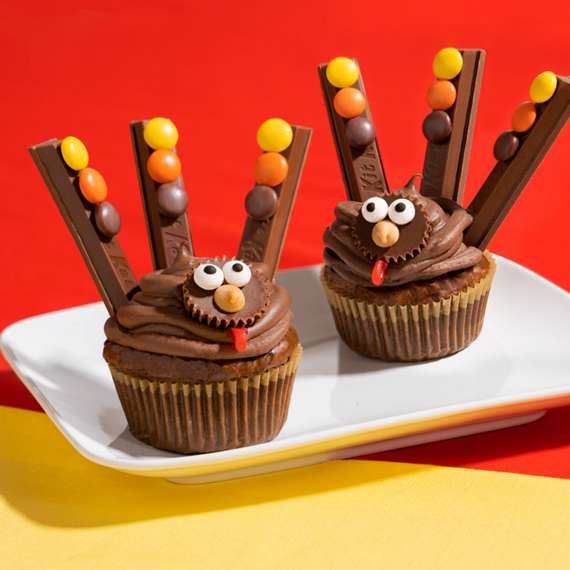 These decorations on these turkeys are made completely with colored frosting and special icing tips. You will need three cake decorating tips – a single pointed end, large single end (like #3 and #12) and a flat leaf opening tip such as a #103.
How adorable are these cupcakes? It's not the usual turkey decoration you'll see, it features the backside of a turkey. So cute and funny.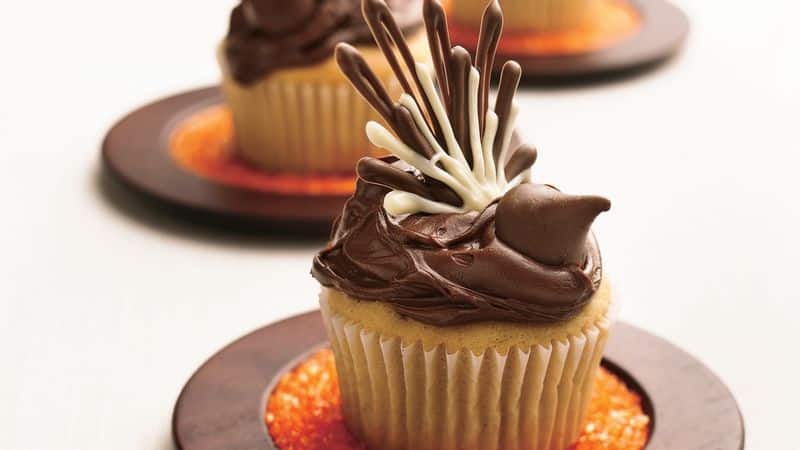 This cupcake decoration will make your kids busy. It's a fun and creative looking turkey using nutter butter, oreo cookies, sprinkles, airheads and candy corn.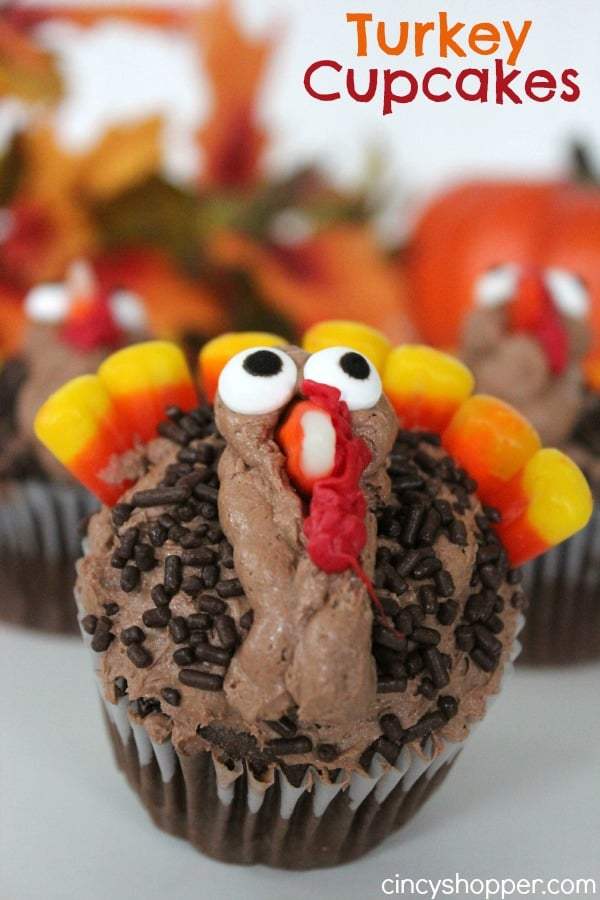 If you like to send dessert gifts this thanksgiving and Christmas, this turkey cupcake is a great surprise.