Keto chicken recipes that are juicy, healthy and full of delicious goodness!
You will never underestimate the protein power of chicken again when it comes to your ketogenic diet once you tried these recipes.
Chicken is a very good source of protein for keto eventhough it is said to be too lean for this diet, but when you pair it with the right ingredients, you'll get a well-balanced and keto-compliant meal.
The best part to use in a keto chicken recipe are the chicken thighs and wings especially with their skin on.
Moreover, chicken skin has natural fats and gives more flavor to your recipe.
Browse on this link for more keto/low carb recipes!
Keto Chicken Recipes for Dinner
If you are on the look out for easy and quick keto chicken recipes for dinner or snack, here are 13 yummy recipes for your reference.
1. Spinach Avocado Chicken Burgers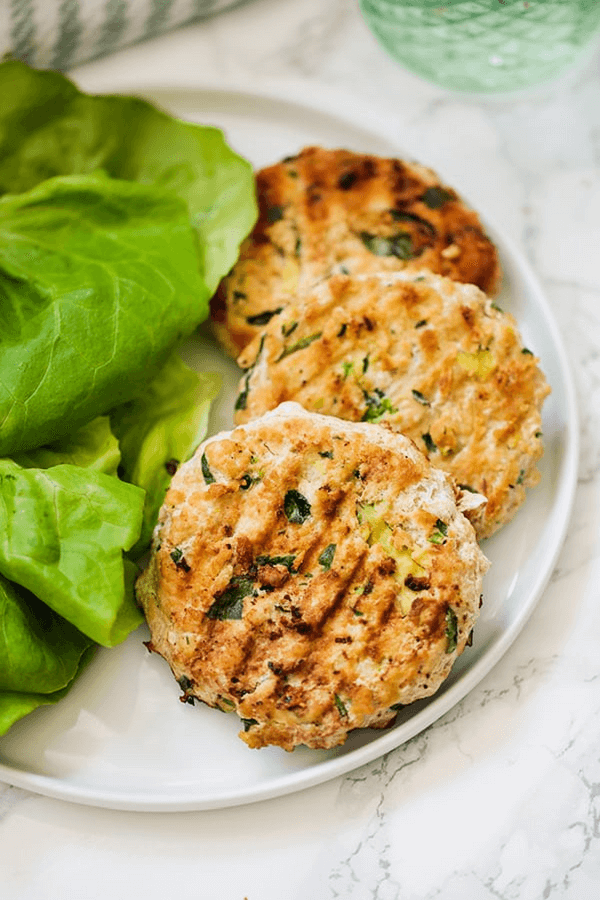 Image Credit to unboundwellness.com
These spinach avocado chicken burgers are easy to make and feature hidden veggies!
The patties are made up of ground chicken, coconut flour, spinach and lime.
For an extra flavor some spices are also added like onion, garlic and salt.
Avocado mayo dip is the fat source of this recipe.
2. Keto Chicken Florentine In A Skillet
Image Credit to emilyenchanted.com
A keto chicken parmesan recipe perfect for dinner any iron skillet newbie can make!
The richness and creaminess of this keto chicken thighs are simply the best giving the meal an extra special flavor which a perfect blend of parmesan cheese, heavy cream and italian seasoning.
3. The Chicken Club Salad With Ranch
Image Credit to theorganickitchen.org
This keto chicken breast recipe is a complete meal because of the added bacon, avocado and veggies that compliments the chicken
The ranch dressing is homemade that's why hovering to the recipe link will let you know on how to do both.
4. Best Keto Fried Chicken
Image Credit to savorytooth.com
This keto chicken tender recipe is just crispy and crunchy, made with boneless and skinless thigh meat "breaded" in almond flour and lots of parmesan cheese!
5. Chicken Crust Pizza With Veggies
Image Credit to berrymaple.com
Fear no more of not having pizza on a keto diet. This recipe is the answer. The crust is made of ground chicken and the secret always is to put generous amounts of cheese.
6. West African Groundnut Spicy Chicken Soup
Image Credit to recipesfromapantry.com
This popular stew dish local to West Africa is a thick and creamy combination of peanuts, spices and chicken.
7. Low Carb Sweet Chili Chicken
Image Credit to mypcoskitchen.com
Super crispy chicken using egg white protein powder to coat the chicken and Thai sweet chili sauce.
Top with seasame seeds and some veggies, this is a mouth-watering recipe.
8. Low Carb Crock Pot Chicken Fajita Soup
Image Credit to eatingonadime.com
A keto chicken recipe cooked in a crockpot using chicken breast.
This recipe is full of flavor and low carb that any family member will surely love.
9. Sheet Pan Chicken Fajitas
Image Credit to greenandketo.com
This recipes is perfect if you are looking for a quick dinner to prepare. It's easy to assemble by just putting everything all at once in a sheet pan.
Chicken thigh as the base meat and for an extra kick add peppers and onions to the mix.
10. Air Fryer Chicken Breast Recipe
Image Credit to wendypolisi.com
They will never know that this crispy and juicy keto chicken recipe isn't traditionally fried.
One of the best thing about this recipe is you can make it ahead and as always parmesan cheese is what makes this chicken flavorful.
11. Low Carb Chicken Parmesan With Zoodles
Image Credit to mamabearscookbook.com
Once you try this recipe with zucchini noodles as the base pasta, you will never miss pasta again.
12. Lemon Chicken With Mint Gremolata And Bacon
Image Credit to tastingpage.com
Bacon makes everything better, especially in this flavorful lemon chicken dish! Experience a Mediterranean feel this recipe brings because of its ingredients - mint, garlic, lemon, nuts and anchovy.
13. Keto Buffalo Chicken Meatballs
Image Credit to thesoccermomblog.com
Insanely easy recipe with only 1g of carb per serving! This meatball recipe is made of ground chicken, almond flour, butter and onion.
Just mix everything together and toss in the oven. To make the dipping sauce, just combine hot sauce with butter and pour in the baked meatballs.