The best volume eating recipes for when you want to eat more while keeping your calorie intake low. These recipes are larger in portion and nutrient-dense but with fewer calorie counts, helping you maintain a healthy lifestyle.
They will keep you full and satisfied for longer, reduce your hunger and cravings, and increase your intake of fruits and vegetables.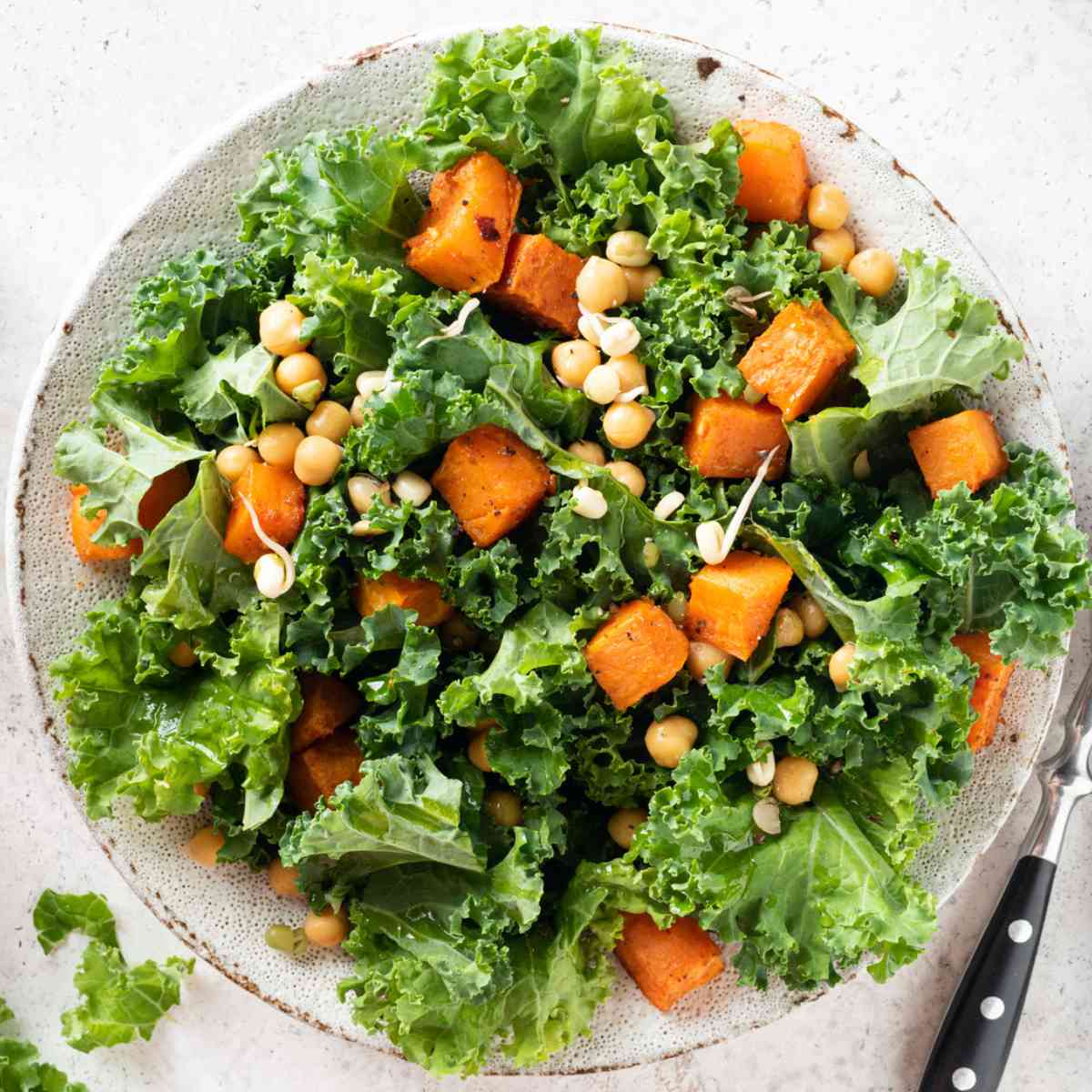 What are the ingredients for volume eating recipes? Include ingredients packed with fiber and water, and are high in nutrients but low in calorie density when making these dishes.
Some examples of high-volume foods are:
Leafy greens like kale, spinach, romaine lettuce
Cruciferous vegetables like broccoli, cauliflower, brussels sprouts
Fruits like watermelon, berries, apples
Root vegetables like sweet potatoes, carrots, beets
Fiber-rich whole grains like quinoa, brown rice, barley
Legumes like lentils, chickpeas, black beans
Lean proteins like turkey, chicken breast, fish, tofu
Soups and broths
Here are some of my favorite high volume low calorie meals that are nutritious and delicious.
Find recipes for breakfast, snacks, lunch, and dinner. From salad bowls and soups to omelets and stir-fry, there is a volume-eating recipe you can eat any time of the day.
So, let's dive in and explore some tasty options to help bulk your meals without bulking up your waistline.
Calorie per serving: 222kcal
What to love about it: sweet and savory, easy one-skillet recipe
A breakfast recipe that will make your day! This dish is loaded with your favorite breakfast ingredients like bacon and eggs plus sweet potatoes and vegetables.
Calorie per serving: 402kcal
What to love about it: Ready in 10 minutes, gluten-free, vegetarian
Simple yet powerhouse breakfast with leafy spinach, hearty mushrooms, and fluffy eggs.
Calorie per serving: 204kcal
What to love about it: a healthy kind of sweet
A delightful breakfast with peanut butter drizzle and chocolate toppings. The secret to this high-volume meal is water. Add more water to the oats to make them grow and fluffier.
Calorie per serving: 132kcal
What to love about it: rich in antioxidants, fiber, and probiotics
Looking for a light lunch or a healthy snack? This salad is only 132kcal per serving. If you're tired of the same old fruit salads, this mixed berry fruit salad recipe is sure to shake things up. It's like a berry-licious party in a bowl of some juicy, fruity fun.
Calorie per serving: 309kcal
What to love about it: all your favorite wrap fillings inside a lettuce
It's a club sandwich but way cooler! This wrap offers a delicious and healthy alternative to traditional high-carbohydrate sandwich options. It features a tender and juicy turkey breast, crisp bacon, and ripe tomatoes all wrapped in lettuce!
Calorie per serving: 214kcal
What to love about it: Perfect for snacking, adding to salads, or even using as a crunchy topping for soups and stews
It's time to trade that unhealthy overprocessed bag of chips for these tiny but powerful legumes called chickpeas! Roast them and add different spices as desired.
Calorie per serving: 237kcal
What to love about it: gluten-free!
They come in different shapes and flavors. These rice cakes are low in calories and a popular gluten-free alternative! You can make them as a base for any toppings like you would with a toast. Add avocado, tomatoes, peanut butter, and your favorite spread.
Calorie per serving: 62kcal
What to love about it: You can eat as much as you want, quick and easy
This dish is one of those volume eating recipes that you can consume to your heart's content without worrying about overindulging. If you are having crunchy cravings in between meals, make these kale chips.
Calorie per serving: 165kcal (4pcs)
What to love about it: tastes better than store-bought, meal prep friendly
What a fun appetizer to serve during a party! Inspired by the roll-ups from Costco, this dish is a crowd-pleaser. Plus, it's convenient that you can make them a day before. You just have to nicely freeze them and serve them the next day, fresh and delicious.
Calorie per serving: 236kcal
What to love about it: uses little to no oil, a healthy snack or side dish
Frying sweet potato fries in the air-fryer is a better alternative than frying traditionally in oil. It will result in the same crispiness and deliciousness, so why not choose an option that is light in the budget? Follow the recipe thoroughly to make sure your fries come out oh-so crispy.
Calorie per serving: 380kcal
What to love about it: flexible and customizable, meal prep friendly
Everyone's favorite taco bowl is a perfect fit to be featured in my collection of volume eating recipes. This meal is high in fiber and protein, and at the same time low in calories and carbohydrates. The best part is that you can prep this recipe ahead of time and store it in the fridge.
Next up are recipes perfect for lunches and dinners.
Calorie per serving: 428kcal
What to love about it: protein-packed, gluten-free option, nut-free
This salad is an excellent option for a healthy and filling lunch or dinner, providing a good source of protein, fiber, vitamins from lentils and quinoa, and fresh vegetables. The recipe is also customizable, allowing for the addition of other ingredients such as avocado, feta cheese, or nuts to add extra flavor and texture.
Calorie per serving: 366kcal
What to love about it: vegan, seasonal and basic ingredients
A soup that pairs well with crusty bread. This soup needs basic ingredients already in your pantry. The recipe calls for a bit of sauteing and blending, so make sure to have your blender ready before starting.
Calorie per serving: 57kcal
What to love about it: ready in 20 minutes,
If you are trying to lose weight, adding this recipe to your menu is essential. It's low in calories and has a high fiber content. Consuming large amounts of cabbage soup and other foods like fruits, vegetables, and lean protein can help you with your weight loss goals.
Calorie per serving: 118kcal
What to love about it: air-frying is convenient and efficient, mess-free
Evenly cooked sprouts that are crispy outside and tender on the inside. To remove the bitterness of the sprouts, you need to blanch them and remove the outer leaves. The best thing about this recipe is that there are several glazes, sauces, and toppings that go well with it.
Calorie per serving: 336kcal
What to love about it: family-friendly, easy
If you love chili, then good news, there's a healthier version. This healthy chili uses lean ground turkey. The recipe is a great source of protein and fiber, making it a healthy and filling meal. You can adjust the recipe according to personal preferences, like using a different type of meat like chicken or adjusting the heat level.
Calorie per serving: 336kcal
What to love about it: full of Mediterranean flavors
Tangy and aromatic chicken in a bed of lettuce leaves, cucumbers, tomatoes, and avocadoes. The lemon dressing is a great marinade for the chicken and it adds a fresh and delightful taste to the salad.
Calorie per serving: 313kcal
What to love about it: low-carb, meal prep friendly
A healthy lunch or dinner that is ready in 30 minutes, plus you can make it ahead and serve the following days. For those on a low-carb diet, this dish is a well-balanced meal with a good amount of protein, healthy fats, and low-carb vegetables.
Calorie per serving: 319kcal
What to love about it: dairy-free, nut-free, vegan
One of the things that I love about this recipe is the use of coconut milk. Coconut milk is a great alternative to traditional dairy products and is healthier. It adds a rich and creamy texture to the dish, making it tasty and hearty. This recipe is best paired with rice.
Calorie per serving: 201kcal
What to love about it: meal prep friendly, plenty of options
Of all the volume eating recipes, these stuffed peppers are a popular dish to any one who maintains a healthy diet. The recipe suggests not to cook the bell peppers separately. You can fill them right away and just add water to the dish container to soften the peppers while cooking.
Calorie per serving: 364kcal
What to love about it: low-carb, high in protein, full of beefy flavor
Calorie per serving: 127kcal
What to love about it: guilt-free, gluten-free, ready in 20 minutes
Calorie per serving: 416kcal
What to love about it: full of Italian flavors, low-carb
Calorie per serving: 199kcal
What to love about it: low-carb, gluten-free, light meal
Calorie per serving: 543kcal
What to love about it: fresh on flavors, customizable