Feel refreshed and satiated with this tasty and healthy mango green smoothie! It has no dairy, no yogurt, no banana and also sugar-free just how you like it should be. This drink is packed with much needed nutrients and will keep you feel full and energized all morning.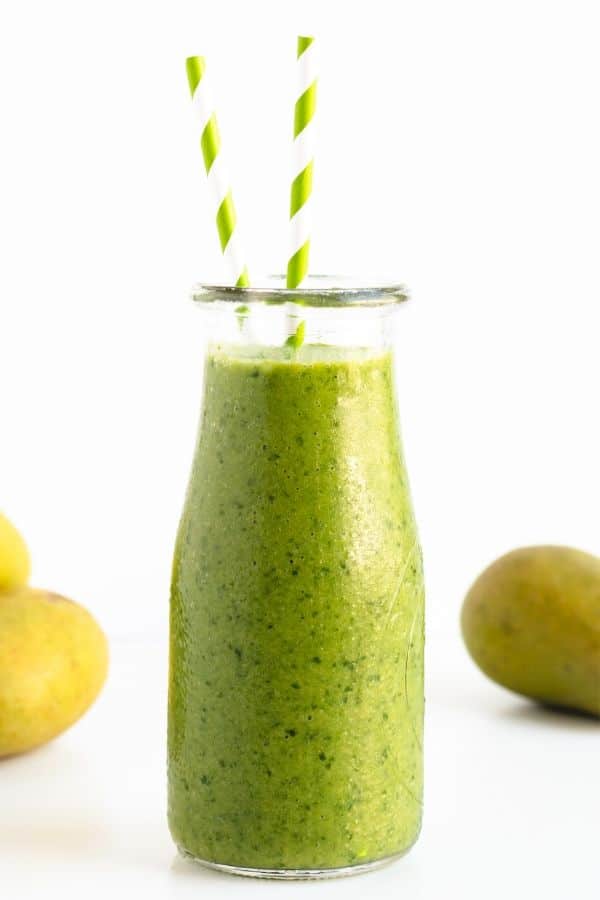 Drinking mango green smoothie will give you a lot of benefits. If you don't like eating vegetable or fruit, you will definitely change your mind once you try this smoothie.
Take advantage of these 6 smoothie health benefits.
makes you feel fuller hence it curbs food cravings and hunger
helps with digestion since it's power-packed with fiber
gives you glowing skin because it contains antioxidants
it has anti-inflammatory benefits that fight diseases
a convenient breakfast or afternoon snack
increases your intake of fruits and vegetables
Making a green smoothie drink is so simple and quick. But how to make it healthy? According to an article from Time, you need the right amount and combination of fruits, vegetables, fat and protein to make a healthy smoothie drink.
And you come to the right place because this mango green smoothie spells healthy, nutritious and delicious!
How to Make Mango Green Smoothie?
You need a blender to make a smoothie and blend the following ingredients altogether until smooth.
Spinach. A handful of spinach will do or 2 ounces. Other dark leafy greens that work well are kale and chard or a combination of everything.
They are rich in phytochemicals, vitamins, A, C, K, antioxidants and fiber.
Fresh Mango. 1 medium mango, pitted. I prefer fresh over frozen because I like my smoothie liquidy. To make it cold, I add ice cubes.
Frozen mangoes are perfect too if you want your smoothie thick. 1 cup will do. If it becomes too thick, add a little bit of water or almond milk.
You can replace mangoes of any fruit you have like avocados, peaches or bananas.
Mangoes are rich in Vitamin C and they are low in calories.
Almond Milk. Unsweetend almond milk is my choice of liquid for just about 1 - 1 1/2 cups. It's a good source of vitamin E.
Sweetener. Add 1 teaspoon sugar-substitute like truvia (erythritol) to make your drink sweet. Some smoothie recipes add banana to make it sweet in place of the sugar.
Ice Cubes. I always like fresh fruits on my smoothies, so to make it cold I add 6 pieces of ice cubes. If using frozen mangoes, no need to add ice cubes.
Super food. And I take this super healthy smoothie a little bit further by adding 1 tablespoon of chia seed, and 1 tablespoon of ground flax seeds.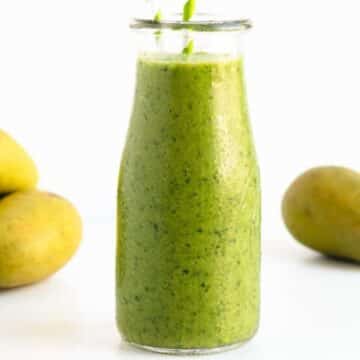 Mango Green Smoothie
Feel refresh and satiated with this tasty and healthy mango green smoothie! It has no dairy, no yogurt, no banana and also sugar-free just how you like it.
Ingredients
1

ripe mango

fresh, pitted, medium-size

2

ounces

spinach

or greens of choice

1

cup

unsweetened almond milk

or liquid of choice

1

teaspoon

erythritol

or sugar of choice

6

ice cubes
Instructions
Blend all ingredients together using a blender until smooth.

Serve immediately and enjoy!
Notes
If using frozen mangoes, no ice cubes needed. Replace fresh mangoes with 1 cup of frozen mangoes.
Add more liquid if your smoothie becomes too thick.
Add superfood like 1 tablespoon chia seeds and 1 tablespoon ground flax seeds.