Baked chicken wings recipe in bbq sauce and honey is my go-to recipe whenever I ran out of dinner ideas.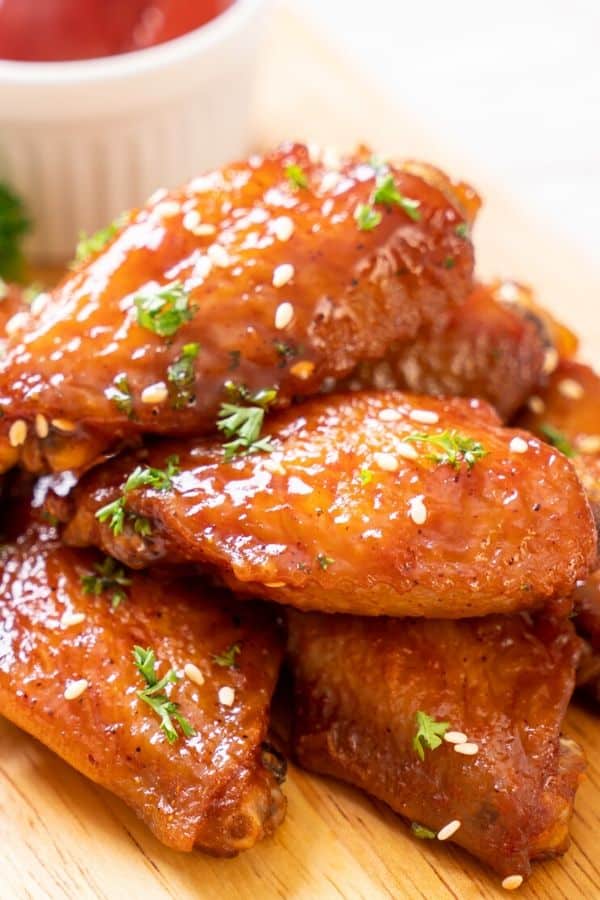 This chicken wings recipe is also one of my favorite recipes that I love to bring in a picnic or get together potluck.
It's super easy and quick to do, and such a crowd-pleaser finger food. It's baked in the oven, so tender and crispy and no marinade needed.
How to Make Baked Chicken Wings in Bbq sauce and Honey?
You have to gather your ingredients first.
I categorized the ingredients into different parts for easy cooking: chicken and breading, glaze sauce and garnishes.
For the chicken wings, the small sizes are preferable but the bigger size chicken works fine too. If frozen, thaw them first and dry with a paper towel.
For the coating, you need flour, salt and pepper to taste plus cayenne or chili powder for an added savory kick.
When it comes to the bbq sauce, you can buy those bottled one. It does not matter what flavor. If using sweet and spicy bbq sauce, you may have to omit or reduce the hot sauce ingredient.
I have a list of homemade bbq sauce recipes you can check out if you want to make your own bbq sauce from scratch.
Since this is a sweet recipe, you need honey. Honey will add texture and color to your baked chicken wings recipe at the same time.
Don't forget the garlic powder to turn the flavor into the next level.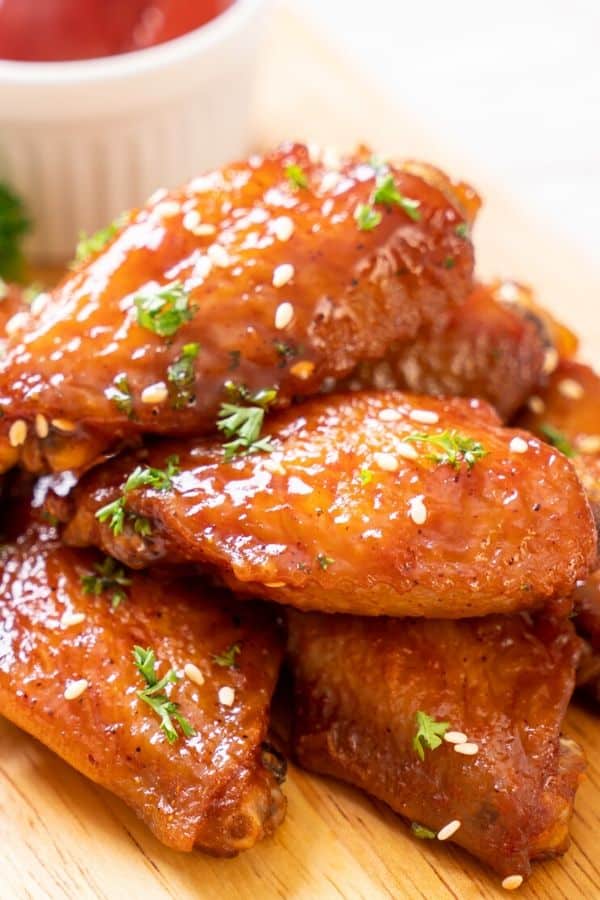 How long to make baked chicken wings?
Preparation time is 15 minutes and the baking time is 45 minutes.
On to the instruction, preheat your oven at 425deg F or 218 deg C.
While the oven is preheating, combine all the coating ingredients in a bowl, put in the chicken and combine. Make sure to coat the chicken evenly.
One technique I always do is using a container with cover to coat the chicken. You can also use a Ziploc bag. Set aside.
Next, line a baking sheet with foil and put a liberal amount of oil. Putting oil is optional. Chicken wings skin has lots of oil that will come out while baking.
Align the coated chicken on the baking sheet you prepared previously. Place in the oven. Do not forget to flip the chicken when 20 minutes have passed.
Meanwhile, start simmering your glaze sauce in a skillet on a stove with low heat.
After flipping and 20 minutes have passed again, pour in your glaze sauce. Return it back in the oven and broil for 5-10 minutes. Once done, sprinkle in the garnish.
Finally, enjoy this recipe with either yourself or your family for dinner, for game day or any day.
If you have questions feel free to ask me in the comments section below.
Baked Chicken Wings Printable Recipe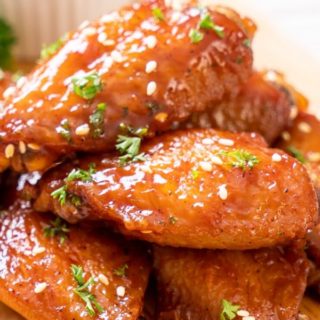 Baked Chicken Wings Recipe in BBQ Sauce & Honey!
Baked chicken wings recipe in bbq sauce and honey is one of the easiest and quickest chicken recipes that I love to bring in a picnic or get together potluck. A crowd pleaser finger food. It's baked in the oven, and no marinade needed. 
Ingredients
Chicken and breading
10

pieces

chicken wings

1/4

cup

flour

1/2

tsp

salt

1/4

tsp

chili powder or cayenne

1/4

tsp

black pepper

3

tbsp

oil for spraying
Glaze sauce
1/2

cup

bbq sauce

1/4

cup

honey

1

tbsp

hot sauce

2

tbsp

butter

1/4

tsp

garlic powder
Garnish (Optional)
sesame seeds

fresh parsley
Instructions
Preheat oven - 425 degrees.

In a container with cover, mix the flour, chili powder, and black pepper. Put the chicken in the mixture. Cover the container and shake until the chicken is coated.

Place foil on a cookie sheet pan and spray with a liberal amount of oil.

Align the coated chicken wings on the sheet pan and put in the oven for 40 minutes. When 20 minutes had passed turn the chicken.

Meanwhile, simmer the sauce ingredients in a low heat in a saucepan.

When the chicken is done baking, remove the sheet pan from the oven, pour in the sauce on the chicken making sure everything is covered with the sauce.

Put back in the oven for 5-10 minutes.

Garnish with sesame seeds and parsley. Enjoy!!!
While you are here you may want to check out my other chicken recipes and low carb recipes.