Make that Halloween party table extra spooky and even gruesome with these scary Halloween cupcake ideas!
Halloween is not just for trick or treats, the costumes and the decorations, it's also about the food too. Add these cupcake ideas to your Halloween desserts lineup for a more festive Halloween season.
You can either make the cupcake from scratch or buy the box kind. The exciting part about these cupcakes is making the topper frosting. You can get as creative as you want to achieve that spooky and gruesome cupcakes.
Things You Need to Make Scary Halloween Cupcakes
You will need some baking equipment and cupcake ingredients.
Equipment - mixing bowls, whisk, cupcake pans, cupcake decorating kit
Ingredients - you will need separate ingredients for the cupcakes and ingredients for the icing/frosting decorations, edible cupcake toppers and edible blood.

Cupcake ingredients - cake mix, buttermilk, vegetable oil, eggs, cocoa powder if chocolate flavor or just buy the box kind.
Icing ingredients - confectioners sugar, butter, vanilla extract, milk and cocoa powder if chocolate flavor.
Edible blood - confectioners sugar, red food coloring, chocolate sauce, water
10 Scary Halloween Cupcake Ideas
Checkout each scary Halloween cupcake ideas below for the tutorial.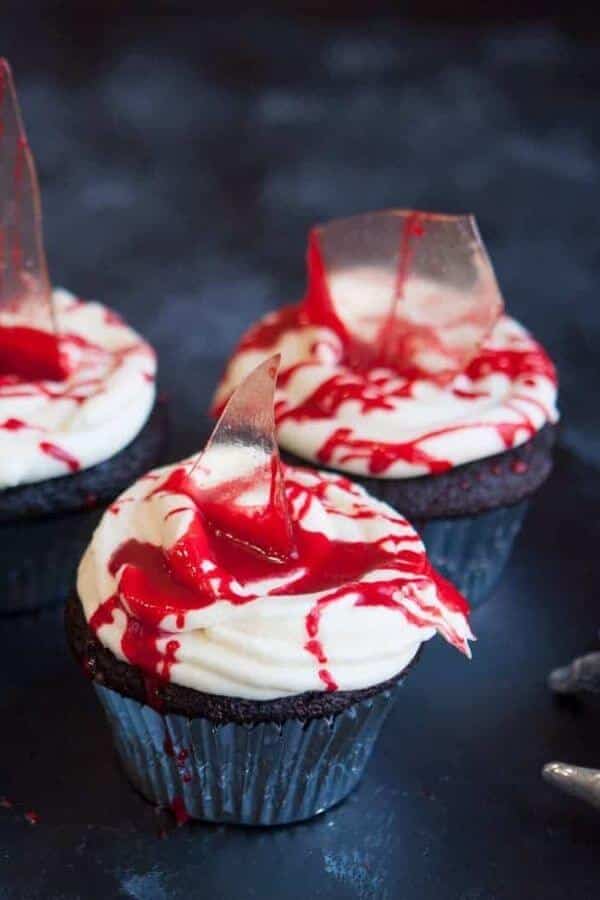 Your Halloween party guests will be so delighted with these rich dark chocolate cupcakes filled with Amarena cherries, topped with a cream cheese buttercream and edible sugar glass shards, then decorated with edible blood.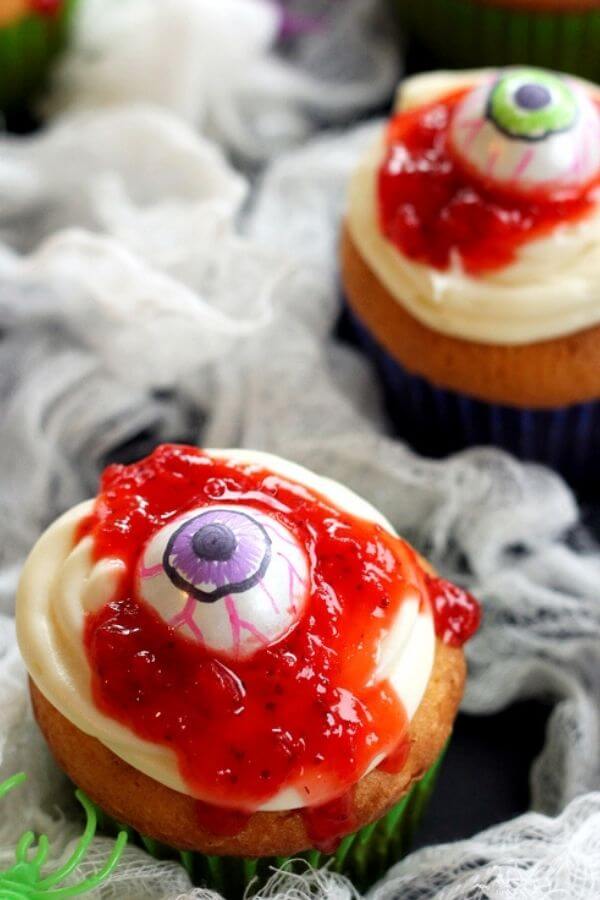 These bloody eye cupcakes are so easy to make and you will be the hit of any Halloween party! Start by making your favorite cupcakes. For the actual eyeball, you will need white gumballs and edible food markers. Just draw right on the gumball and add spooky eyes along with blood shot lines.
These cupcakes are absolutely delicious and so easy to make. Spooky Halloween topped cupcakes made with vanilla cupcakes topped with edible fingers and edible blood. Great for a Halloween party.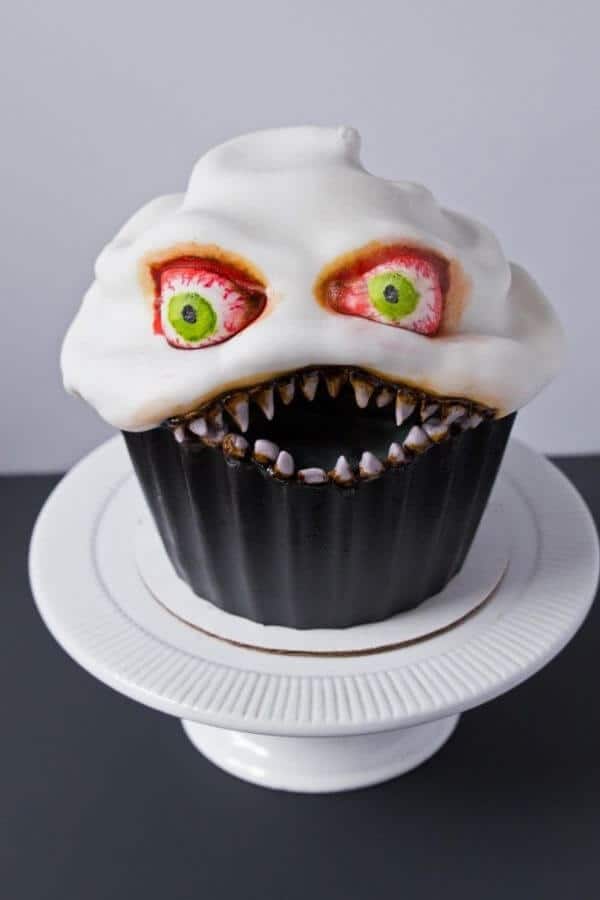 This scary Halloween cake is made with three layers of chocolate cake, vanilla bean Swiss meringue buttercream, marshmallow fondant, chocolate ganache, and black chocolate melts.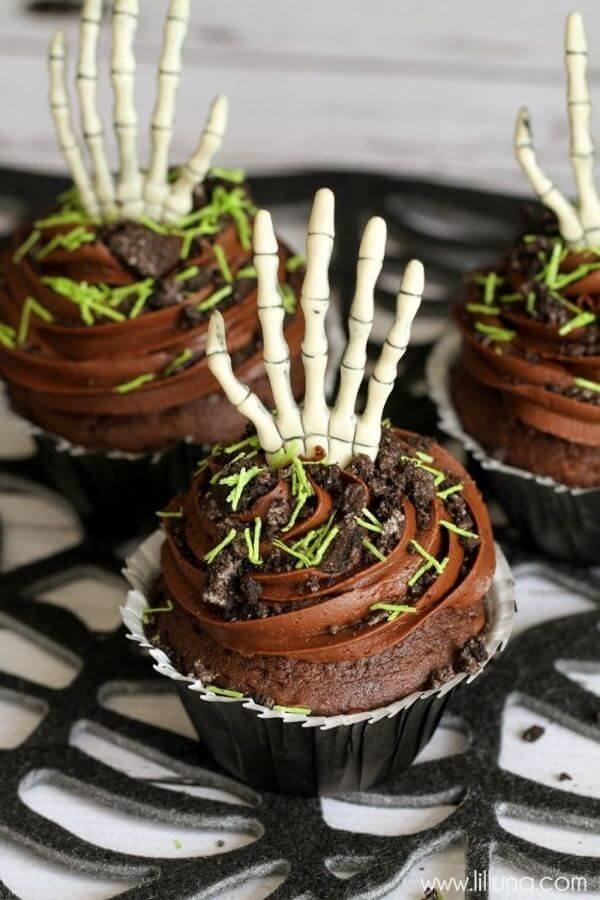 Creepy Cupcakes that look like a hand reaching out from under the ground are so easy, fun and festive. The cupcakes are moist and delicious and the skeleton hands are store-bought.
Traditional red velvet cupcakes with cream cheese frosting and a shocking addition of raspberry coulis. It's a spooky Halloween treat!
Scary and unforgettable zombie cupcakes that you can send as party invitations or make them the center of your Halloween dessert line-up, these cupcakes are pure delight and will satisfy even the scariest sweet tooth!
No skill required to make these brain cupcakes. They may look gross and bloody but they are delicious and fun to make this Halloween!
These spider web cupcakes are so dark and chocolaty. Easy and fun to make by kids and adults alike.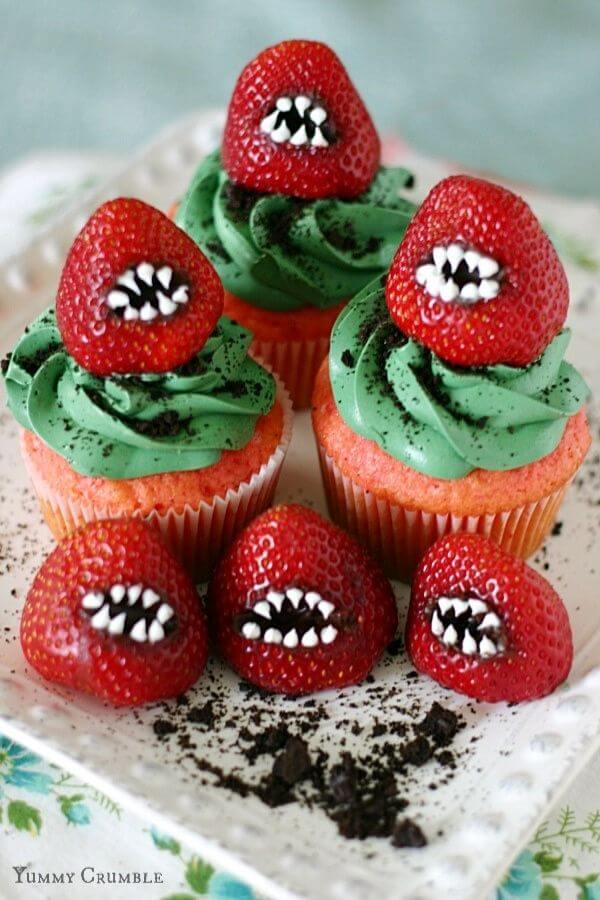 These monster strawberry cupcakes are killers and freaky. They are made of moist strawberry cupcakes with vanilla buttercream and crushed oreo cookies with a frightening strawberry monster.
Find more dessert recipes on my blog.