Here are 20 patriotic 4th of July desserts in bursting colors of red, white and blue.
Sweeten your Independence day celebration with these festive desserts from our favorite food bloggers. Cap your bbq cookout with these amazingly delish and sweet treats.
4th of July Party Supplies Suggestions:

Photos are not mine. Click on the 'Get Recipe' button to view the recipes.
1|

Firecracker Cake
Who needs real fireworks when this cake is already a firecracker? - love bakes good cakes
Related: 4th of July Cake Recipes
2|

Red, White, and Blue Cherry Cheesecake Macarons
Make your guests go ooohhh with these delicious macarons that are a combination of sweet almond, tangy cream cheese, and fresh summer cherries! - baking a moment
3|

Red, White and Blue Cupcakes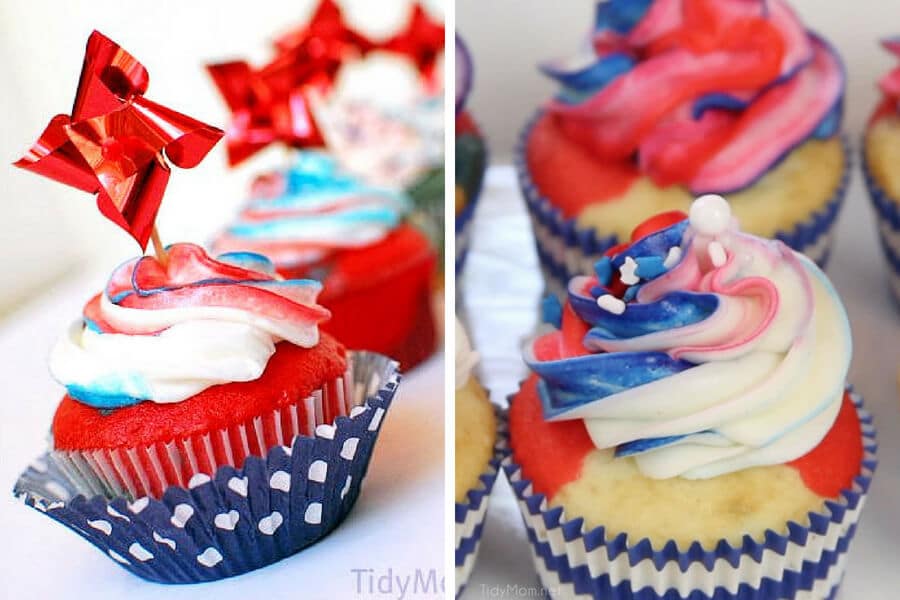 These cupcakes are too vibrant I don't want to eat them. - tidy mom
4|

Red, White, and Blue Swirl Cookies
Get hypnotized by the striking swirls of these cookies. - the decorated cookie
5|

American Flag Donuts
I want to try this so easy recipe badly! - the first year blog
6|

4th of July Desserts - Ice Cream Cones
This ice cream is so refreshing and perfect for the 4th of July summer weather. - this grandma is fun
7|

Red, White and Blue Jello Stars
Kids will surely love these cute little stars jello! - fake ginger
8|

Krispie Treat Fireworks Pops
It is always amazing to know that there are literally hundreds of dessert ideas you can make out of Krispies. - half scratched
9|

4th of July Desserts - Milkshake
This milkshake is exploding with sweet goodness. - love the day
10|

Red, White and Blueberry Popsicle
Combine your favorite ingredients in a blender, pour in popsicle molds, freeze, then voila! Popsicle! - eating by elaine
11|

Red, White, and Blue Chocolate Covered Strawberries
Super simple yet very creative! - princess pinky girl
12|

4th of July Desserts Kabobs
Make-your-own-kabobs will be fun for the kids this 4th of July celebration. - eighteen 25
13|

Red, White, and Blue Pretzel Bites
I feel gooey inside just by watching this pretzel bites with chocolate candies in between. - the gunny sack
14|

Paleo American Flag Pie
Say hi to this American Pie. - 40 aprons
15|

Watermelon Fruit Pizza
This fruit pizza will invigorate you all summer. - wholesome yum
16|

4th of July Tie Dyed Fudge
This dessert is so festive as fudge! - taste and tell blog
17|

4th of July Firecracker Popcorn
I love popcorn! - see vanessa craft
18|

4th of July Marshmallow Pinwheels
This festive holiday treat makes me happy. - home cooking memories
19|

No-Bake Berry Cheesecake Trifle
I love everything no-bake when it comes to desserts! - live well bake often
20|

Kid Friendly Patriotic Punch
Not a dessert, but will surely complement every 4th of July desserts and food! - mom endeavors