Are you looking for side dishes to pair with your meat dishes? Here are 50 common Asian side dishes that best complement either chicken, beef, or seafood recipes.
Asian cuisine boasts a rich and diverse array of side dishes that accompany main meals. From steaming hot rice and stir-fried vegetables to savory sauces and pickled salads, these dishes are designed to complement and enhance the flavors of the main dish.
In many Asian cultures, a meal is not complete without a selection of side dishes that balance the flavors, textures, and colors of the meal. Some popular examples include miso soup in Japan, kimchi in Korea, and spring rolls in China.
Each country has its own unique style and ingredients, but what they all have in common is a focus on fresh and wholesome ingredients, bold flavors, and a harmonious balance between different dishes.
Whether enjoyed as an appetizer or as part of a larger spread, Asian side dishes are an essential part of a delicious and well-rounded meal.
Introducing the king of all grains: steamed rice, Asia's staple side dish, perfectly cooked and ready to be the blank canvas for all your favorite dishes.
Get the recipe for Steamed Rice
Fire up your taste buds with a side of kimchi, the spicy and fermented Korean condiment sure to add some zing to your meal.
It has tangy and spicy flavors and works well with radishes and cucumbers.
Get the easy recipe for Kimchi
Whether you're looking to add some extra protein to your meal or want something to slurp on, noodles are a perfect choice. Serve hot or cold with either sauce or broth.
You can readily buy them from the store, but you'll be surprised at how easy to make them at home.
Get the recipe for Homemade Noodles
Take a tropical vacation with every bite of fried banana plantains, a sweet and savory side dish.
Fried ripe banana plantains are slices of coated ripe bananas in a mixture of flour and spices and then fried until crispy and golden brown.
Get the recipe for Fried Banana Plantains
Get your daily serving of vegetables with a stir fry filled with all your favorite colorful produce.
Expert tip: Stir-fry for a short period of time, just a few minutes, to retain their crunch and texture.
This is one of the ultimate Asian side dishes you can never go wrong with. You can even use any leftover vegetables to whip up this recipe.
Get the recipe for Stir-fried Vegetables
Keep things cool and refreshing with a crisp cucumber salad dressed to perfection.
Cucumber salad is a refreshing and light side dish of sliced cucumbers with vinegar, salt, and other ingredients such as onions, herbs, and spices.
Get the recipe for Cucumber Salad
Warm up with a comforting bowl of miso soup filled with tofu, seaweed, and other tasty ingredients. A Japanese soup traditionally served for breakfast.
Get the recipe for Miso Soup
Sweeten things up with a side of roasted sweet potatoes. The taste is sweet and savory, with a slightly caramelized roasted flavor. They have a soft, tender texture and a rich, buttery taste.
Get the recipe for Roasted Sweet Potatoes
Add some plant-based protein to your meal with braised tofu. Braised tofu has a rich and savory taste with a tender and slightly chewy texture.
Some describe the taste of braised tofu as similar to a savory stew or pot roast, with a slightly nutty or earthy flavor.
Get the recipe for Braised Tofu
Add a touch of the sea with a sprinkle of roasted seaweed, a delicious and nutritious topping. Roasted seaweed has a savory, umami flavor with hints of saltiness and a slightly crunchy texture.
Tip: Go to any Asian store near you; they are available in small packs ready to eat.
Get the recipe for Roasted Seaweed
Snack on edamame, boiled soybeans that are perfect for popping out of the shell. They have a soft, creamy texture and a slightly nutty flavor.
Get the recipe for Boiled Edamame
Dive into a plate of egg rolls filled with a savory mixture of meat and vegetables.
Eggrolls have a crispy, crunchy exterior and a savory, slightly spicy filling. The wrapper is a thin, flaky pastry dough that adds an additional layer of texture to the dish.
Get the recipe for Egg Rolls
Get your stir fry with some okra, a tasty and healthy vegetable.
Stir-frying okra involves heating oil in a wok or large pan over high heat. Once the oil is hot, add the okra to the pan and quickly stir to ensure even cooking. Cook The okra for a few minutes until it becomes tender and slightly browned.
Get the recipe for Okra Stir Fry
Enjoy a soothing bowl of egg drop soup, a simple yet satisfying Chinese classic. Egg drop soup has a delicate and savory taste with a smooth and silky texture.
The broth gives the soup a rich and flavorful base, while the beaten eggs add a subtle and creamy element.
Get the recipe for Egg Drop Soup
Stir-fried anchovy is a traditional Asian side dish that involves quickly cooking small, salty anchovy fish in a pan with oil and various seasonings.
To make, coat the anchovies in a mixture of garlic, chili peppers, and soy sauce before stir-frying over high heat until crispy and caramelized.
Stir-fried anchovy has a strong, salty, and savory taste.
Get the recipe for Stir-Fried Anchovy
Get a taste of Japan with a slice of tamagoyaki, a sweet and savory rolled omelet. A sweet and savory dish of rolled thin layers of beaten eggs.
It has a tender and fluffy texture with a slightly sweet and salty taste. This Asian side dish is always present in Japan's bento (lunch) box.
Get the recipe for Tamagoyaki (Rolled Omelet)
Upgrade your grains with fried rice, a classic Chinese dish filled with vegetables, and your choice of protein, like eggs or chicken.
Fried rice is a simple and delicious way to use leftover rice, and it is best to cook in high heat.
Get the recipe for Fried Rice
Indulge in some gyoza, pan-fried dumplings filled with meat and vegetables. The wrapper has a slightly chewy texture, while the filling is usually a mixture of ground pork, cabbage, and other vegetables like green onions or ginger.
Get the recipe for Gyoza (Japanese Dumplings)
Treat yourself to sushi, a famous Japanese dish made with vinegared rice and various fillings.
Sushi tastes like a combination of flavors, including the taste of rice, seafood, or other protein (such as raw fish, chicken, or tofu), and any vegetables or condiments.
Get the recipe for Homemade Sushi
Roll into spring with some rolls filled with mixed vegetables and often served with a dipping sauce. You can have them deep-fried or fresh.
Get the recipe for Spring Rolls
Add marine goodness to your meal with a seaweed salad, a refreshing and nutritious side dish.
Seaweed salad has a slightly salty and slightly sweet flavor with a crunchy texture. You can serve it with a dressing or marinade that can vary in flavor, such as sesame oil or soy sauce.
Get the recipe for Seaweed Salad
Get your greens with steamed kangkong, a popular leafy vegetable in Southeast Asian cuisine. Sprinkle with toasted minced garlic and a drizzle of olive oil.
Get the recipe for Steamed Kangkong (water spinach)
Sauteed green beans have a slightly crispy texture with a hint of saltiness and a savory flavor. To enhance the flavor, add ingredients such as garlic, onion, or bacon to the saute.
Get the recipe for Sauteed Green Beans
Treat your taste buds to some crispy scallion pancakes, a savory Chinese pastry made with green onions and dough. Scallion pancakes have a savory, slightly salty taste with a hint of onion flavor.
Get recipe for Scallion Pancakes
Brighten your meal with a daikon radish salad, a refreshing and crunchy side dish.
The daikon radish salad has a crisp and refreshing taste. It has a mild and slightly sweet flavor with a crunchy texture that is pleasing to the palate.
Get the recipe for Daikon Radish Salad
The grilled eggplant has a smoky, slightly sweet flavor and a soft, tender texture. It tastes slightly charred and has a slightly burnt, smoky aroma.
The inside is soft and creamy, while the skin is slightly crispy and has a slightly bitter taste.
Get the recipe for Grilled Eggplant
Sauteed bok choy is a popular dish in many Asian cuisines. It consists of tender, crisp bok choy leaves and stalks lightly sautéed in a pan with oil or broth.
To make, season the bok choy with garlic, ginger, and other aromatic spices, and serve with a variety of flavorful sauces and accompaniments.
Get the recipe for Sauteed Bokchoy
The most common vegetables you can use in Asian pickled vegetables are cucumbers, carrots, and radishes.
To make, slice the vegetables and place them in a jar with the pickling liquid. You can also add other vegetables, such as peppers, onions, and bean sprouts.
Get the recipe for Pickled Vegetables
Hot and sour soup is like a spicy little firecracker in a bowl. It's got that perfect balance of heat and tang that'll make your taste buds dance.
This spicy and sour soup has ingredients like tofu, bamboo shoots, and wood ear mushrooms. You can season it with vinegar, soy sauce, and chili oil, and it may also contain ingredients such as beaten eggs, meat (such as pork or chicken), and vegetables.
Get the recipe for Hot and Sour Soup
Bamboo shoots have a crunchy texture and a slightly sweet and nutty flavor.
To prepare bamboo shoots as a side dish, you first need to peel off the tough outer layers of the shoot.
Then, slice the bamboo shoots into thin pieces and rinse them in cold water. Next, you can sauté the bamboo shoots in a pan with oil and your choice of seasonings, such as garlic and soy sauce.
Get the recipe for Bamboo Shoots
Spinach is a bright green color leafy vegetable. During the sauteing process, the leaves wilt and have a rich, buttery sauce that enhances the natural flavor of the spinach.
As it cooks, the aroma of garlic and onion fills the kitchen. Flavor the dish with a sprinkle of salt and pepper, adding just the right amount of seasoning.
Get the recipe for Sauteed Spinach
Bao buns are a type of soft, pillowy bread that has a variety of savory or sweet fillings.
To eat a bao bun, you can either hold it in your hand or use a fork and knife, depending on the filling and your personal preference.
Steamed bao buns are best because of their soft and fluffy texture.
Get the recipe for Steamed Bao Buns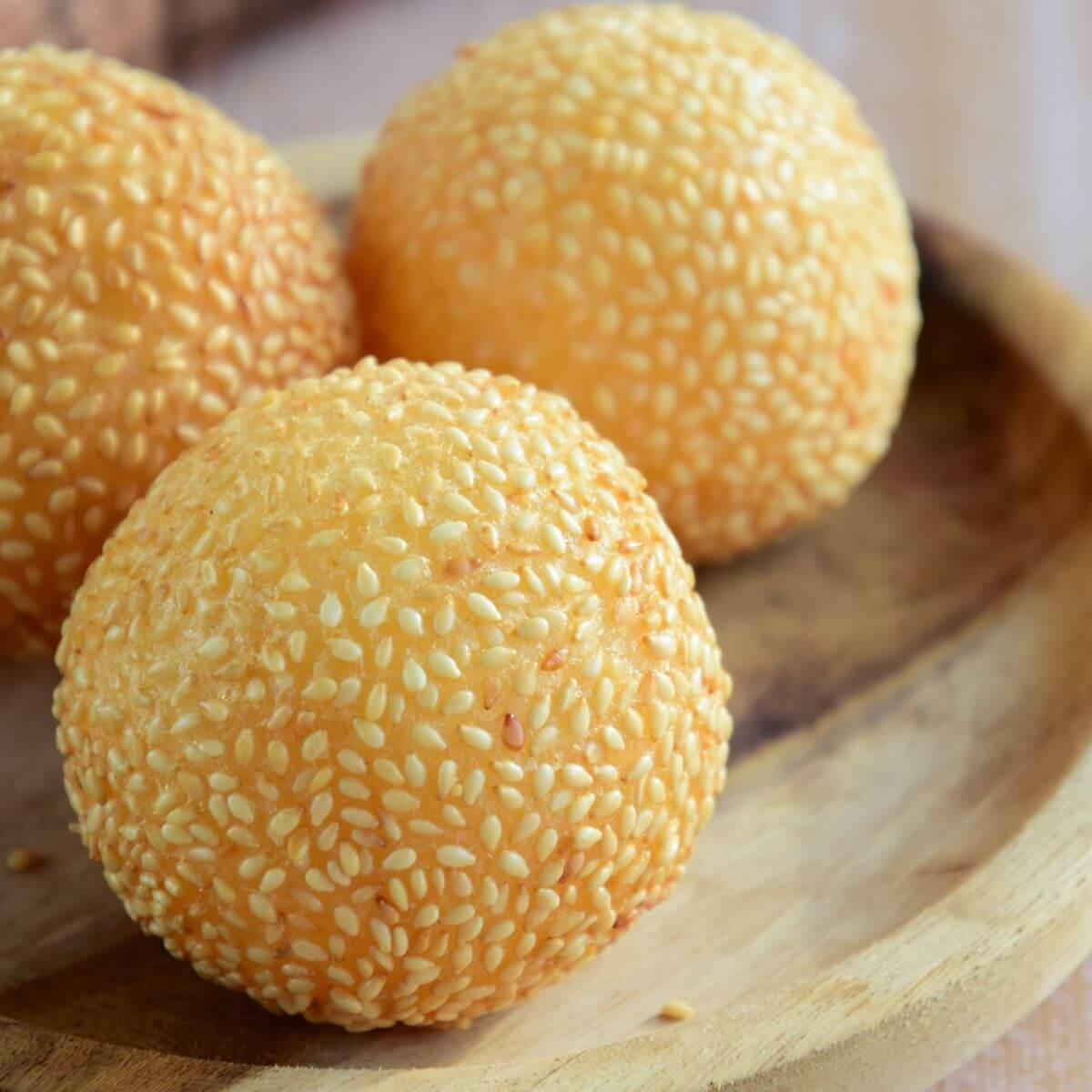 Sesame balls are a traditional Chinese side dish made of glutinous rice flour and filled with sweet red bean paste.
They are often round in shape and have a chewy, soft texture. The exterior of the sesame balls is coated in sesame seeds, giving them a slightly crunchy and nutty flavor.
Get the recipe for Sesame Balls
Gai Lan, also known as Chinese broccoli, is a leafy green vegetable with thick stems and small florets. The oyster sauce adds a rich, umami flavor to the dish.
To cook, Gai Lan is cut into thin stalks, and the leaves are roughly chopped. It is then sautéed in a hot wok with a small amount of oil, and the oyster sauce is added to coat the vegetables. The dish is served hot and is paired with rice or noodles.
Get the recipe for Gai Lan (Chinese Broccoli) in Oyster Sauce
This fluffy, pillowy bread is a staple of Indian cuisine and is from a mixture of flour, yeast, and yogurt.
Its versatile nature makes it the perfect companion for curries, stews, and even pizza toppings. And let's not forget its ability to soak up every last drop of sauce, ensuring nothing goes to waste.
Get the recipe for Naan Bread
An Asian side dish, specifically in India, made with potatoes and cauliflower, seasoned with spices like cumin, coriander, and turmeric.
Get the recipe for Aloo Gobi (Potatoes and Cauliflower)
Spicy squid is a tasty side dish that is marinated in a mixture of spices, such as chili pepper flakes, garlic, ginger, and soy sauce. It is then either stir-fried or deep-fried.
Get the recipe for Spicy Squid
A Japanese dish made by lightly battering and deep-frying vegetables or seafood.
Tempura involves coating ingredients such as seafood, vegetables, and meats with a light and crispy batter.
The ingredients are then deep-fried in oil to create a dish that is both delicious and visually appealing.
Get the recipe for Tempura
A Japanese salad made with imitation crab meat, often mixed with mayonnaise and other vegetables.
Get the recipe for Kani Salad
A type of Chinese steamed dumplings filled with meat, usually pork or seafood, and vegetables.
Get the recipe for Shumai
A Japanese snack of a ball of dough filled with diced octopus and other ingredients, then grilled.
To make this, you need a special pan called a takoyaki pan. It is more popular as a snack than a side dish.
Get the recipe for Takoyaki
A spicy Thai salad made with papaya, a type of tropical fruit, often mixed with vegetables, herbs, and a spicy dressing.
Get the recipe for Papaya Salad
A Filipino condiment made with fermented fish or shrimp. Bagoong is usually paired with mangoes, and fish and sauteed with vegetables.
Get the recipe for Bagoong (Fermented Shrimp)
Asian side dishes are never without a salad. This Filipino salad is made of grilled eggplant mixed with tomatoes and onions.
Get the recipe for Ensaladang Talong (Roasted Eggplant Salad)
A Filipino condiment made with pickled green papaya often served with grilled meats.
Get the recipe for Atchara (Pickled Papaya)
A side dish made by marinating slices of tomato in a mixture of oil, vinegar, and herbs.
Get the recipe for Marinated Tomatoes
A Filipino side dish made of salted hard-boiled eggs dyed red, often served with slices of tomato. They are perfect pairings for grilled fish, chicken, or pork.
Get the recipe for Salted Egg with Tomatoes
Top your rice bowls with these seasoned bean sprouts. They are sprouted mung beans with a crisp texture and nutty flavor. You can season them with soy sauce, garlic, and sesame oil.
Get the recipe for Seasoned Bean Sprouts
Experience the joy of Chinese wontons, boiled or fried dumplings filled with a combination of fillings.
Get the recipe for Fried Wontons
These milk bread rolls are sweet and perfect with saucy and soupy recipes.
Get the recipe for Milk Bread Rolls