Learn how to make fried rice with egg at home. It's easy and is better than Chinese take out!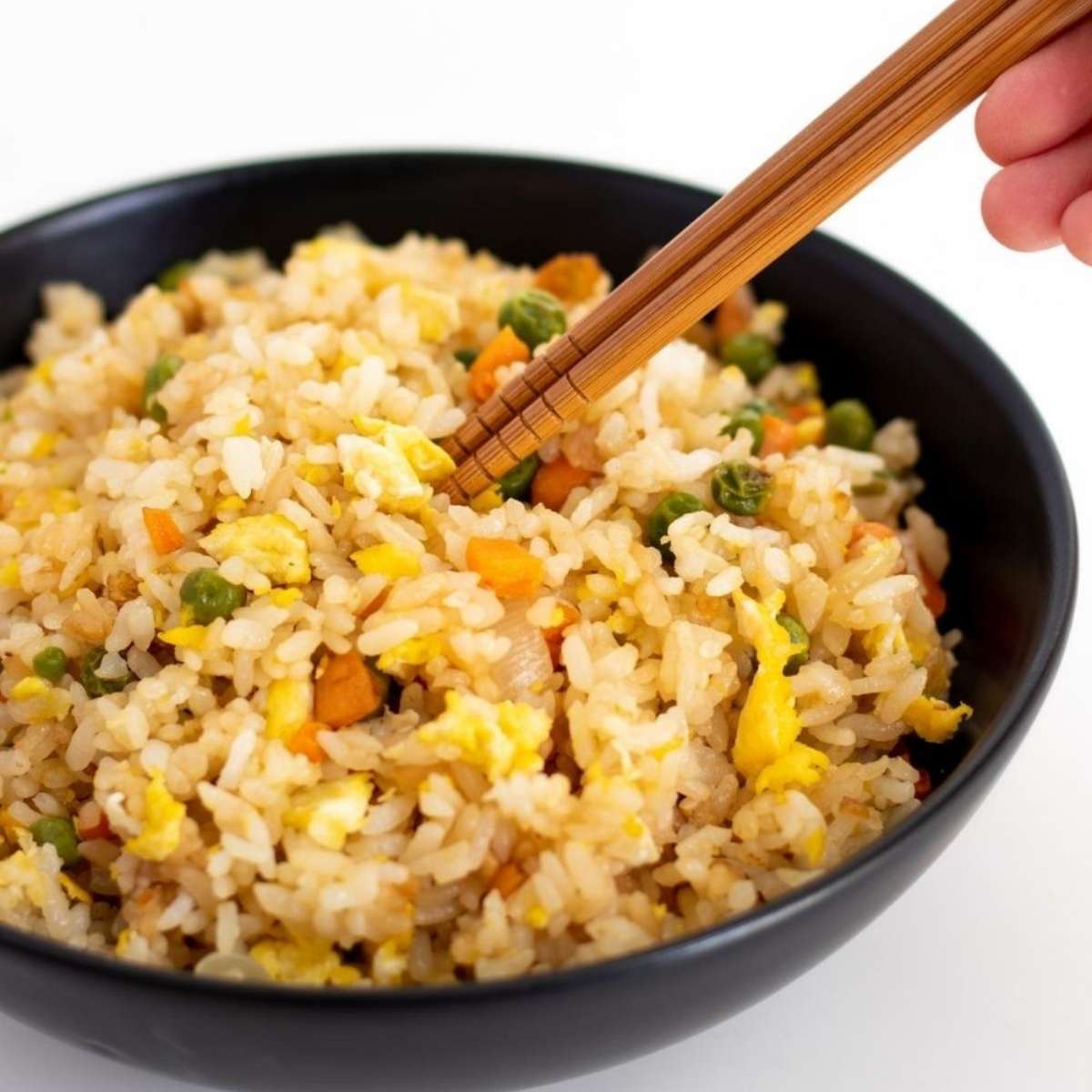 Homemade fried rice with egg is a savory dish to make when you have leftover rice. Its delightful flavor is made possible by combining a good blend of soy sauce and oyster sauce with an abundant amount of vegetables and eggs.
Rice is a staple food in Asia, so fried rice is a common dish and is usually served for breakfast. I've been cooking and eating fried rice since I was young and there was never a week that we did not eat fried rice.
I made a lot of fried rice variations growing up and today I'll teach how to make fried rice with egg. When cooking fried rice, leftover rice is used or we call it 'kaning lamig' or 'bahaw'.
We usually keep the leftover rice in the fridge to be cooked the next morning for breakfast. I remember sprinkling the rice with a little bit of water and crumbling the cold rice with my hands before cooking because they tend to stick with each other.
Fried rice is a very flexible dish, you can make it with very minimal ingredients or make it elaborate as you can. The simplest fried rice I often cook is garlic fried rice made up of minced garlic, oil, rice, and salt.
Common Fried Rice Ingredients
Fried rice is versatile and flexible and you can use any available ingredients you have in your pantry. Below are what you can add to your fried rice depending on your preferences. For the actual ingredients I like for my fried rice, I listed them in the recipe card below.
Rice. Always use cooked, chilled/cold, and crumbled rice but not newly cooked. If using newly cooked rice, your fried rice will become sticky and wet. You have to chill it first in the fridge before cooking.

For the type of rice, you can use jasmine, short-grain, long-grain, brown rice, and even quinoa rice.

Oil. I used butter as my choice of oil for sauteing, but any regular oil will do.

For sauteing, any of the following is ok - butter, vegetable oil, olive oil, or margarine.
For contrasting flavor, add sesame oil once your fried rice is about to be cooked.

Vegetables. Fried rice is not complete without vegetables in it. Make your fried rice bright, fresh, and healthy by adding colorful veggies.

Garlic and onions are a must for fragrance.
Carrots, peas, beans, and corn are perfect for a burst of colors and deliciousness.
Add celery, ginger, or cilantro for an extra zing.
Sprinkle scallions to make it pretty amazing.

Seasonings. Rice does not have a distinct taste on its own so make your rice savory and flavorful with the perfect blend of the following seasonings.

salt and pepper
soy sauce
oyster sauce

Eggs. Putting eggs just levels up everything whether you want it scrambled and combined with the rice during cooking or topping a sunny side-up egg before serving.
Meat and other variants
Add any kind of meat to your fried rice to make it a complete meal! Either pre-cooked the meat separately or add them after sauteing the garlic and onions.
Chicken. To add chicken, you can boil a slice of chicken breast and shred it. You may also fry ground or thinly sliced chicken fillets first hand.
Pork. Pork belly or bacon is the best kind of pork to add to fried rice because it cooks fast.
Beef. Fry the shredded beef or sliced sirloin before sauteing the garlic and onions.
Shrimp. Add shrimp after the vegetables are soft.
Spam or ham. Dice spam or ham and add them after the eggs. You may also want to fry them separately.
Pineapple. If you like your fried rice sweet Hawaiian style, add pineapple chunks together with the vegetables.
Kimchi. When adding kimchi to your fried rice, cut them into small pieces and you may want to season less because kimchi is salty by nature.
Popular Fried Rice in the Philippines
Aligue fried rice is adding crab eggs and meat with the rice. Restaurants usually serve this paired with beer.
Ketchup fried rice is adding banana sauce to your fried rice. This is my youngest brother's favorite when we were kids.
Bagoong fried rice is rice with shrimp paste. This kind of fried rice is perfect with fresh mangoes.
Steps on How to Make Fried Rice
When making fried rice, use a large wok or non-stick pan. Prepare your ingredients prior to cooking and cook the rice on medium to high heat.
Step 1. Saute. Heat butter in a pan or wok and saute garlic and onions until fragrant and translucent, respectively.
Step 2. Add the vegetables, rice, and seasonings. Put the vegetables - carrots, peas, etc. Cook until soft. Add the rice and seasonings, combine, stir and fry on high heat.
Step 3. Scramble the egg. Make a hollow in the same pan and crack an egg. Scramble the egg, once fully scrambled, add the rice. Continue to stir and fry for 5 minutes.
Step 4. Sprinkle with scallions and serve hot.
Tips
Some tips for a perfect homemade fried rice.
Use a large wok or pan.
Cook in high heat and keep stirring.
Don't use newly cooked rice. Chilled or cold rice is a must. Rice must also be crumbled.
Oyster sauce is recommended along with soy sauce.
Crack and scramble the egg in the same pan.
What to eat with fried rice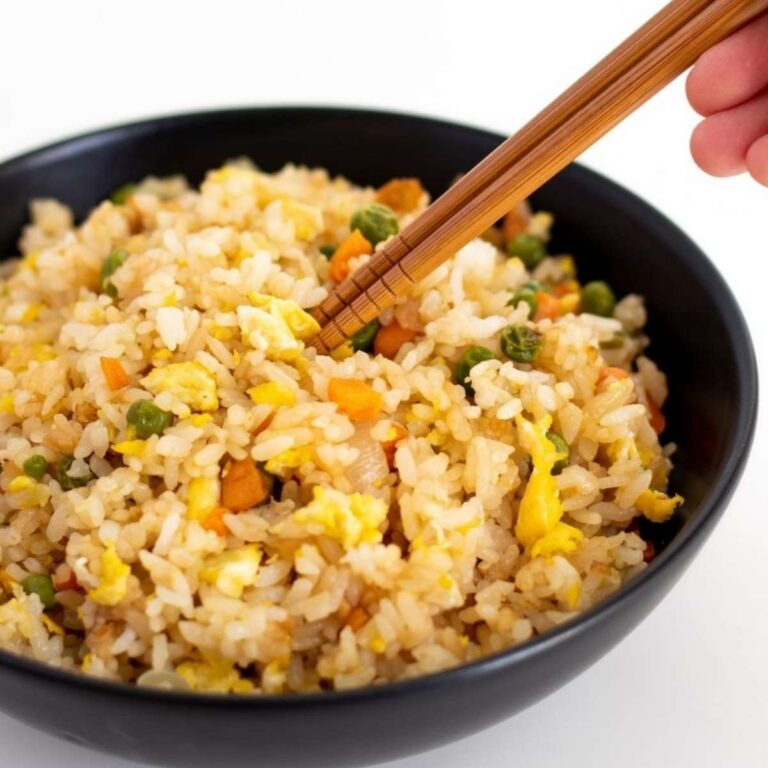 Fried Rice with Egg
Make fried rice with egg at home. This egg and vegetables fried rice is better than any of chinese restaurant take out!
Ingredients
4

tablespoons

butter

unsalted

2

cloves

garlic

minced

1

small

onion

diced

1

cup

carrots

cubed

1/2

cup

peas

frozen

4

cups

cooked rice

chilled, cold, crumbled

3

tablespoons

soy sauce

1

tablespoon

oyster sauce

salt and pepper to taste

1

egg

scrambled

1/2

teaspoon

sesame oil

optional

1

stem

scallions

for garnish
Instructions
Heat butter in a non-stick pan or wok. Saute garlic, onion, carrots, and peas until translucent and soft. Add the rice, soy sauce and oyster sauce. Add salt and pepper. Increase the heat to high. Stir the rice until combined with the other ingredients.

Make a hollow in the same pan and crack the egg. Scramble the egg in the pan, once fully scrambled, mix over with the fried rice. Stir and fry for 5 minutes. Stir in the sesame oil and scallions.