Here are 18 of the best oyster mushroom recipes for fun, easy, and meat-free dinners (all with 30 minutes or less cook time)!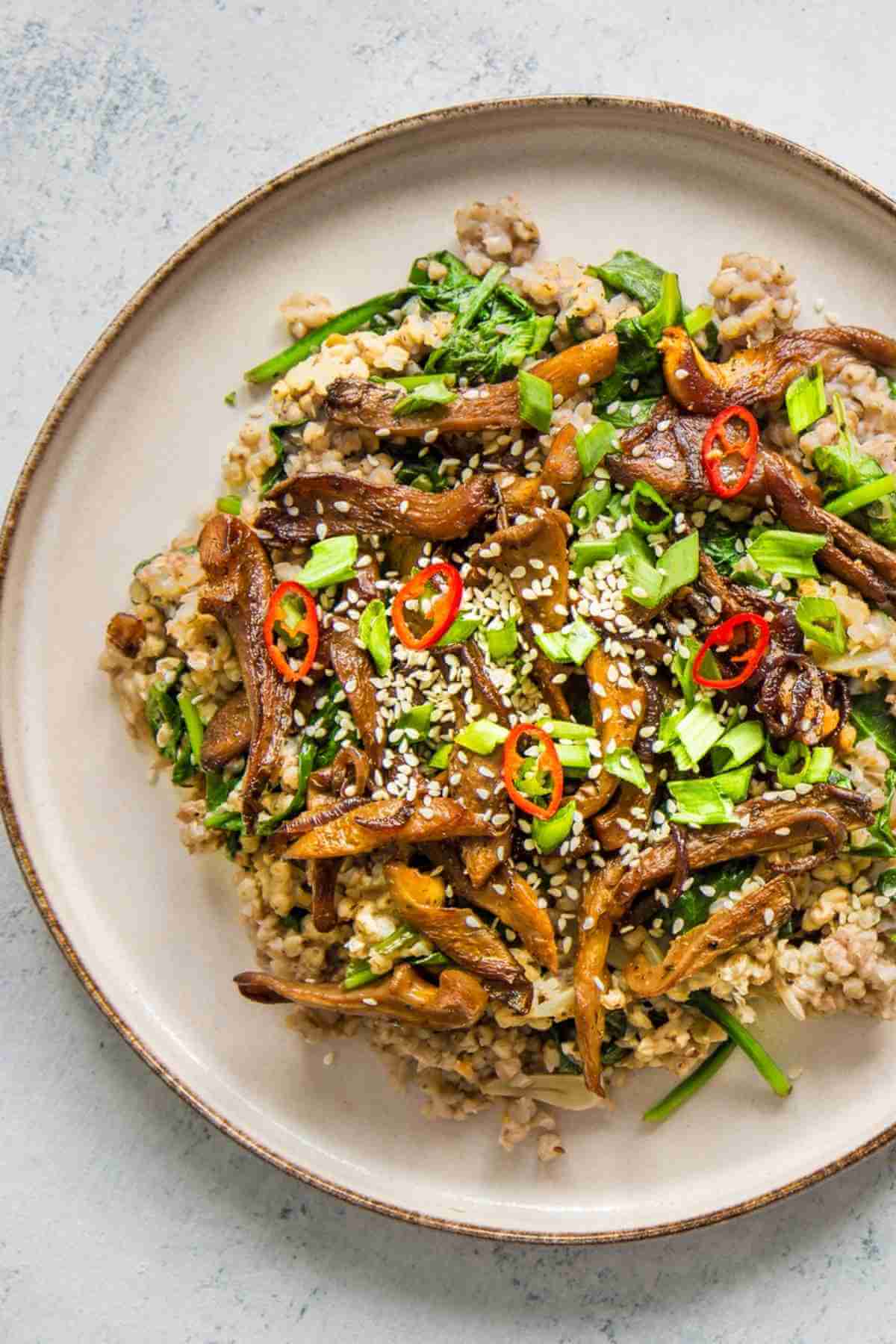 The very first time I tasted oyster mushrooms, they became an instant favorite! Now I add them to soups and any stir-fried dishes whenever I have them in the fridge.
On a busy night, I love them pan-fried with butter and scallions. They're also good with teriyaki sauce and rice. I can say that these mushrooms are incredible both as a side dish and a main dish.
What Are Oyster Mushrooms
Oyster mushrooms are edible mushrooms that grow in clusters on trees. The mushroom gets its name from its oyster-like shape and texture (FYI, they don't taste like oysters!).
Oyster mushrooms have a slightly sweet (umami) flavor with a delicate meaty texture that melts in your mouth. They are a perfect stand-in for chicken, beef, or pork in your favorite recipes.
There are different types of oyster mushrooms but you will likely always find pearl and king oyster mushrooms in most grocery stores. Now that it's almost fall (harvest) season, they are at their fullest and most flavorful state! Better take advantage of them and add them to your Thanksgiving dishes.
So whether you're a vegan, vegetarian, or just looking to cut down on your meat consumption, give these oyster mushroom recipes a try!
18 Easy Ways to Cook Oyster Mushrooms
You will absolutely love these quick and easy oyster mushroom recipes. They may look simple but the taste will surely satisfy you. Plus, you will only need less than 30 minutes to make them from start to finish!
Soy-Glazed with Tofu
Tofu and mushrooms are two vegan-favorite ingredients! Glazing them in soy sauce is a match made in heaven. The savory and slightly sweet glaze on the tofu pairs perfectly with the earthy mushrooms. This dish is sure to please vegans and meat-eaters alike. Get Recipe
Pan-Fried
Pan-frying is the standard way to cook these oyster mushrooms. If you want to add a little extra oomph to your oyster mushrooms, why not fry them up in garlic and butter? This simple cooking method will infuse your mushrooms with rich flavor, making them a perfect addition to dishes like veggie bowls or stir fry vegetables.
To pan-fry your oyster mushrooms, simply heat some butter and garlic in a skillet over medium heat. Once the butter is melted, add your mushrooms and cook for a few minutes until they're nicely browned. Get Recipe
Battered & Fried
These little morsels are the perfect bite-sized treat. Simply coat them in a light batter and fry them up until they're golden and crispy. Serve them with a dipping sauce of your choice, and enjoy!
You will surely love this recipe because they taste like real fried chicken, you can't even tell they're mushrooms! Add them to buns with TLC and you will have a mushroom burger instantly. Get Recipe
Teriyaki
Smothered in a sweet and savory teriyaki sauce, with a hint of umami, these oyster mushrooms are a crowd-pleaser that even kids love them!
To make, marinate the mushrooms in a mixture of soy sauce, mirin, and sugar, then cook them until they're nice and browned. Add some nice broccoli and serve them over rice or noodles. Get Recipe
Oven-Roasted
You only need 15 minutes to make these perfectly roasted mushrooms. They always come out nice and crispy with a soft, juicy interior. Get Recipe
Salad
Gingery, garlicky, and spicy oyster mushroom salad! This Chinese-style cold appetizer is sure to get your taste buds tingling.
The dressing is an infusion of so many authentic Asian flavors, making it the most exciting part of this recipe. If you love the aromatics from peppercorns and the intensity of red chilies, this salad is specially made for you. Get Recipe
Soup
Egg flower soup is like a bouquet of flowers in a bowl. It's simple, yet elegant and lovely to look at. The egg flower petals float in the broth like little blooms, and the soup has a light, delicate flavor that is perfect all year round.
This egg flower soup recipe is eggcellent in chilly weather, especially when you are coming down with a cold. Now add oyster mushrooms to the mix which are rich in vitamins and nutrients, and you'll surely feel better in no time. Get Recipe
Sandwich
This sandwich is absolutely vegan down to its core! It features succulent oyster mushrooms fried using vegan butter, vegan mayo, lettuce, tomatoes, and avocado, all nestled between two slices of crusty bread. A perfect lunch idea that you can easily make and bring to work. Get Recipe
Shawarma
This vegan mushroom shawarma may seem a copycat of the authentic meaty-filled shawarma, but you can tell that this dish is as hearty and tasty as the real thing without a doubt.
The mushrooms are marinated in a flavorful blend of spices, then roasted in the oven. Add your usual shawarma veggies (onions, tomatoes, lettuce, and more), and wrap them with your favorite flatbread. Instant lunch in 30 minutes and much better and cheaper than take-out. Get Recipe
Rockefeller
This vegetarian Rockefeller is a medley of fresh vegetables, including spinach, oyster mushrooms, and onions, all topped with a creamy cheese sauce. This dish is a perfect way to show your meat-loving friends and family that a meal can be just as delicious without meat! Get Recipe
Nachos
Who says nachos have to be loaded with greasy meat and dairy to be delicious? These vegan nachos are just as good as the real thing! These oyster mushroom nachos will be the life of the party once you've tried it!
So what makes these nachos so special? For starters, we assemble the corn tortillas flat. Then, we load them up with taco-flavored shredded oyster mushrooms, tomatoes, onions, jalapeños, and avocado. And of course, no nachos are complete without a generous helping of melted cheese. But in this case, we're using vegan cheese, so it's cholesterol-free and still just as gooey and delicious. Get Recipe
Pasta
The heavenly oyster mushroom sauce is what makes this pasta irresistible! Anything with milk and heavy cream in garlic butter is a guilty pleasure. And the oyster mushrooms are like the perfect little flavor bombs, adding just the right amount of earthiness to the dish. You will lick your plate clean once you try this recipe. Get Recipe
Scallops
A savory scallops using the stems of oyster mushrooms. They have all the flavor and texture of traditional scallops, but without the seafood. This recipe is a perfect appetizer or snack and is certified low-carb and gluten-free! Get Recipe
Pizza
I love mushrooms in pizzas. And the oyster mushrooms are giving this vegetarian pizza a really good meaty texture. The spinach is a great add-on to sneak in some greens. The oyster mushrooms and spinach are a perfect match, and the cheesy goodness brings it all together. Sprinkle with paprika for a little bit of heat. Get Recipe
Tocino
This dish is a vegan version of the classic Filipino "cured meat" pork tocino but using oyster mushrooms! Tocino is typically sweet and is a favorite breakfast along with fried rice! To make it, you marinate the oyster mushrooms in sugar, vinegar, and soy sauce. Never forget the annatto powder (atsuete)! It serves as a food coloring for tocino. Tocino won't be tocino if it's not red in color. Get Recipe
Grilled Skewers
You will love the tangy flavor of these king oyster mushroom skewers marinated in balsamic vinegar, thyme, oil, and salt. It only takes 8 minutes to grill them. Perfect to serve with a side salad and rice! Get Recipe
Pulled "Pork"
Look at those shredded mushrooms, they don't look like mushrooms at all! To make it, shred king oyster mushrooms into pieces, bake them with your favorite spices then add in your favorite BBQ sauce. Enjoy your nachos, tacos, and sliders with this dish. Get Recipe
Air-Fried
Crispy oyster mushrooms fried in an air-fryer. Get Recipe
Conclusion
Oyster mushroom recipes are great to add to your menu list. They are delicious and also budget-friendly. You can cook oyster mushrooms in many ways and they are as good as real meat. So if you're cutting your animal-based protein consumption, or trying to go vegan/vegetarian, start by eating oyster mushrooms. And these quick and easy dishes will give you an idea of how to prepare them.