Refreshing summer salad of sweet and juicy watermelon with cucumber, feta cheese, and mint tossed in the classic lemon-olive oil vinaigrette combination! Watermelon feta salad amazingly cleanses your palate, a must-try this hot and humid season!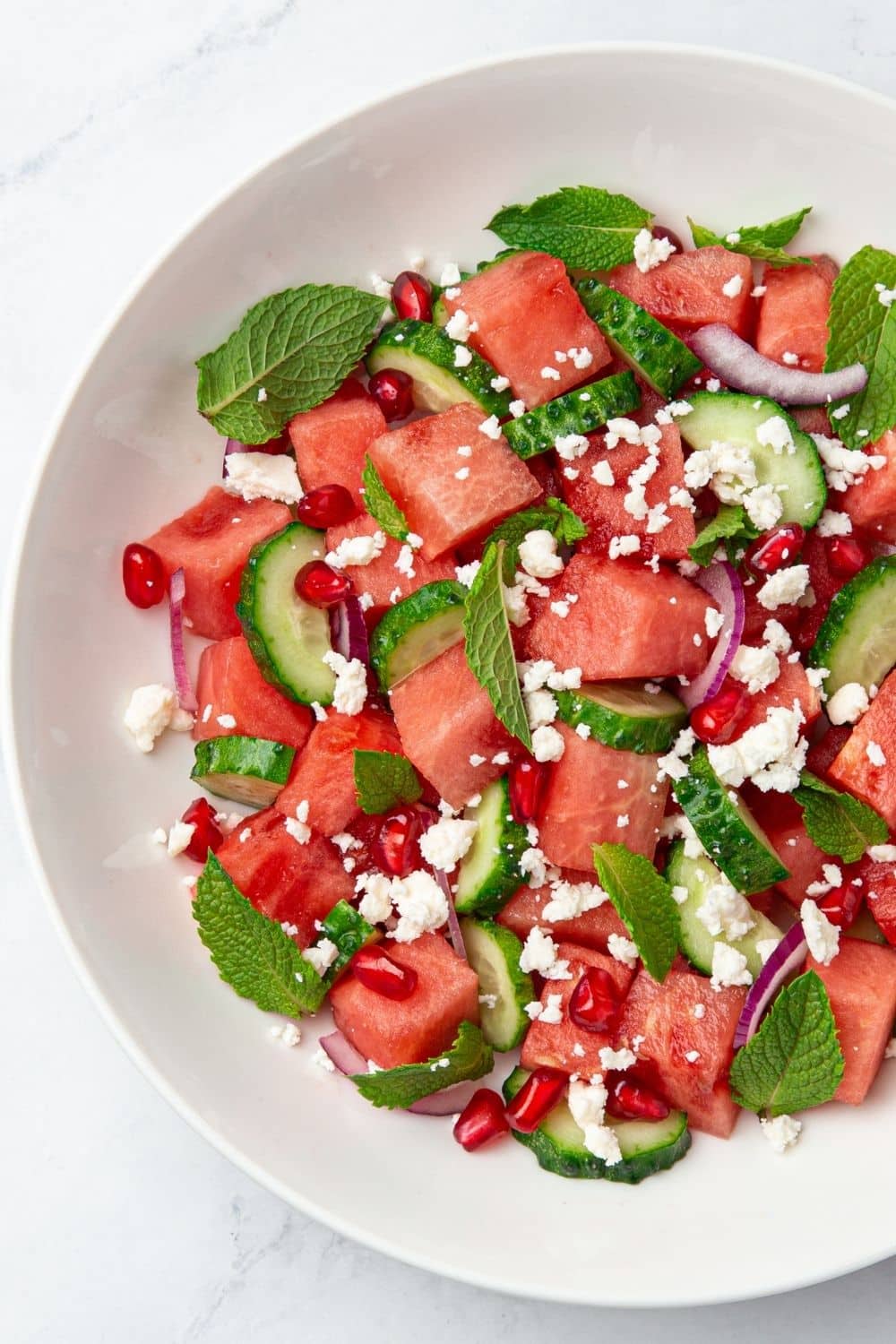 Whenever I have friends coming over, especially for get-togethers out in the backyard like the 4th of July, I put together a fresh watermelon feta salad. I actually make this one for formal occasions too. Let's just say it's a wonderful way to start the evening, and it's an effective conversation starter.
How to Pick Sweet and Juicy Watermelon?
Some tips that guarantee you'll get the perfect watermelon, no more tasteless watermelon once you know these tricks!
According to Real Simple:
Look for bold green stripes but not shiny ones because they are not ripe yet.
Find the bald spot in creamy yellow color.
Heavy is the key. It means it has lots of water, hence juicier and sweeter.
The rounder the watermelon is, the better!
Buy them during the season between the months of May and September.
Watermelon Feta Salad Ingredients
Only the freshest ingredients!
When I think of freshness, a few things come to mind, watermelon, fresh herbs, citrus fruit, and Feta. How springy and summery are these ingredients?!
Today we're putting together a fast and easy, colorful salad based on watermelon, Feta, lemon juice, lemon zest, an olive oil drizzle, red onions, and a few greens: fresh mint and cucumbers. Forget about boring salads!
Each ingredient plays a part. We have the fruit's sweetness, the saltiness from the cheese, the lemon's acidity, the unctuosity of fine olive oil, the mint's freshness, the cucumber's addictive lightness, and the red onion's awesome kick! To say this salad is balanced would be an understatement; this is the very definition of balance — a party in your mouth.
Watermelon is 96% water, but you can't deny its underlying sweetness, its unmistakable comforting flavors are charming, and that texture! I love how watermelon just melts in your palate. I like using seedless watermelon, but if you don't mind a little crunchy texture, use a regular watermelon, remove the black seeds and leave the white ones.
Then we have the Feta cheese. This briny, curd cheese of Greek inspiration is lively, slightly salty, and tangy, so basically, it's mouthwateringly delicious.
Feel free to exchange the herbs for making this salad your own. Use what's freshest in your local market. Substitute mint with basil or cucumbers with arugula or strawberries and pomegranate seeds; either way, your salad will end up great.
Please DO use a high-quality extra virgin olive oil — it makes all the difference. I like Greek and Italian olive oils, those with a subtle fruit-forward flavor and a silken mouthfeel. It pays to use premium oil, especially in salads.
What Goes Perfectly with this Salad?
This watermelon feta salad is a fantastic light lunch, and it's a superb starter that can pave the way for heartier dishes like a lamb rack, grilled chicken, or smoked brisket. It's also a great first course before a comfy beef stew!
Now that you know what this salad is about, let's talk about wine because this red-hued salad is super compatible with our favorite fermented juice.
The best way to pair this pretty salad with wine is by finding a nice dry rosé. Pink wine has a delightful acidity and an inherent freshness that will complement the salad's crispness and tangy personality.
Our salad and a glass of rosé have something else in common; they're super Instagrammable! And that means that you can share your watermelon dish with your loved ones. While you're at it, share a link to this recipe and show some love for colorful and tasty salads.
If you're ready, get your ingredients together, and let's make ourselves a lovely and healthy salad!
Watermelon Feta Salad
Refreshing summer salad of sweet and juicy watermelon with feta cheese and mint tossed in the classic lemon-olive oil vinaigrettte combination! Amazingly cleanses your palate, a must-try salad this hot and humid season!
Ingredients
3

tablespoons

extra virgin olive oil

1

tablespoon

lemon juice

1

teaspoon

lemon zest

4

cups

cubed watermelon

1

medium

chopped cucumber

1/4

cup

thinly sliced red onion

1/4

cup

pomegranate seeds

optional

1

cup

crumbled feta cheese

1/2

cup

coarsely chopped mint leaves

flaky salt
Instructions
Make the dressing by mixing together the olive oil, lemon juice and lemon zest in a small bowl.

In a large salad bowl, combine watermelon, cucumber, feta cheese, red onion, mint and a little bit of salt. Pour the dressing and toss the salad. Serve and enjoy.
Notes
Optional Ingredients & Substitutes:
Aragula Leaves
Strawberries
Basil Leaves