Beef stew is one of the best comfort food during the cold sweater weather months. This steamy and heart-warming recipe for beef stew is flavorful and bursting with awesome kick of different spices!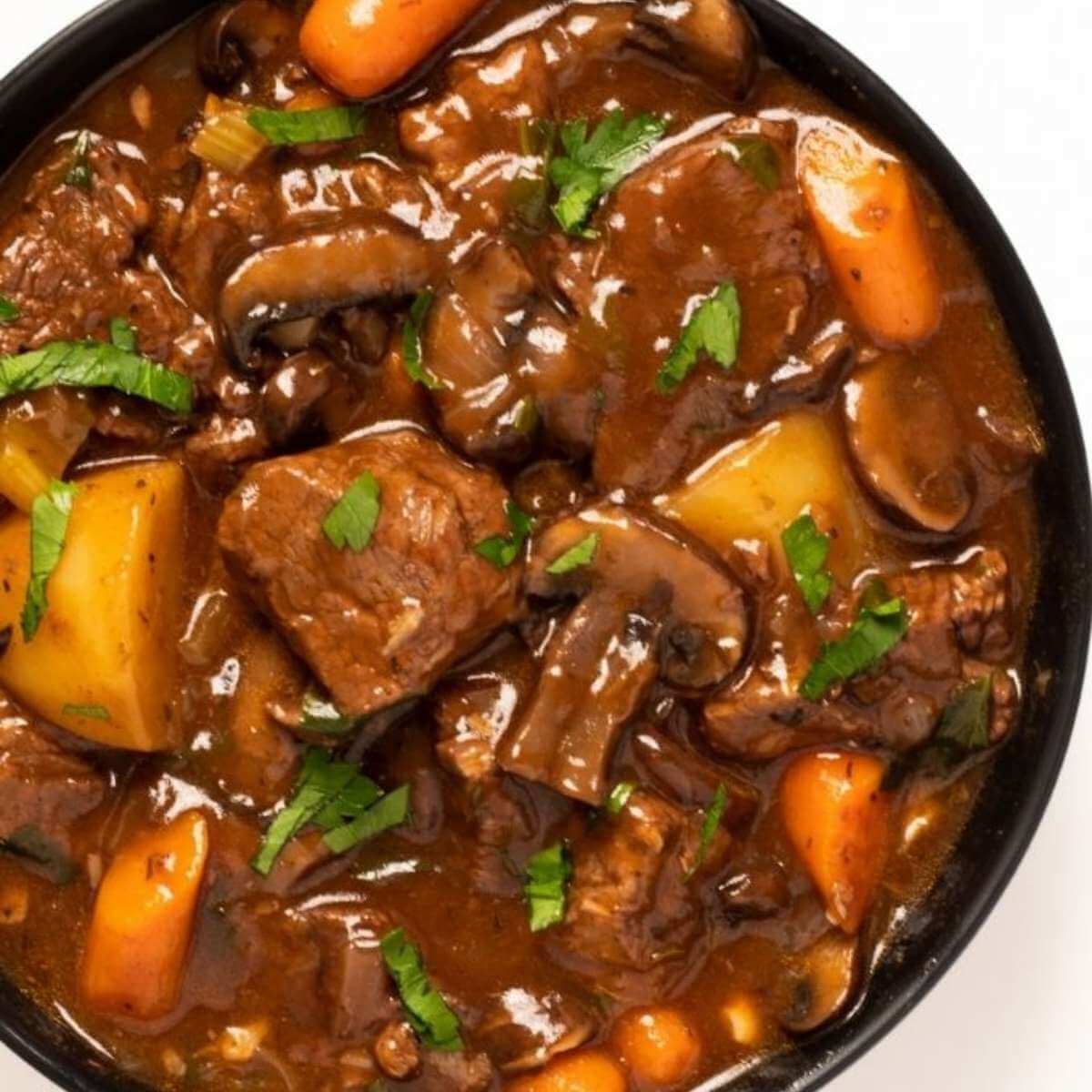 What is a stew?
According to Britannica.com, stew is a meat dish simmered slowly in low heat until softened and soaked with flavor as it tenderizes added with root vegetables and thickened with flour.
How to Make the Best Recipe for Beef Stew?
This recipe for beef stew is not only tasty but nourishing; it has all your body needs to feel energized and satisfied.
Don't get intimidated by the number of ingredients, this dish is actually very easy to do!
The main ingredient for beef stew is, of course, beef. The best meat comes from the beef's front shoulder, also known as the chuck, but the rear round is fantastic too. These cuts of meat are tough, but trust me, after a few hours simmering in a flavorful broth, they become fork-tender and juicy.
We'll add the classic vegetables: onions, celery, potatoes, carrots, mushrooms and garlic. They all come together with a few tablespoons of tomato paste. And there's more, a splash of full-bodied red wine (this is my secret) really elevates the dish to new pleasurable heights.
Your herbs and spices are the difference between a tasty beef stew recipe and a fantastic meal. Bay leaf, rosemary, thyme, Italian parsley and marjoram add a wide range of fresh, aromatic herbs to the stew, really enhancing both the broth and the meat's flavor. This is restaurant quality right here without losing the classic home-cooked flavors of a good stew.
I also like to add a teaspoon of paprika. It might not look like much, but it gives color and a nice mild spiciness to the beef stew. I've tried making mine with and without paprika, and I can say you don't want to skip it.
Finally, you might want to use broth and season your stew to your taste. Adjust with salt and freshly cracked black peppercorns to taste. I add a tablespoon of Worcestershire sauce to amp-up the flavors a bit, another little secret you can use!
What To Serve With Beef Stew?
Beef stew is a whole one-pot meal, so you need not serve much more with it. Having said that, it's always nice to have a fresh loaf of artisan bread at the table. Nothing too fancy, just freshly made, fluffy bread. Try this no-knead bread.
Since we add a dash of wine to the stew, you might have some leftovers that will pair nicely with the food, so pour your guests some wine! It will immediately upgrade your dinner, turning it into a fancy, memorable reunion with your perfect beef stew as the star of the show.
You might also like:
The Best Beef Stew
A very good hot stew for the cold fall and winter months. Flavorful beef in every spoonfuls with bursting tastes of different spices!
Ingredients
Beef Stew Spices (these can be substituted with 2 tablespoons Herbs de Provence)
1

teaspoon

salt

1/2

teaspoon

ground pepper

1

teaspoon

paprika

1

teaspoon

dried thyme

1

teaspoon

marjoram

1

teaspoon

dried rosemary
Stew Ingredients
1

tablespoon

oil

2

pounds

beef stew slices

1

medium

onion

diced

2

cloves

garlic

minced

2

stalks

celery

chopped

4

ounces

mushroom slices

3

tablespoons

tomato paste

1

cup

red wine

2

cubs

beef broth

1

tablespoons

worcestershire sauce

1

bay leaf

4

medium

potatoes

quartered

1

cup

baby carrots

chopped

1/4

cup

water

2

tablespoons

cornstarch

slurry

fresh parsley leaves

for sprinkling
Instructions
Combine beef stew spices in a bowl. Set aside.

Heat oil in a pot on medium heat. Lightly fry the beef, do not overcrowd, work on batches if necessary. Also sprinkle it with a little bit of the beef stew spices. Once done, remove from the pot and set aside.

Saute onion, celery, mushrooms and garlic until soft and fragrant. Add tomato paste and stir. Add the red wine, broth, Worcestershire sauce, bay leaf, and the remaining beef stew spices. Bring it to a boil. Add the beef and simmer over low heat for 1 hour or more.

Add the potatoes and carrots and cook until soft. Make the slurry by combining 1/4 cup water and the cornstarch. Add to the stew until thickened. Sprinkle with fresh parsley.