Ricotta stuffed shells with spinach is an easy pasta recipe that is filled with 3 kinds of cheese and spinach, swimming in a delicious pool of marinara sauce!
Shell pasta, or Conchiglie, as Italians call these, are a super fun durum wheat pasta shape that you can fill with lots of goodies, including the creamy ricotta cheese.
The smallest shells are called conchigliette, and they're fantastic for soups, but for this recipe we're using the over-sized ones conchiglioni. For me, when it comes to shell pasta, the larger, the better!
I was out of ground meat when I thought of making this pasta recipe. I always have this huge pasta shells in my cupboard for a long time, good thing the internet is a vast world of recipes where you can find any recipes according to the ingredients you have on hand. So after a long while, I have put these huge pasta shells to good use and moreover making tonight's dinner delightful.
Ingredients and Steps for Ricotta Stuffed Shells with Spinach
Today we're stuffing jumbo shells pasta with ricotta cheese seasoned with garlic and flavored with spinach, mozzarella, Parmesan, salt and pepper. We're throwing in a few fresh basil leaves too! Here's what you need to know.
This recipe for ricotta stuffed shells with spinach pasta is quite easy to bake, and it's easy to see why this is a crowd-pleasing meal, it will fill your kitchen with the loveliest Italian scents!
It all starts with a pot of boiling water. We're baking the shells, but you must cook the pasta first. Once 'al dente,' the shells are ready to be stuffed.
The stuffed shell filling is so straight-forward. You must brown the garlic and sauté handfuls of spinach leaves, and then combine them with the ricotta, mozzarella and parmesan cheese. Seasonings and herbs follow.
Once we fill the shells, we'll place them in a square baking pan or any baking dish you have over a bed of marinara sauce, and we're topping everything with more marinara sauce.
The oven does the rest, and the result is beautiful — a steamy and bubbly sauce coating your creamy and cheesy pasta for a satisfying dish that just tastes like Italian comfort food! The shells are quite fancy too.
Tips for the Perfect Ricotta Stuffed Shells with Spinach Recipe
Cook your pasta in salted water. As Italian Grandmas say, the water should be as salty as the sea!
Don't overcook the pasta either; remove and drain a minute before you'd usually drain your pasta. It should be malleable but slightly hard to the touch. Don't worry; the oven will take care of it.
Quality of the ingredients matter, especially for the cheese. We're using ricotta, Parmesan and mozzarella, so try to find nice cheese and not the generic stuff. It's a bit more expensive, but, at the end of the day, the pasta's filling is the star of the show.
Variations and Substitutions
Play around with different sauces. A meaty Bolognese sauce is an imaginative substitution for marinara, and a spicy arrabbiata sauce can add some thrilling heat to the dish. You can even go for a creamy Alfredo-style sauce for a white-over-white stuffed conchiglie.
Fill your conchiglie with minced meat, sautéed seafood, or mushrooms and veggies. The sky's the limit here.
Yes, play around with flavor substitutions, but texture matters, too. A fistful of crushed nuts (I like walnuts) can give the ricotta filling an interesting crunchy bite!
Frequently Asked Questions
Can I use other types of pasta?
Although the dish won't look exactly the same, you can use other hollow pasta shapes, like the tube-shaped cannelloni.
Is this recipe vegetarian?
This easy stuffed shell pasta recipe is certainly is, but it's not vegan. We're using lots of cheese here, and we're using an egg to give consistency to the stuffing.
How to store stuffed shells?
If you have leftovers, cover the baking tray with aluminum foil and store it in the back of the fridge for up to three days. Reheat the baking tray in the oven or microwave individual servings.
You might also like: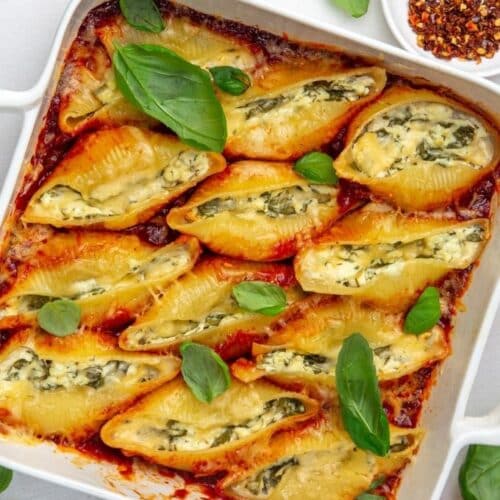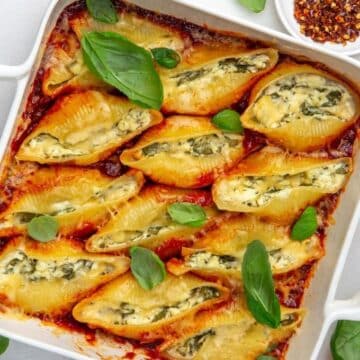 Ricotta Stuffed Shells with Spinach
Easy Ricotta Stuffed Shells with Spinach recipe that is filled with 3 kinds of cheeses and spinach in a delicious bed of marinara sauce!
Ingredients
16

pieces

jumbo shells pasta

1

tablespoon

olive oil

1

tablespoon

minced garlic

4

cups

spinach

12

ounces

ricotta cheese

1/2

cup

grated parmesan cheese

reserve some for topping

1

cup

shredded mozarella cheese

1

tablespoon

basil

1

large

egg

1

teaspoon

salt

(more or less according to taste)

1/2

teaspoon

grounnd black pepper

1 1/2

cups

marinara sauce
Instructions
Preheat oven at 375 degreese Farenheit. Cook pasta according to package instructions (al dente). Drain and set aside.

Heat oil in a pan and saute garlic until soft and fragrant. Add in the spinach and cook until just wilted, let it cool.

In a bowl, combine the sauteed garlic and spinach together with the cheeses - ricotta, parmesan, mozarella. Also add in the egg, basil, salt and pepper. Mix well. Stuff your shells with the mixture, dividing them equally into 16 jumbo shells.

Pour half of the marinara sauce in a baking dish. Place the stuffed shells, lining them up in one layer. Pour the remaining marinara suace on top of the shells.

Cover with foil and bake for 25-30 minutes. Uncover and bake for 10 minutes more until bubbly and brown. Top with more parmesan cheese before serving.