Have you ever tried cooking with silken tofu? If not yet, here is a list of silken tofu recipes you can start making today!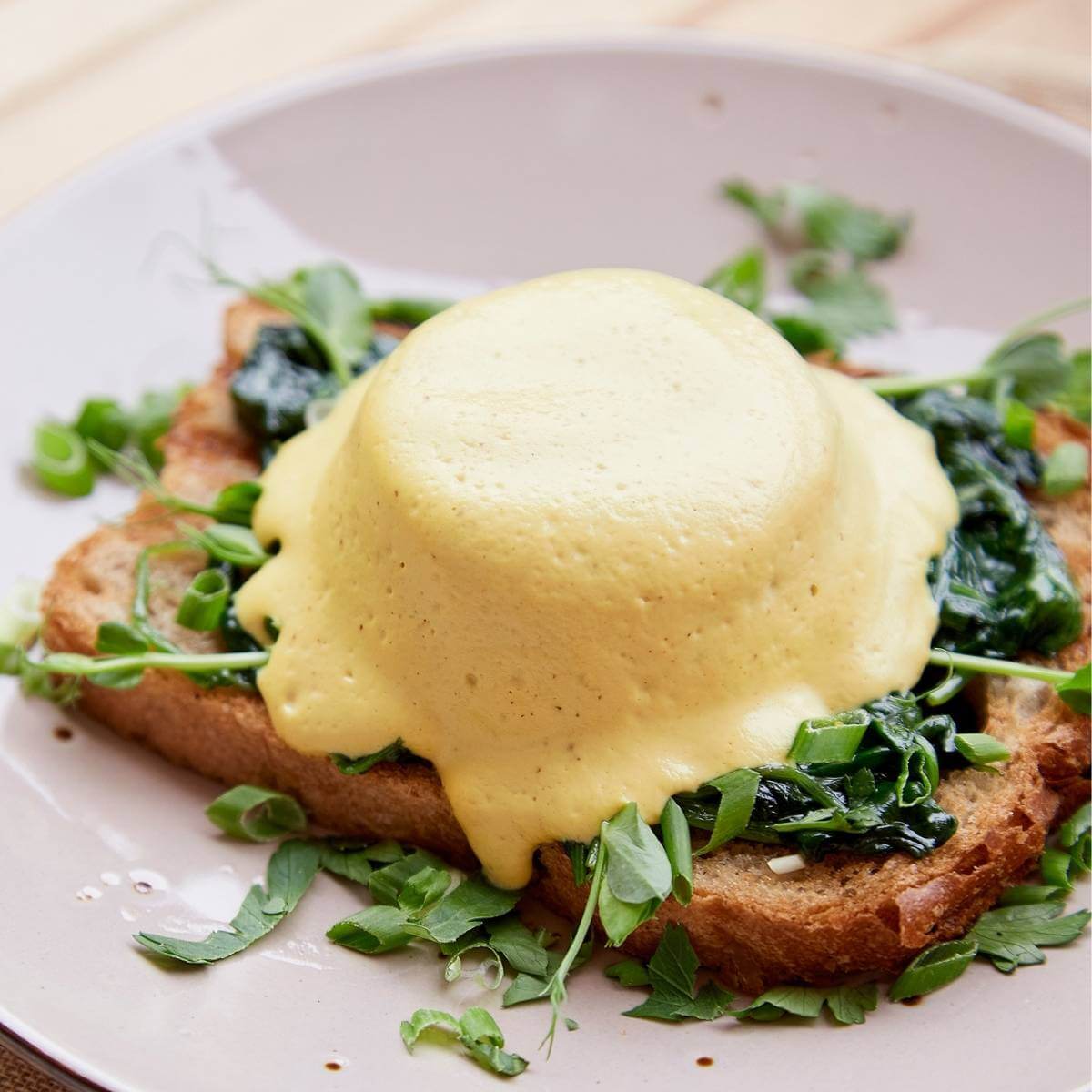 May it be sweet or savory dishes, these recipes are sure to satisfy you. Whether they're for breakfast, snack, or dinner, you can totally eat silken tofu any time of the day.
This protein-packed ingredient is so versatile and receives plenty of love from vegans, vegetarians, and even meat eaters.
What is silken tofu? It's a type of tofu that has a very soft, custard-like texture compared to a regular tofu. It's ideal for dishes that require a delicate touch and creamy consistency, such as sauces, desserts, and soups.
Additionally, there are lots of dishes that you can make with not only silken tofu but all types of tofu in general. You can check out these Asian tofu recipes for reference.
As for silken tofu recipes specifically, here are some of my favorite ways to use this powerhouse ingredient:
- In smoothies or shakes for a protein boost
- As a base for vegan sauces and dips
- As a replacement for eggs in recipes like scramble, omelets, and quiches
- In desserts like pudding, cheesecake, and mousse
Not sure what to do with silken tofu? Here are a few of our favorite recipes with silken tofu to start with:
This cold silken tofu recipe is a savory Korean dish that is best served cold. It only takes 5 minutes to assemble the ingredients making it so easy to prepare and perfect for when you're in a hurry.
Plus, it's easy to do, just combine all the aromatic ingredients like garlic, onion, and pepper with gochugang (Korean chili paste), honey, sesame oil, and soy sauce. Pour over tofu and sprinkle with some green onions!
What I love about this recipe is the sauce combination. It works really great with the delicate custard texture of the silken tofu. Go to recipe
If you think silken tofu is too soft and delicate to fry, you have to think again. Together with other vegan ingredients that work, this silken tofu is crispy fried to golden perfection. Serve it with a dipping sauce or as part of a larger meal.
What I love about this silken tofu recipe is the breading. Usually, when frying food, you use eggs but this recipe uses chickpea flour diluted in water instead, making this recipe completely vegan. Go to recipe.
A bowl of piping hot and spicy silken tofu soup is the perfect way to chase away the winter blues. This delicious and healthy soup is full of nutrients and has a lovely silky texture.
The best part of this recipe is the chili oil soup base. This important step in the recipe is simply done by sautéing the sesame oil, gochugaru, garlic, and green onions until soft and fragrant.
What I love about it: This dish is so flexible that you can add more veggies and another protein of your choice. Get the recipe here.
This silken tofu dish has a thick, rich, umami-flavored black bean mushroom sauce inspired by the Mapo tofu recipe.
The sauce is so flavorful that matches really well with tofu. You can serve it over rice or noodles.
What you will love about this recipe is the spiciness level. You can adjust it and make it as spicy as you want or not spicy at all. Get recipe.
There's nothing quite like a hearty vegan breakfast to start your day off right. And what could be heartier than a plate of soft tofu scramble?
At first glance, you will mistake this recipe for real scrambled eggs. But actually, they are silken tofu.
Why you will love this recipe: You won't believe how the silken tofu holds well in this recipe despite its delicateness, and the texture and fluffiness resemble that of scrambled eggs. Get the recipe here.
Silken tofu is a popular ingredient as a replacement for eggs. An example is this recipe for vegan quiche. This vegan silken tofu quiche is the perfect dish for any brunch or breakfast.
The delicious and rich flavors come from the savory tofu base. The tofu combined with onions, garlic, and spices, creates a flavorful and satisfying filling along with your choice of seasonal ingredients. And to achieve a golden and flaky crust, you bake the quiche in a vegan pie crust.
What I love about this recipe is: It is light, fluffy, and full of flavor. Make this recipe.
This is one of the many silken tofu recipes for weeknights when you are busy and need to prepare dinner in under 30 minutes.
It's a comforting dish of soft tofu in a bed of gravy-like sauce with peas, corn, and mushrooms stirred in eggs.
Why you will love this recipe: The silken tofu goes well with the flavorful egg sauce. So smooth and refreshing in the mouth. Find the recipe here.
Rich, creamy, full of flavor Alfredo pasta sauce made with silken tofu. This is a good pasta sauce alternative for those who do not consume dairy.
With the cauliflower blended with the sauce, it's a great way to snuck in some veggies.
I love this recipe because it's dairy-free! You can see the recipe here.
If you've never tried scalloped potatoes with silken tofu sauce, now is the right time to make it.
The silky sauce clings to the potatoes, infusing them with its rich flavor. The result is a dish that's both hearty and satisfying. Also, a great addition to your list of dishes on Thanksgiving.
What to love about this recipe: The sauce is so yummy! Get recipe.
If you were a lover of cheese before you went vegan, worry no more. This vegan mac and cheese is a creamy, dreamy, and cheesy alternative to the classic dish.
You make the sauce with silken tofu, nutritional yeast, and a variety of spices for a flavor that will satisfy your cravings.
The best part is that it's just as easy to make as the original, so you can enjoy it any night of the week.
You will love this recipe because it's nut-free and gluten-free! Go to recipe.
Your favorite vegan red curry in creamy peanut sauce with silken tofu and veggies is a delicious quick and easy dish that you will enjoy.
To make this curry, simply sauté some onions and garlic in a pan, then add in your favorite curry paste (like red Thai curry paste) and peanut butter. Next, add a can of coconut milk and some veggie broth.
Then, add in the silken tofu and your desired veggies (broccoli, bell peppers, and carrots). Let the curry simmer until everything is cooked through, then serve over rice or quinoa.
Why I love this recipe: Healthy and rich in protein. Make this recipe
This vegan mushroom soup is a hearty and flavorful blend of mushrooms, onions, and garlic simmered in a savory vegetable broth and cream made from silken tofu.
It's the perfect plant-based soup on chilly nights, and it's also great for a quick and easy lunch or dinner.
What to love about this recipe: It's dairy-free and the consistency is amazing! You will find the recipe here.
This hollandaise sauce only takes 5 minutes to make in a blender and is perfect for dressing up your favorite dishes. It's vegan, gluten-free, and high in protein!
This vegan hollandaise sauce has a tofu base, which gives it a rich and creamy texture. You blend the tofu with lemon juice, vinegar, and spices to create a flavorful and unique sauce.
You will love this recipe because it's quick to do and tastes great for breakfast. Get recipe.
There's nothing quite like a dollop of vegan sour cream on your baked potato or Mexican feast. But what is this magical dairy-free topping, and how do you make it?
Vegan sour cream is a dairy-free and vegan alternative to traditional sour cream. It's made from a base of cashews, tofu, or coconut milk, and it's flavored with vinegar, lemon juice, and salt.
So how do you make vegan sour cream? It's actually pretty easy! Just blend all of the ingredients together in a blender or food processor until smooth. Then, chill the mixture in the fridge for an hour or so to allow the flavors to meld. Go to recipe.
This vegan version of French onion dip is so creamy and smooth, thanks to the combination of silken tofu and vegan mayo. Moreover, it tastes authentic because of the caramelized onions.
Why you will love this recipe: You can make this ahead of time. It's the perfect dip for any party or gathering, and it's sure to be a hit with vegans and non-vegans alike. Go to the recipe here.
Now for ideas on sweet silken tofu recipes, let's start with a tofu smoothie!
This smoothie is dairy-free, gluten-free, and vegan, but it's not lacking in flavor or creaminess. Thanks to silken tofu, this smoothie has a lovely texture and a boost of protein.
I know what you're thinking, "Tofu in a smoothie? Isn't that a bit...weird?" But trust me, you won't even taste the tofu. All you'll taste is the sweetness of the berries and the creaminess of the bananas.
What to love about this recipe: It's an on-the-go snack or meal especially when you are short on time. Try this recipe now.
This unlikely combination actually works surprisingly well together. The smooth, creamy texture of tofu pairs perfectly with the icy, frothy frappuccino. And don't worry, you won't be able to taste the tofu at all.
The best part about this frappuccino has to be the fact that it's vegan. That's right, no need for dairy. So if you're looking for a dairy-free alternative to your usual frappuccino, this is it.
The key to its deliciousness is in the balance of flavors. The mocha is rich and strong, but not overwhelming, and the tofu provides a smooth, creamy base that helps to round out the sweetness of the drink.
You will love this recipe because it's not too sweet, but it's sweet enough to satisfy your cravings. Get the recipe.
If you've never had taho before, you're missing out on a delicious treat! Taho is a type of Filipino pudding made with fresh tofu, sugar, and vanilla. It's usually served with a small cup of coffee or tea.
Taho is often eaten for breakfast, but you can also enjoy it as a snack or dessert. It's a popular street food in the Philippines, and you can often find vendors (who carry large containers of it on their shoulders) selling it in markets and on sidewalks. It's a quick and easy on-the-go snack.
The best part about taho is that it's surprisingly easy to make at home. All you need is some fresh tofu, sugar, and vanilla extract. If you want to get fancy, you can also add some fruits or nuts. Find the recipe here.
This chocolate pudding is so good, it will make you believe in magic.
I'm not sure what's more impressive: that this pudding has only four ingredients, or that it's entirely vegan and gluten-free. But the real star of the show here is silken tofu.
If you have not cooked with silken tofu recipes before, no need to worry. They are actually really easy to work with, and tofu takes on the flavor of whatever you're cooking it with. In this case, it takes on the rich, chocolatey flavor of the pudding and gives it a smooth, creamy texture.
You will love this recipe because it's a bit healthier than your average pudding. The recipe is here.
This cheesecake tart is so heavenly and you can enjoy it without guilt! The long list of ingredients is quite intimidating, but don't be because you have all of them in your vegan pantry.
For the crust, you will need dates, flax seeds, seed butter, cocoa, and agave with a hint of vanilla. For the filling, silken tofu and coco milk give the tart a rich and creamy texture. The lemon balances the flavor by giving a citrusy kick. Top with your choice of fresh berries.
What to love about this recipe: It's a no-bake dessert! Moreover, it's nut-free, egg-free, dairy-free, and gluten-free! Go to the recipe.
This rich and creamy mousse is a great way to satisfy your sweet tooth without overindulging. Simply blend silken tofu, cocoa powder, and your favorite sweetener until smooth. Then, chill in the fridge for a few hours and enjoy!
I love this recipe because there is no cooking needed. Go to recipe.
Now, the following are sweet silken tofu recipes:
Rich, chocolatey, and fudgy silk pie with only 6 ingredients! What's more? It's dairy-free!
It's amazing that this recipe is so chewy and moist! It's the silken tofu that made it so and anyone will love these brownies. Furthermore, you won't need any butter or oil to make this recipe.
Deliciously bittersweet! A taste that complements each other in this smooth and creamy eggless tiramisu.
The tofu provides a light and fluffy texture, while the coffee and chocolate give the tiramisu a rich flavor.
This raspberry mousse is a light and fluffy vegan dessert that is refreshingly perfect. It is made with a combination of fresh raspberries, agave syrup, lemon juice, vanilla, and silken tofu. The result is a smooth and creamy mousse that is bursting with raspberry flavor.
I love this because it's easy to do, you only need 5 ingredients, low-fat, and best of all kid-friendly!
No dairy pumpkin pie? I'm in. And it's made of tofu? Yes, it's hands down rich and creamy made possible by silken tofu. There's no reason you won't enjoy pumpkin pie on Thanksgiving even though you are lactose intolerant.
In conclusion, tofu is a great protein source to make healthy dishes. And cooking with silken tofu is surprisingly easy. Together with the right ingredients, you can successfully create delicious meals with it. So now it's time to get creative and make these silken tofu recipes.