Chicken Marbella is grand on its own but have you ever thought of what sides that go well with it? What to serve with chicken Marbella? Rice? Potatoes? Veggies, perhaps?
Ok, dinner's ready and all, it's delicious, perfect but you always wonder what you can pair with the dish you just cooked? A meal is oftentimes not complete without something to go with it. Your palate looks for a complementary dish of sort that will uplift the texture and enhance the flavor of your main dish.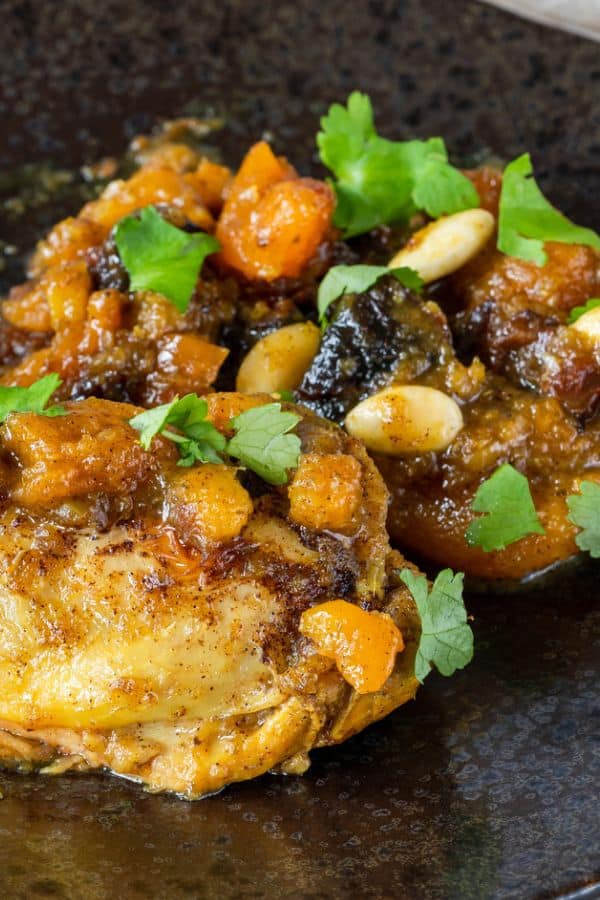 What is Chicken Marbella?
Chicken Marbella is a dish with great depths of flavors. A sweet, savory, tender and juicy chicken recipe made popular in early 80's published by Silver Palate Cookbook. Its ingredients leave a rich and unforgettable tastes to the chicken down to its bones, a result of the garlicky and herbs marinade.
What so special about it are the addition of prunes, olives and capers making the dish so so extra. This dish deserves a five-star restaurant-quality award.
Now we go to the side dishes that you can serve with it. When thinking of preparing sides that go well with Chicken Marbella, you have to keep everything basic and simple down to the fewest ingredients. The following criteria will guide you:
Light in flavor, as not to overpower the main dish. You are looking for something subtle that will complement it, a side dish that will give more quality to the meal as a whole is a perfect choice.
Starchy and grainy sides. Whenever the main dish is protein-rich, adding some carbs to the mix completely elevates the dinner menu.
Green, leafy, and crunchy vegetables. Either roasted, sautéed or a simple fresh salad, they all goes well with it.
What to serve with Chicken Marbella? Here are 15 simple but great side dish ideas! You can actually partner these sides to ANY chicken recipes or other meat dishes.
1. Quinoa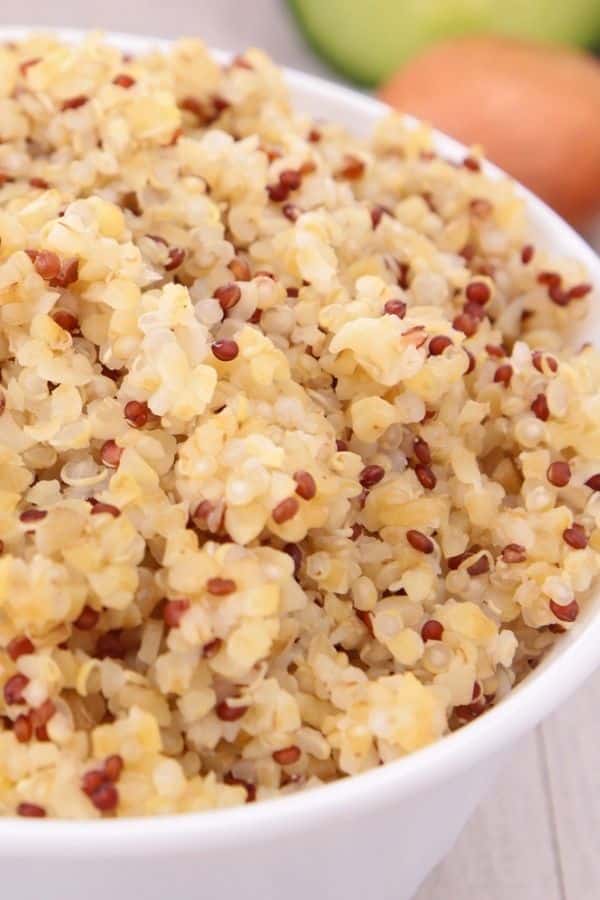 Quinoa is a common substitute for rice nowadays, even though they both have protein and fiber content, quinoa has twice as much. It leaves you a feeling of fullness for just a small amount of serving, making it the healthier choice when compared to other rice substitutes.
Cooking quinoa is as simple as abc, you only need 2 ingredients to make it fluffy and tasty - quinoa and water. Cook it on a stove top or a rice cooker. 20 minutes is all you need and you have a pot of quinoa. But did you know that quinoa when not washed properly, leaves a bitter taste on the mouth? So make sure to turn up that tap and wash them thoroughly.
There are endless recipes that you can make with quinoa. Because of its sweet and nutty flavor, it goes well with almost anything and everything like chicken dishes or grilled fish, roasted veggies, wraps and as well as stuffing to potatoes or pepper.
Here's a recipe to a perfectly fluffy quinoa.
2. Couscous
Whether you're confused if this is a grain or pasta, couscous is well-suited to pair with any chicken recipe regardless. These little grainy balls (that are actually pasta) is easy to prepare because all you need is to boil them using stock or water.
You can describe its flavor as similar to pasta, they don't taste anything at all. Half cup of couscous with a serving of this chicken recipe is a match-made in heaven.
To make couscous, here is a basic couscous recipe with only 3 ingredients.
3. Steamed Rice
Growing up in an Asian household, not a day goes by that we do not consume rice. Either white, brown or red, we eat rice 2-3 times a day. Rice goes with every dish, no exceptions! Rice makes everything better, carbo-loading makes us happy.
If you do not have a rice cooker, cooking rice is just basically boiling it until they're soft, nice and dry. You have to wash the rice first and measure the amount of water. For white rice, the common ratio is 1:1 (1 cup of rice is to 1 cup of water). It depends on the brand and kind of rice sometimes. Whether you're cooking long grain or short grain rice, the amount of water always differs.
Cooking brown and red rice are different on the other hand. The rice needs pre-soaking for 30 minutes and the ratio is 1:2. For a cup of either brown or red rice, you need 2 cups of water and the cooking time is much longer. Make sure to follow instructions from the label.
You can replace water with stock and add butter, but if this dish is to be served with Chicken Marbella, cooking with water is the way to go.
To make steamed rice, follow this recipe on how to steam rice.
4. Risotto with Mushroom
As compared to steamed rice, risotto meanwhile is a creamy and buttery Italian rice dish. Usually cooked on a stove top, making risotto should not be left unattended. Stirring slowly and constantly - the secret to a successfully cooked risotto, while adding warm broth incrementally. Never leave your risotto to cook dry.
The way you serve risotto will make or break your dinner. Make sure to spread this silky and sticky dish on a plate first before putting in your meat, or vegetables. Always eat them warm, no cold risotto allowed here.
There maybe a lot of risotto recipe variations, but basic risotto is the best side to serve with chicken Marbella.
Checkout this simple risotto with mushroom recipe.
5. Polenta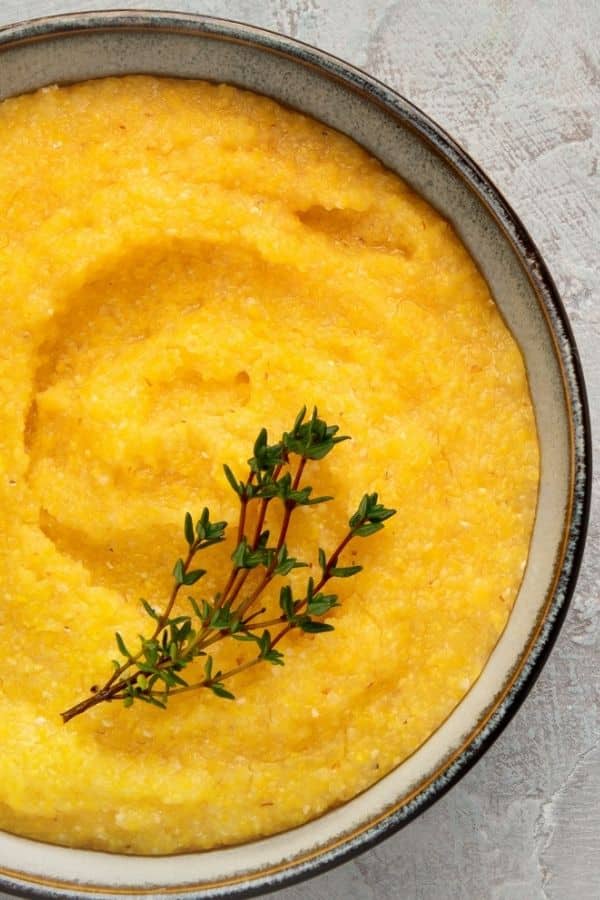 For sure, this is the first time you heard about Polenta. So what is it anyway? Polenta is a cornmeal made with either coarsely or finely ground corn. It originated from Northern Italy.
To cook Polenta, there used to be lots of proper techniques to follow. But ordinarily, the amount of water to make polenta is what matters. Hydrate the polenta with the right ratio of water, it will guarantee you a perfectly cooked polenta.
How does Polenta looked like when cooked? Not runny of course. It should look like newly cooked scrambled eggs, soft, moist, and creamy. You can achieve those by taking heed of how long the cooking process is. But pre-soaking them will cut the time in half.
For more tips, make sure to check the recipe guide here.
6. Bread
Bread is a convenient side dish to choose since you can always buy them from the store and is a pantry staple. You never run out of bread, you always have them freshly bought or baked, if they go stale you can always make something out of it that is useful like this homemade croutons.
May it be dinner rolls, a slice of crusty bread or whole grain ones, it is nice to wipe off your plate clean with these bread choices, especially if the dish is full of juicy mouthwatering flavors. Never waste that last smear of sauce behind.
If you're feeling inspired and making from scratch is your cup of tea, try this recipe for no-knead bread in a dutch oven.
7. Mashed Potatoes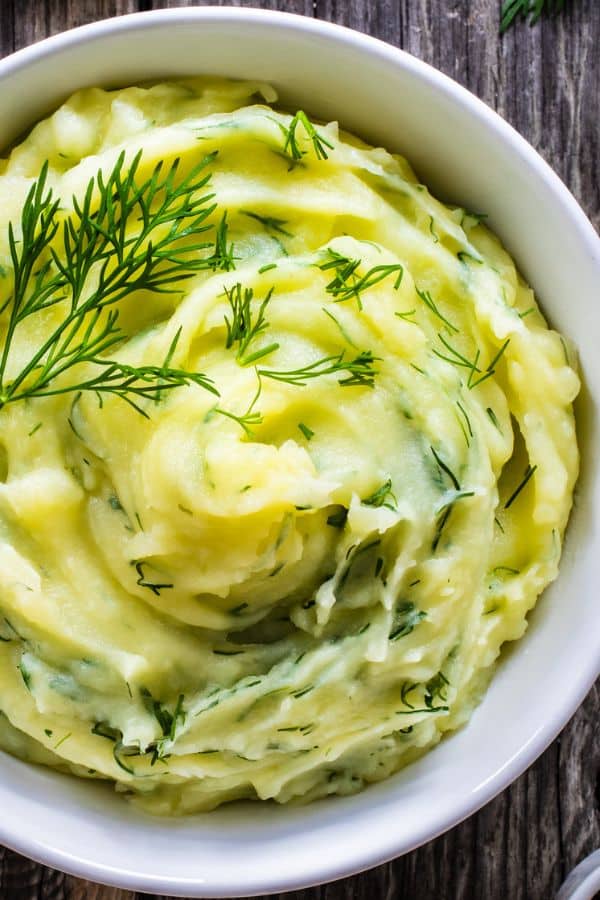 Whenever you decide of what side that goes well with any meat dishes, mashed potatoes is always and forever the number one choice that perfectly fits the bill. There are dozens of ways to cook it and a number of variety of potatoes to use but mashed potatoes is quite a delight whenever.
Mashed potatoes should be buttery and creamy. Though there are instant recipes that you can buy from groceries, making mashed potatoes from scratch is surprisingly easy. There are tips and tricks to make the smoothest mashed potatoes. Make sure to have your equipment ready - a potato masher.
You can make this dish as simple as it can be or as elaborate it can get. Top it with your favorite herbs for a different kind of experience.
For a basic recipe, here is a recipe guide you can follow for mashed potatoes.
8. French Fries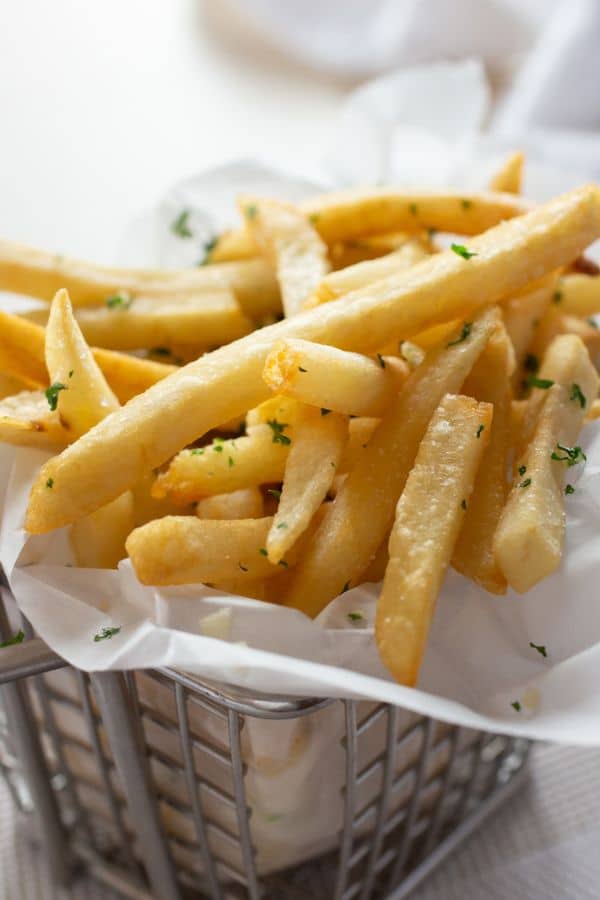 Fish and chips? Burger with fries? Anything with fries on the side is a happy meal. That is why it is one of best sides to serve with chicken Marbella. Deep-fry them, air-fry them or oven-bake them, the starchy flavor of potatoes always brings comfort.
You can buy frozen and ready to cook fries but nothing beats homemade! So before you cook your fries, make sure to soak the sliced potatoes in water. Soaking is removing the excess starches from the potatoes hence giving you a nice and crispy fries. Double-frying them in peanut oil is a secret tip.
Get the recipe guide here for potato fries.
9. Roasted Potatoes
Whether you peel the potatoes or leave them unpeeled, it doesn't matter when roasting potatoes. Shower this gem with your favorite seasoning and herbs (either dried or fresh) and you'll be given a wonderful side dish that only keeps on getting better the more you make it.
Make sure to preheat that oven to the highest temp depending on the number of potatoes you need to roast. As always, when potatoes is the queen of a recipe, soaking is highly recommended. This is to make sure you have a crisp potatoes on the outside and tender on the inside. Line them perfectly on a baking sheet without overcrowding them.
Eat them as is or pair them with your favorite dressing.
Enjoy this recipe guide here for a potato-field dinner.
10. Sweet Potatoes
Another simple recipe you can make as a side dish are sweet potatoes. You can either bake them or boil them. Smear some butter on them for a lovely treat. Personally, I prefer them boiled, whole, with skin on. I love them as in between snacks or sometimes breakfast.
If baking them is much more your preference, you will only need the simplest ingredients. Sweet potatoes are flavorful as they are so some oil and salt are sufficient enough. Line them up or cover with foil individually when baking. At 400 degrees Fahrenheit for an hour and a half, you'll have yourself a perfectly baked sweet potatoes.
Get the recipe here for baked sweet potatoes.
11. Asparagus
Another great side dish to serve with Chicken Marbella is asparagus.
Did you know you can eat asparagus raw? Shred them or cut them small and add to your favorite salad for a crunchy goodness. In my opinion, they are best steamed or oven roasted.
To steam asparagus, place in a steamer until they turn bright green. Poke with fork, once soft, it means they are ready.
If you like it roasted, drizzle and coat the asparagus with oil, salt and pepper. Roast on high temperature about 400 degrees Fahrenheit for ten minutes!
12. Sautéed Spinach
This leafy green vegetable is a great add-on to any dish and is rich in nutrients. They grow all through out the year so its convenient to add these greens to any creamy recipes, quiche or salads. They are fibrous that aids digestion, so consuming a moderate amount will give you the healthiest benefit.
Saute or blanch them, they're so good either way. Do not overcook or undercook them for they produce bitter after taste. They are best drizzled with sesame oil and topped with sesame seeds.
You will find the recipe here.
13. Sautéed Green Beans
Another simple side dish that pairs well with any meat dishes is sautéed green beans. You will only need oil and minced garlic. First, you have to boil the beans, before it gets tender, drain the water. In a pan, heat oil and toss the beans with the garlic. Season with salt and pepper.
Did you know? Green beans are actually fruits and not vegetables! This legume is available year-round and are usually sold in packs. The pods are the star of this unripe fruit because they are naturally sweet. They are rich in fiber and low in fats making them the best if you are trying to lose weight.
14. Air-Fried Brussel Sprouts
Air frying Brussels sprouts uses less oil while at the same time gives you a crispy texture like those that are deep-fried. They are crispy and tender at the same time. One tip to achieve that is by pre-soaking the sprouts in warm water for about 10 minutes.
Though you'll only need oil, salt and pepper to make this recipe, the topping options and add-ons are over the top. You can have them as is, with garlic, with bacon, drizzled with balsamic glaze or even coated with parmesan cheese.
Out of all the veggies under the cruciferous family, Brussels sprouts contains more vitamin E and vitamin B-1 compared to broccoli and cauliflower. It means that the more you consume, the more your body gains anti-oxidants!
15. Roasted Broccoli and Cauliflower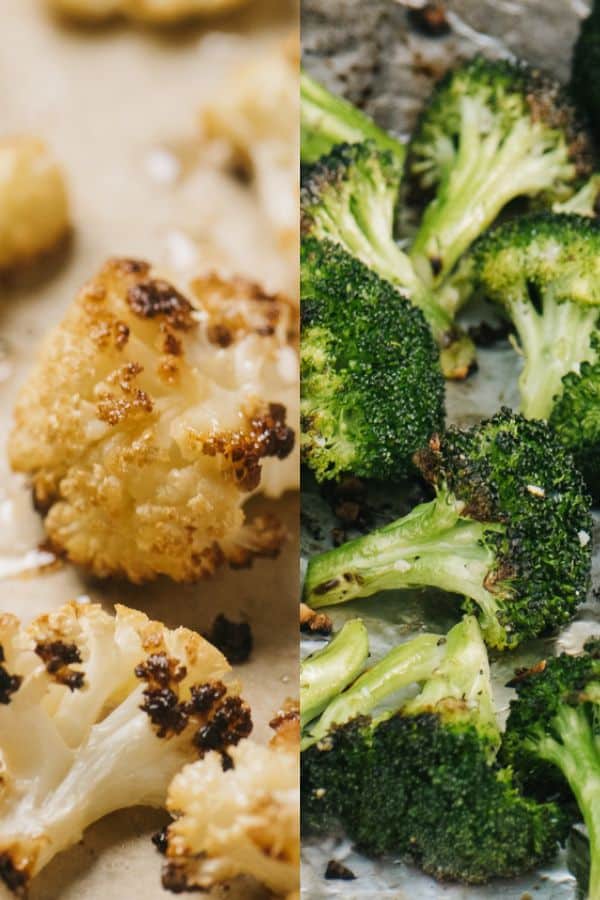 Another entry that belongs to cruciferous family are the broccoli and the cauliflower. For this recipe to be in its beautiful form, cutting them into uniform bite-size pieces is a must.
Before roasting them, make sure to wash and dry them thoroughly. Once done, drizzle with oil, salt and pepper plus garlic. Coating with parmesan is optional. Line them up nicely on a baking sheet and bake at a high temperature about 450 degrees fahrenheit for 15-20 minutes.
This recipe passed the quick and easy recipe vibe check. They're nutritious, delicious and not heavy on the pocket. Simple and few ingredients but the dish is tasty and elegant!
Conclusion
Now choose your sides! With this list of recipes it will be easy to decide on what to serve with chicken Marbella. If you asked me about the best side dishes for chicken Marbella, I'd say rice (obviously)! And probably some sauteed veggies like roasted broccoli and green beans for a well-balanced meal.
How about you?
What to Serve with Chicken Marbella (15 Side Dishes That Go Well With It)
Chicken Marbella is grand on its own but have you ever thought of what sides that go well with it? What to serve with chicken Marbella? Rice? Potatoes? Veggies, perhaps?
Ingredients
Quinoa

Couscous

Steamed Rice

Risotto with Mushroom

Polenta

Bread

Mashed Potatoes

French Fries

Roasted Potatoes

Sweet Potatoes

Asparagus

Sauteed Spinach

Sauteed Green Beans

Air-fried Brussels Sprouts

Roasted Broccoli and Cauliflower
Instructions
Select recipe of choice above.

Gather and prepare all the ingredients.

Cook according to recipe instructions.