Here are 25 BEST side dishes if you ran out of ideas of what to serve with salmon.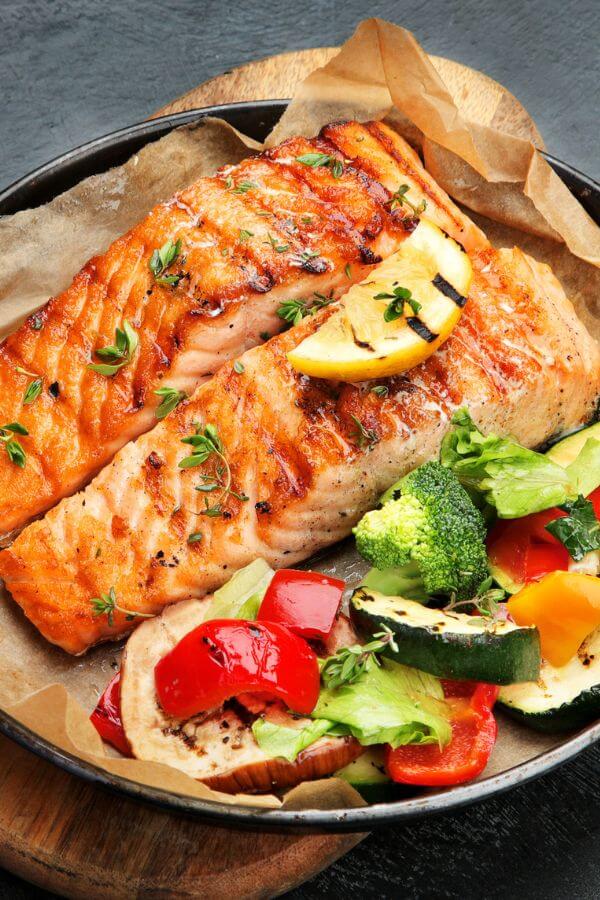 Whether you want it grilled, fried, or baked, salmon is a favorite protein alternative when you're tired of beef or chicken. But no matter how you cook your salmon, it's fun to serve this super tasty fish with some good side dishes.
You may feel overwhelmed with the endless list of options, but the best sides are always those that are quick (less than an hour) and easy (fewer ingredients and no-fuss cooking) to make!
Roasted veggies, some grains, or a simple salad will always suffice. They don't overtop but instead will enhance the flavor of your salmon entree.
So whether you are looking for something light and healthy or something carbo-loaded, here are 25 side dish recipes! You can easily pair them with salmon and they give balance to the buttery, mild and sweet taste of salmon.
25 Salmon Side Dishes
I've divided these side dishes into 5 categories: Potatoes, Vegetables, Rice and grains, Salads, and Soups.
Crispy Smashed Potatoes
I love this recipe because it only has 4 ingredients! The use of multicolored (blue, yellow, red) baby potatoes makes it more fun and appealing. The crispiness of this dish makes a good complement to the buttery soft texture of salmon.
To make this, boil your little potatoes, and once cooked, smash them using a fork. An expert tip for a crispier potato is to smash them as thinly as you can! Spray olive oil and generously season with salt. Bake in the oven until brown and crisp.
The best part is the potato skin. The skin gives a crunchy experience, so do not remove them.
Get the recipe for Crispy Smashed Potatoes.
Air Fried Potato Wedges
This recipe is nongreasy and a healthier alternative to traditional fried potato wedges. You can cook these wedges in an air fryer with little to no oil. 4 wedges have 130-150 calories for those wondering.
I love how crispy and golden brown these air-fryer potato wedges get on the outside while staying fluffy and tender on the inside. An absolutely popular side dish that you can serve with salmon and any other meat dishes.
The spices are what make this recipe tick! Potatoes have a bland taste but season them with lots of spices (garlic powder, oregano, Italian seasoning, and more) and you'll find yourself enjoying this dish more and more.
Here is the recipe for Air Fried Potato Wedges.
Fondant Potatoes
This is a fancy side dish to grilled salmon. Sometimes you just want to have dates at home but an elaborate meal is not your forte. But who has thought that you can easily make your favorite potatoes into a gourmet recipe that is easy to do? Your inner culinary persona will totally nail this recipe without a chef's certificate and will impress your date.
Fyi, fondant potatoes are a classic French dish. You cook the potatoes in a flavorful broth and then coat them in a creamy garlic butter sauce.
I love broth! The flavor of broth seeps through the potatoes turning a simple dish into an appetizing melt-in-your-mouth elegant dish.
This is the recipe for Fondant Potatoes.
Crispy Baked Potato Casserole
You will love the slowly roasted and delicately crisped potatoes! To make these crispy potatoes, boil your potatoes, once done, dice them, then place them in a glass casserole and bake in the oven! Make sure to toss and scrape the potatoes from time to time as they tend to stick at the bottom of the casserole.
The caramelized onion toppings are the star of this recipe. They are sweet and savory with a rich flavor, a perfect contrast to the salty and flavorful crispy potatoes. This dish is a well deserve recipe that you can serve with salmon.
Go to Crispy Baked Potato Casserole for the recipe.
Scalloped Potatoes
Creamy, cheesy, and big on flavors! So, what exactly are scalloped potatoes? They're simply thin slices of potatoes with a cream sauce that you bake in the oven.
The cream has herbs, spices, and sometimes fresh garlic infused in it. The result is a dish that's both rich and satisfying. Another best thing about this recipe is that you can make this ahead!
Of course, this recipe is not possible without the cream, cheeses, and herbs combo.
Get the recipe for Scalloped Potatoes.
Roasted Sweet Potatoes
Roast sweet potatoes to perfection with a crispy outside and a soft, fluffy inside. Enhance their natural sweetness by the roasting process resulting in an amazing side dish that you can serve with salmon.
Season with honey, garlic, butter, and herbs, making them the perfect balance of sweet and savory! Look at those cubed sweet potatoes, they're bright and shiny as the sunrise because of the honey glaze.
You'll find the recipe for Roasted Sweet Potatoes here.
Mashed Sweet Potatoes
You can go with the classic mashed potatoes but never pass on the opportunity to try these mashed sweet potatoes! An amazingly sweet and savory healthy dish that you can easily whip up using 4 ingredients.
I love my sweet potatoes boiled but mashing them is a delightful new experience. And what's incredible is that you only need 20 minutes to cook this recipe.
Get the recipe for Mashed Sweet Potatoes.
Air Fried Brussels Sprouts
A simple Brussels sprouts recipe that you cook in an air fryer. It has a crispy texture like those with oven baked or roasted. A versatile side dish that you can drizzle with either sweet or savory glazes.
You can even add your favorite cheese like parmesan and bits of crumpled bacon. The inner shells are crunchy and have a fresh aftertaste when cooked right.
Get the recipe for Air Fried Brussels Sprouts.
Sauteed Zucchini
Sauteed zucchini is a quick and easy way to prepare this healthy vegetable. Simply slice the zucchini into thin rounds and saute in a little olive oil over medium heat. Season with salt and pepper to taste. You can also add other vegetables to the saute, such as onions or garlic.
This simple preparation makes a great side dish for grilled chicken or fish. It is also delicious on its own as a vegetarian main course. Serve sauteed zucchini with a side of whole grain bread and a salad for a complete and healthy meal.
Butter-garlic combo - adding these 2 favorite ingredients towards the end makes the dish so aromatic.
Make Sauteed Zucchini now.
Roasted Mushrooms
As simple and as a basic side dish as it can ever be. It is a good option to serve with salmon because you can bake it at the same time. Slice some fresh cremini or Bella mushroom, spread on a baking sheet, and drizzle with your favorite flavoring combos along with olive oil. Bake for 20-30 minutes. Make sure to stir from time to time.
Perfectly cooked mushrooms are the best. They tend to caramelize and their natural sweetness comes out while cooking.
You can find Roasted Mushrooms recipe here.
Baked Asparagus with Parmesan
Baking asparagus is a simple way to bring out its natural flavor and retain its nutrients. Baked asparagus tastes like a party in your mouth. It's slightly nutty and earthy, with a touch of sweetness that makes you want to keep eating it.
The toasted Panko with butter creates a crispy flavor and texture to the mushy asparagus. It's like taking a bite out of heaven, and then some.
Here is the recipe for Baked Asparagus with Parmesan.
Green Beans Almondine
I love this recipe because it's not only healthy and delectable it also goes well with different dishes. I often have green beans served with bbq chicken, seared steak, or baked salmon. You can easily make more of this recipe if you need to feed more people - a crowd favorite in fact!
The toasted almonds give a really nice crunch to the beans!
Recipe here - Green Beans Almondine.
Parmesan Roasted Broccoli
Hmmm...roasted broccoli in an oven. It's like someone took a tree, chopped it up into little green nuggets, and then set those nuggets on fire. But in a good way! The smoky, slightly charred flavor of roasted broccoli is definitely an acquired taste. But once you acquire it, you'll be hooked on this healthy, veggie side dish.
The parmesan cheese takes it to the next level, adding a salty, savory flavor that takes this dish from good to great.
Get the recipe for Parmesan Roasted Broccoli.
Roasted Vegetables
Healthy veggies galore! There's nothing quite like the smell of roasted vegetables wafting through the kitchen. It's a surefire way to make your mouth water and your stomach grumble.
They're the perfect mix of crispy and juicy, and you can pair them with just about anything. Plus, they're a great way to get your daily dose of vegetables.
It has a distinct taste that crosses roasted meat and charred wood. You usually cook the vegetables until they are slightly blackened and have a smoky flavor. Onions have a smokiness that is just irresistible.
Go to Roasted Vegetables recipe.
Grilled Vegetables
The taste of grilled vegetables is like a party in your mouth. There's a little bit of everything, and it's all delicious. Cook the veggies perfectly with a slight char that adds a touch of smokiness.
The flavors are bright and fresh, and the textures are just right. Grill together with your favorite meat like chicken, beef, or salmon. They will make your taste buds dance with delight.
An expert tip: Greasing/coating your veggies before grilling will make them not stick on the grill.
Get the recipe for Grilled Vegetables.
Garlic Butter Pasta
Who doesn't love pasta with garlic butter? It's the perfect blend of two of the most delicious things on Earth: garlic and butter. This dish is so simple to make, and yet it's so incredibly tasty. I'm sure you're going to love it as much as I do that you might just want to bathe in it. It's like taking a dip in a pool of garlic-buttery goodness.
The garlic-butter sauce is simply divine.
Go to the recipe for Garlic Butter Pasta.
Lemon Greek Rice
Cheers to flavored rice! I can't live without white plain rice but this lemon Greek rice is so awesome that I fell in love with it on my first try.
Lemon Greek rice is a delicious, zesty dish that is sure to please your taste buds! Cook the rice in a lemon broth and then season with Greek spices to make it a wonderfully fragrant and flavorful dish.
Finishing with zesty lemon juice makes it a refreshing and tangy dish that is perfect for any meal!
Get the recipe for Lemon Greek Rice.
20-Minute Congee
Comfort food in 20 minutes! Congee is perfect with chicken but served it with salmon and it will blow your mind!
Congee is a rice porridge that Asians usually eat for breakfast. To make it, boil rice in water or broth until it breaks down and becomes a thick, creamy porridge. Congee can be plain, or with different ingredients such as chicken, fish, or vegetables.
The gingery taste goes well with salmon.
Get the recipe for 20-Minute Congee.
Spinach Mushroom Quinoa Skillet
A complete meal on its own. This dish is savory and earthy, with a slight bitterness from the spinach and a sharpness from the Parmesan. The mushrooms add a meaty depth of flavor, while the quinoa provides a nutty, slightly sweet base. It has protein and fiber and is a great way to get your veggies in.
Italian seasoning. Some might say it tastes like an Italian night out: a little salty, a little savory, a little herbal, and a little zesty. All wrapped up into one seasoning that makes this dish taste, well, more seasoned.
Get the recipe for Spinach Mushroom Quinoa Skillet.
Fried Rice with Veggie Bits
The saltiness of fried rice gives a nice touch to the mild and sweet taste if served with salmon.
Fried rice is traditionally leftover rice that you cook and then cool. To make, stir-fry the rice with vegetables and a protein, such as chicken, shrimp, or beef. Finally, add sauce to the dish for flavor. There are many different variations of fried rice, but one thing is for sure: it is always delicious.
Expert tip: Cold or 1-day-old rice is the perfect kind of rice to make fried rice.
Go to the recipe for Fried Rice with Veggie Bits.
Soba Cucumber Noodle Salad
This soba cucumber noodle salad is a light and refreshing dish that is perfect for summertime! These are buckwheat noodles and are a healthy alternative to traditional pasta. You toss the salad with a light dressing and you top them with fresh cucumber slices. More noodle salad recipes are here.
Buckwheat noodles - hearty, nutty, and gluten-free!
Get the recipe for Soba Cucumber Noodle Salad.
Mexican Street Corn Pasta Salad
A 20-minute dish! I love things quickly and easily. This dish is the perfect blend of salty and sweet, with a little bit of spice to boot. The corn pasta salad is a fun, colorful, and flavorful way to enjoy your next Mexican-inspired meal.
This Mexican street corn has the perfect amount of spice and sweetness, and the creamy sauce is to die for. Better drizzle the sauce to your grilled salmon to make your meal more exciting!
Go to the recipe for Mexican Street Corn Pasta Salad.
Arugula Salad With Lemon Vinaigrette
You will love how light and refreshing this dish is. This arugula salad is the perfect way to add a bit of flavor to your otherwise bland and boring meal.
The lemon vinaigrette is an ideal complement to the bitterness of the arugula (really tantalizes the taste buds), and the shaved Parmesan cheese adds a nice touch of salty flavor.
Get the recipe for Arugula Salad With Lemon Vinaigrette.
Easy Kale Salad
This kale salad is so easy, that you'll be wondering why you haven't been making it all along! It's the perfect way to get your greens in and can be tailored to your liking with whatever toppings you like. So go ahead and give it a try - your taste buds will thank you!
The dressing has just the right amount of sweetness and tartness that is also perfect with chicken or fish.
Go to the recipe for Easy Kale Salad.
Miso Soup
This is a personal favorite. I've mentioned before (if you're following my blog) that I'm a soup girl through and through. Pan-fried or grilled salmon, with rice and miso soup is my go-to meal when I ran out of ideas.
Miso soup is a Japanese staple that's as comforting as it is delicious. Made with a miso paste and dashi broth, it's typically filled with tofu, seaweed, and green onions. Its umami taste is perfect for savory dishes.
Make Miso Soup now!
Conclusion
There are a lot of different ways to enjoy salmon, but one thing's for sure - it's always better with a delicious side dish. As for which ones to choose, that's entirely up to you and your personal taste. Just remember, when it comes to salmon, there's no such thing as a "wrong" choice. So go ahead and mix and match until you find the perfect pairing for your next seafood feast. So next time you're feeling fishy, be sure to try one (or all) of these amazing sides.