A collection of invigorating Asian noodle salad recipes that uses Asian type of noodles as the main ingredient along with savory dressings. Not to be confused with pasta salads! I can truly recommend these noodle salads, and most of them have 5-star ratings.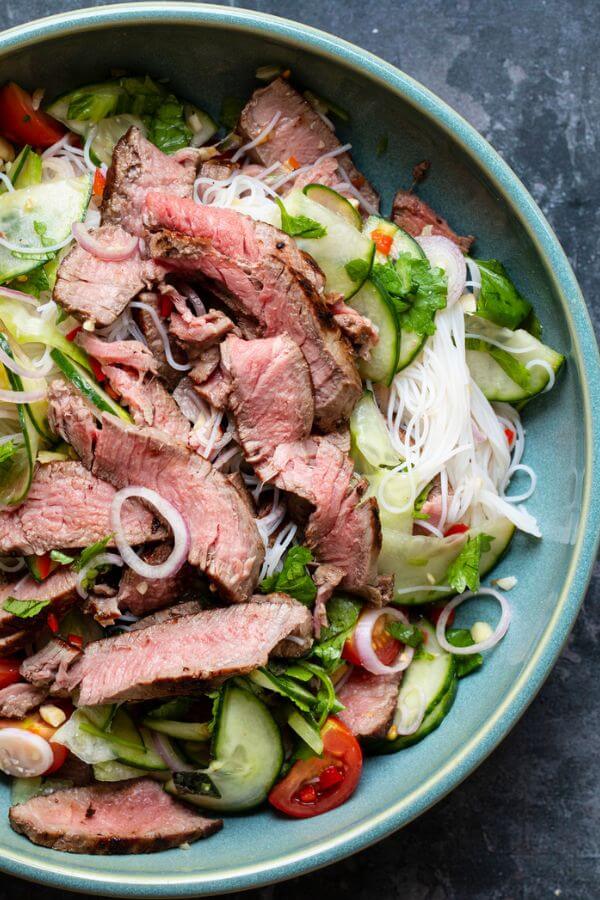 Summer is at its peak at the moment, and it's good to take advantage of these recipes while their ingredients are in season and affordable. Adding these dishes to your list of lunch or dinner recipes is a great option. What's even better is also trying these cucumber salads and these summer salads.
Whenever you crave Asian flavors that are something light and refreshing or have an abundance of vegetables that you need to use up, make this salad, I tell you! You only need 30 minutes (or less!) to make it and a handful of simple ingredients that you usually have.
What are Asian noodle salads?
These are a type of salad that feature Asian noodles, vegetables, and sometimes meat with a spicy, tangy, or sweet dressing. You can serve them warm or chilled, depending on the recipe. In fact, this salad dish is so versatile and flexible that you can make it in different variations.
In my country, the Philippines, we eat noodle salads all year round, and there's a common saying that eating long noodles will give you long life (probably a Chinese influence!). And more so, these noodle salad recipes are mostly healthy, and eating healthy food may ensure life longevity!
Ingredients
You can divide the ingredients into 3 categories: the noodles, the vegetables, and the dressings. You can also add any protein to your heart's content.
Type of Noodles Used In these Recipes
udon
soba
rice noodles
fried noodles
ramen
glass noodles
brown rice noodles
wholemeal noodles
egg noodles
wheat noodles
Veggies and more!
These are the vegetables you can mix in your noodle salad recipes. The recipe is so flexible that you can go beyond this list. You usually add them raw.
scallions or green onions
carrots
cucumbers
cabbage
radish
bell pepper
jalapeño
snap peas
bean sprouts
lemongrass
bok choy
mushrooms
and more
Dressing Options
Sesame
Tangy
Spicy
Crunchy
Peanut
Miso
Soy sauce
It is actually quick and easy to make this salad as it only requires a little preparation and sometimes no cooking is needed at all. The noodles are usually boiled or soaked in hot water, the vegetables are chopped or shredded and added raw, and the dressing is a mixture of your favorite Asian condiments. Just assemble and mix all the ingredients all together and top with herbs and spices.
These noodle salad recipes will surely make your mouth water! They are flavorful and rich that you'll want to make them often all year round.
The vermicelli rice noodles are the star of this dish, providing a delicate texture that pairs perfectly with the tangy dressing. The vegetables add crunch and sweetness to the mix, while the peanuts provide protein and savory flavor. Altogether, this salad is sure to please everyone at your next gathering!
All you need is some cooked vermicelli noodles, cucumbers, carrots, green onions, and a delicious dressing made from fish sauce, lime juice, and sugar. Plus, enjoy the aromatic freshness of the cilantro and Thai chilis! Simply mix everything together and enjoy!
This noodles salad spells crunch all down to the last ingredient. Enjoy the crisp of fried noodles, raw napa cabbage, and scallions with savory sesame soy dressing!
There's nothing like a good Thai noodle salad in peanut sauce to make you feel alive. The mix of fresh vegetables, tender noodles, and rich, creamy peanut sauce is positively addicting. It's the perfect dish for a hot summer day when you want something light but satisfying.
This recipe uses rice noodles and if you're feeling adventurous, add some chili peppers and ginger for a bit of heat and depth. No matter how you make it, this salad is sure to be delicious!
Refreshing noodle salad at its finest. This recipe can't go without mint, cilantro, lemongrass, lime, and Thai chilis.
An absolutely complete and filling meal with thin slices of grilled steak over rice noodles. This dish is sure to please!
A simple but healthy salad of wholemeal noodles and miso dressing. The combination of sesame oil, tamari, lemon, and other ingredients will leave you feeling satisfied while keeping off the carbs and sugars.
An important tip for this dish to remain savory is to combine the dressing with the noodles first. And once you've done that, let the mixture soak with each other and add your veggies later!
This dish does not need cooking at all. Hands down a quick and easy recipe!
A terrific dish that combines the flavors of buckwheat soba noodles with a miso dressing plus a wide array of carefully chopped radish, zucchini, carrots, kale, and shaved corn from the cobb.
The soba noodles are typically cooked and then cooled before being added to the salad.
The miso dressing is made by combining miso paste and cashew butter with orange and lime juices, maple, garlic, and ginger. This creates a generous flavor that bursts in your mouth and should be shared with everyone.
Best served cold!
This dish is perfect for a summery light lunch because you can make it fast enough and does not need a lot of ingredients! It's also light enough that you won't feel weighed down after eating it.
So give soba noodle salad a try the next time you're looking for something different! You will absolutely appreciate the simplicity and overflowing flavor of its honey-soy dressing!
Simplicity is tasty!
Another noodle salad you can enjoy on a hot day. You can serve the noodles chilled. It leaves a refreshing savory taste at the same time, while the garlic and sesame flavors give it a delicious kick.
The contrasting flavors of each ingredient complement each other in this Vietnamese rice noodle salad.
This recipe can't go without bean sprouts, mint, cilantro, marinated chicken, and nuoc cham sauce! Perfect for meal prep that you can proudly bring with you as lunch at work!
You may be not familiar with Somen noodles, but you've probably eaten them more times than you can remember. They are a type of Japanese noodle made from wheat flour and are thin, white, and delicate in texture. Somen noodles are typically served cold with a light soy sauce or dashi broth just like in this recipe.
Everyone loves teriyaki any time of the day, either on its own or paired with another dish. Especially this teriyaki salmon, it goes perfectly well with noodles and vegetables.
When you hear chicken noodles, you always think of the soupy kind, but this one is a salad of soba noodles swimming in a delightful gingery peanut sauce topped with cilantro and sesame seeds! Simple ingredients but with fully satisfying flavors.