Here are 20 easy cucumber salad recipes that will give freshness to your main dishes. These recipes showcase the crisp, hydrating properties of cucumbers, combined with various dressings and other fresh ingredients for a wide range of taste experiences.
Whether you prefer a tangy cucumber salad with a vinegar-based dressing, a creamy cucumber salad with a yogurt or mayo base, or an Asian-inspired cucumber salad with sesame and soy, there's a recipe here for every palate.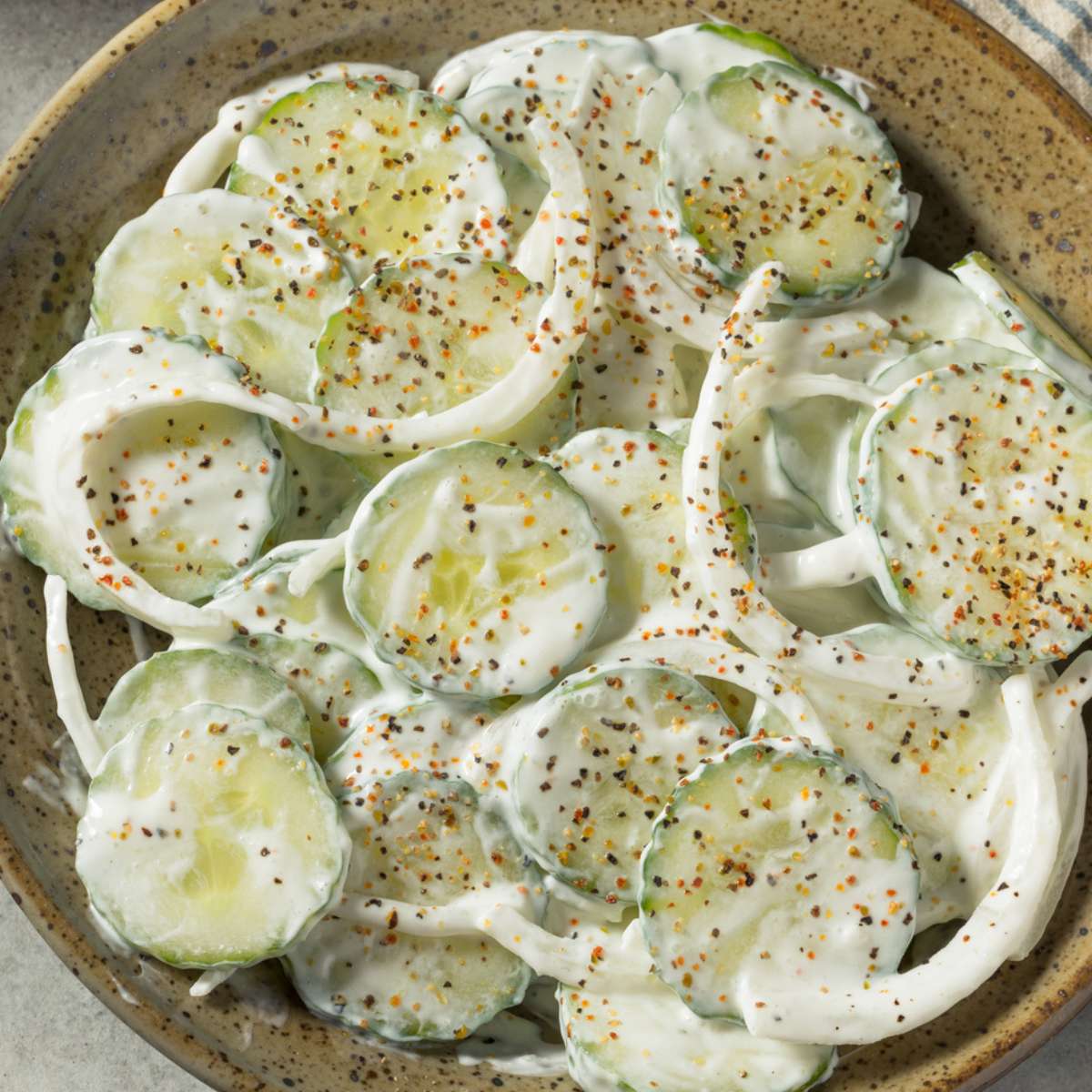 These salads make a great addition to any meal, particularly during the hot summer months.
What to Love About These Salads?
Simple but full of flavors
Easy to make, only take 5-10 minutes to prepare
Light and fresh but satisfying at the same time
Make use of ingredients readily available in your pantry
Can be made ahead
Check out these amazing recipes and get inspired today!
This is a perfect summer salad. The crisp, cool cucumbers and crunchy onions are a refreshing contrast to the tangy, sweet dressing. Get recipe here.
There's something about cucumber tomato feta salad that just makes everyone happy. It could be the crunch of the cucumbers, the juiciness of the tomatoes, or the creaminess of the feta cheese. Whatever it is, this salad always hits the spot! Get the recipe here.
Simple but packs with big flavor thanks to the combination of ingredients. All you need is some chopped and smashed cucumbers, ginger, garlic, soy sauce, rice vinegar, sesame oil, and chili flakes – plus whatever else you might like to add (like peanuts). Make this recipe.
To make it, just mix the sliced cucumbers with a dressing made of rice vinegar, soy sauce, honey, and sesame oil. Then add in some red pepper flakes for a bit of heat. The result is a delicious and refreshing salad that's perfect for summertime picnics or potlucks! Find the recipe here.
Unbelievable tasty cucumber salad recipe with sweet corn and bell peppers. This recipe uses English cucumbers and the dressing is composed of sour cream, mayo, lemon, fresh dill, chives, and your favorite herbs. For a complete recipe go here.
Spicy is the name of the game. A meal in Korea is never boring. Every meal has 3 or more side dishes they call 'banchan'. And this salad is never absent together with kimchi. Go here to find the recipe.
Now add some protein to your salad. Precooked shrimp is one of the convenient choices. This recipe uses Japanese cucumbers that are seedless with skin that is thin. The dressing is appealing and oozing with the tangy goodness of lime and the contrasting aroma of garlic and cilantro. For the recipe, you can find it here.
This is a creamy version with shrimp and mayo. The added avocado makes it filling even though this is a light kind of salad. Recipe here.
To make this, simply cut (julienne style) the cucumbers and apple very thinly! Drizzle with dressing before serving. Get recipe.
These beautifully sliced English cucumbers are done using a mandoline. The best tip is to finely slice them like pictured for the savory and gingery dressing to seep through. Go to recipe.
The herby and citrusy dressing adds brightness to the salad. Plus it's also great for marinating chicken or shrimp. Go to recipe.
The sweet and crunchy cucumber is the perfect vessel for savory peanuts, making it a refreshing salad that will tantalize your taste buds. Go here for the recipe.
Carrots and cucumbers mixed with the cool, gingery dressing are all gathered in this bowl of summery and Asian flavors. To make this recipe, go here.
A dish made of sliced cucumbers and onions, dressed with a creamy vinaigrette and topped with fresh dill. It is popular in Poland, where it is known as "ogórek kiszony". Best served chilled. Go to recipe.
More healthy cucumber salad recipes are coming your way so scroll for more.
Conclusion
Cucumber salads are a great way to use up any cucumbers you may have left over. They're versatile, easy to make, and can be served as a side or as a light meal. Cucumbers are full of water, so they're hydrating and great for your skin. They're also healthy - a good source of B vitamins, potassium, and fiber. Whether you enjoy them plain or with added ingredients, a cucumber salad is a simple way to get your veggies.