Enjoy the refreshing flavors of summer with these summer salad recipes! They are vibrant, bursting with seasonal goodness, and absolutely delicious.
These summer salads are easy to toss together, perfect for a crowd, and great for lunch or dinner, as a side dish, or a full meal.
Whether you're hosting a backyard barbecue, heading to a picnic, or simply looking for a light and healthy meal, these salads will keep you cool and satisfied all season long.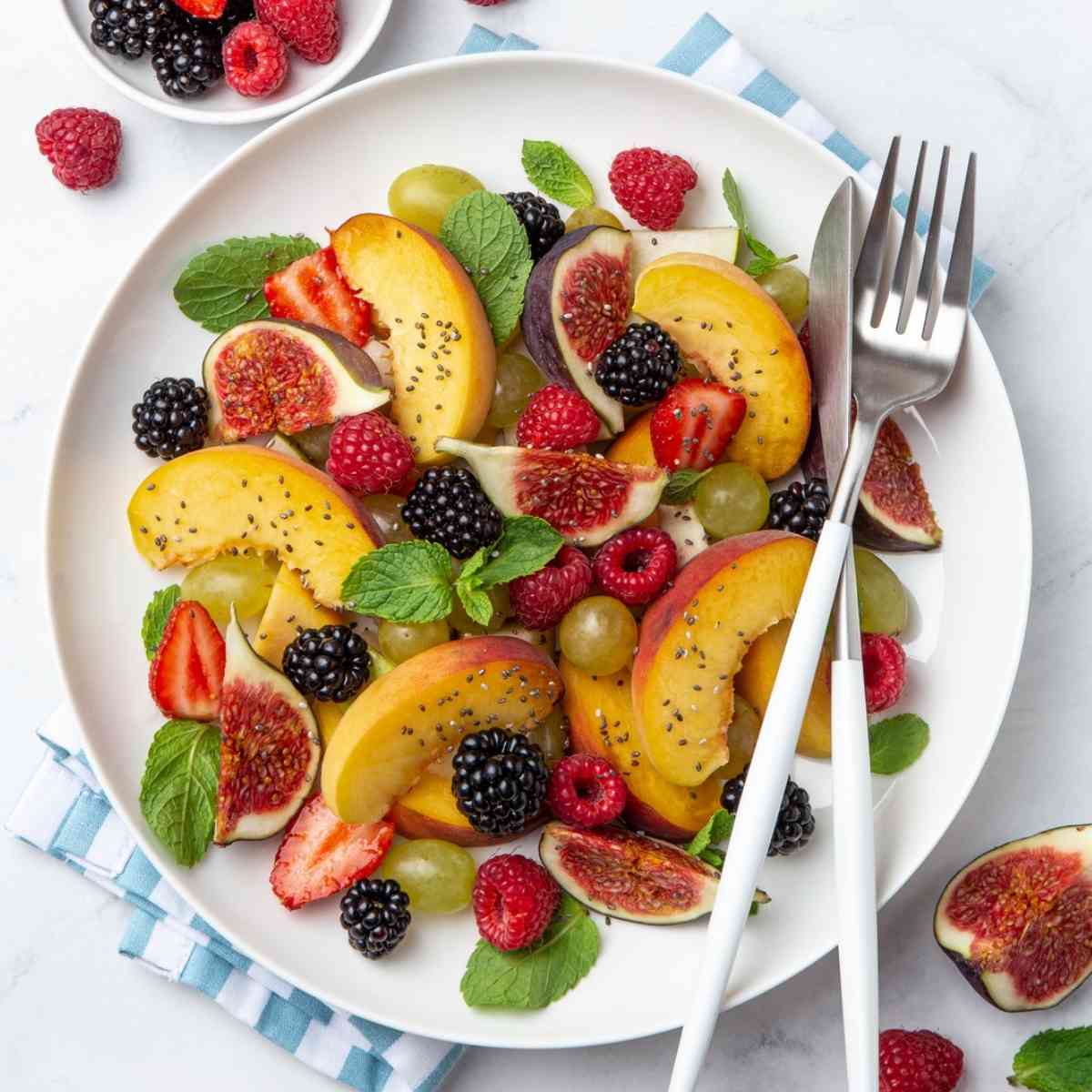 Summer salads are the ultimate way to enjoy the hot weather while indulging in refreshing and delicious dishes. With an abundance of fresh produce available, these salads become a canvas of vibrant colors and flavors.
From crispy greens to juicy tomatoes, sweet peaches, and creamy avocado, each bite is a delightful mix of textures and tastes. The beauty of summer salads lies in their versatility - you can add grilled proteins, earthy grains, or even fresh seafood to create a satisfying meal.
And let's not forget the dressing! A squeeze of citrus, a drizzle of balsamic, or a dollop of creamy ranch brings everything together for a taste sensation that celebrates the season.
It is important to eat in-season produce during the summer because they are, first of all, readily available, taste fresh, and are cheap and in their most nutritious state when they are in season. [Source]
So if you want your summer salad of high nutritional value, make your summer salad recipes with the following seasonal fruits and vegetables. [Source]
Corn
Tomatoes
Watermelon
Berries (strawberries, blueberries, raspberries, and blackberries)
Chard
Salad Greens
Chile Peppers
Stone Fruits (peaches, plums, apricots, and nectarines)
Arugula
Herbs (basil, rosemary, thyme)
Spinach
Figs
Cherries
Avocado
Melons
Beets
Sweet Peppers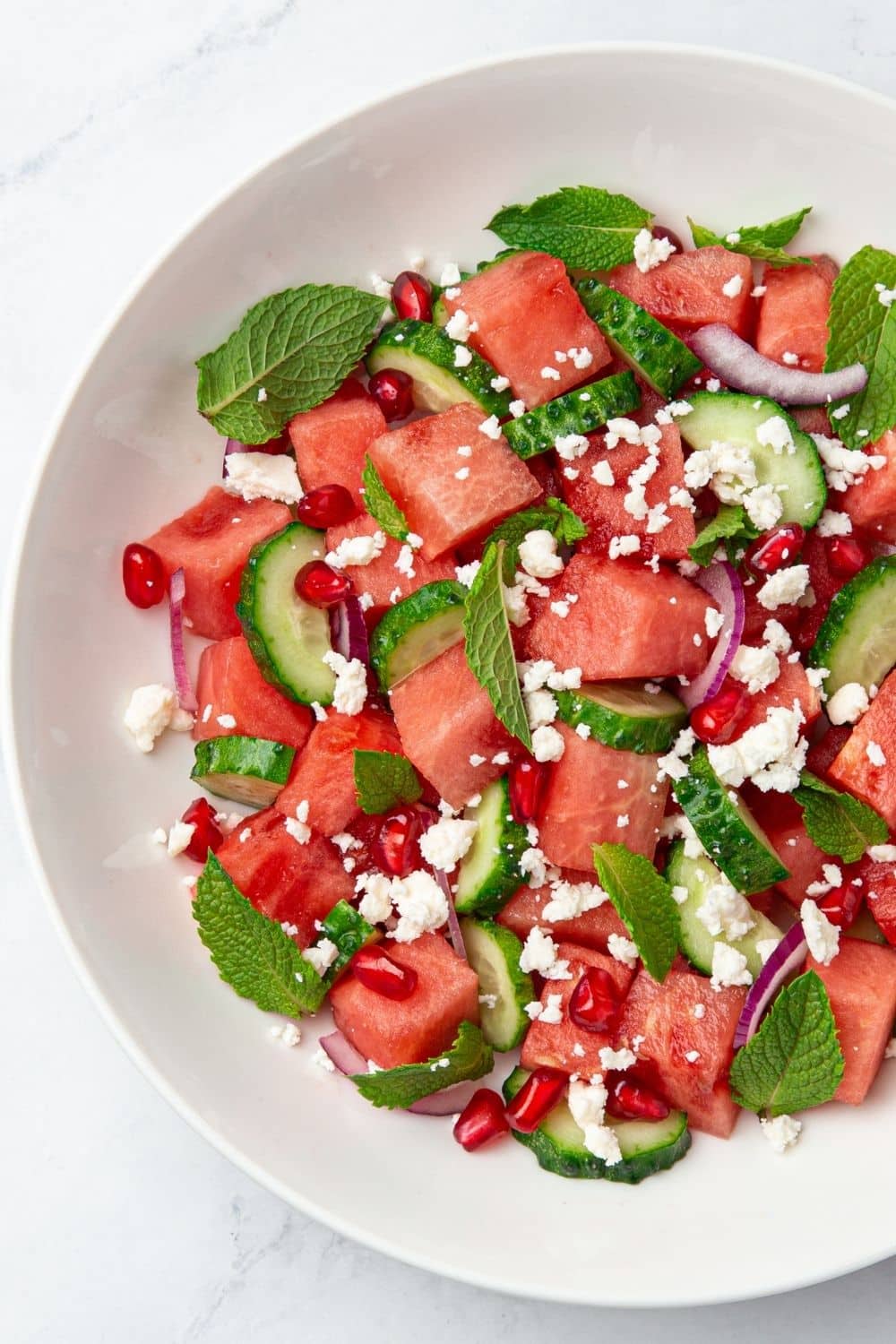 Very refreshing summer salad of sweet watermelon with cucumber and feta in lemon dressing. Choosing the right kind of watermelon makes a great difference.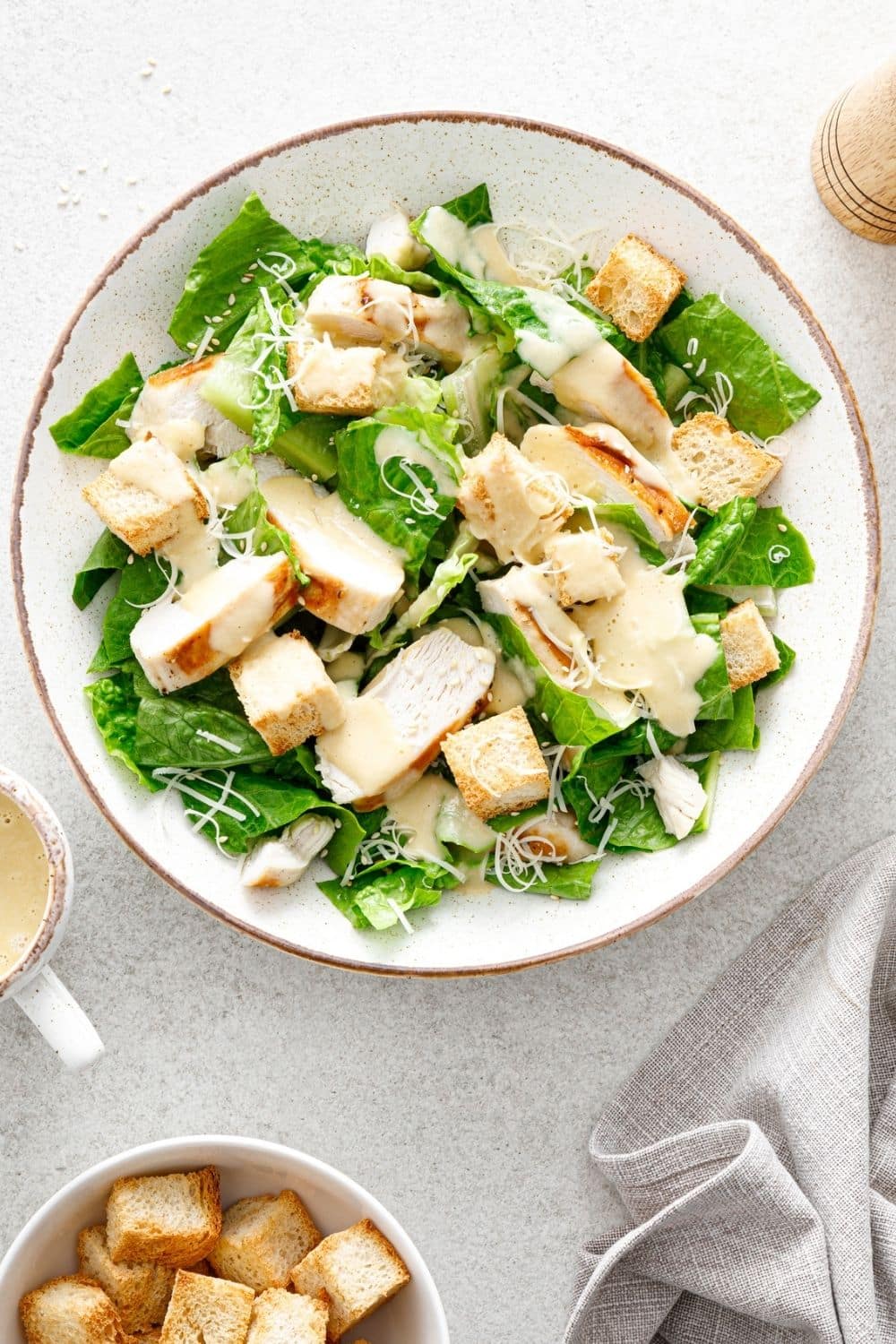 Yummy salad in a beautiful and creamy Caesar salad dressing with anchovies. Make sure to make everything from scratch to enjoy the crunchiness and creaminess of this salad truly.
The aromatic lemon dressing with goat cheese crumbs elevates this grilled salad made with zucchini, cherry tomatoes, and sweet corn. A great salad that can also be a side dish or a light main course!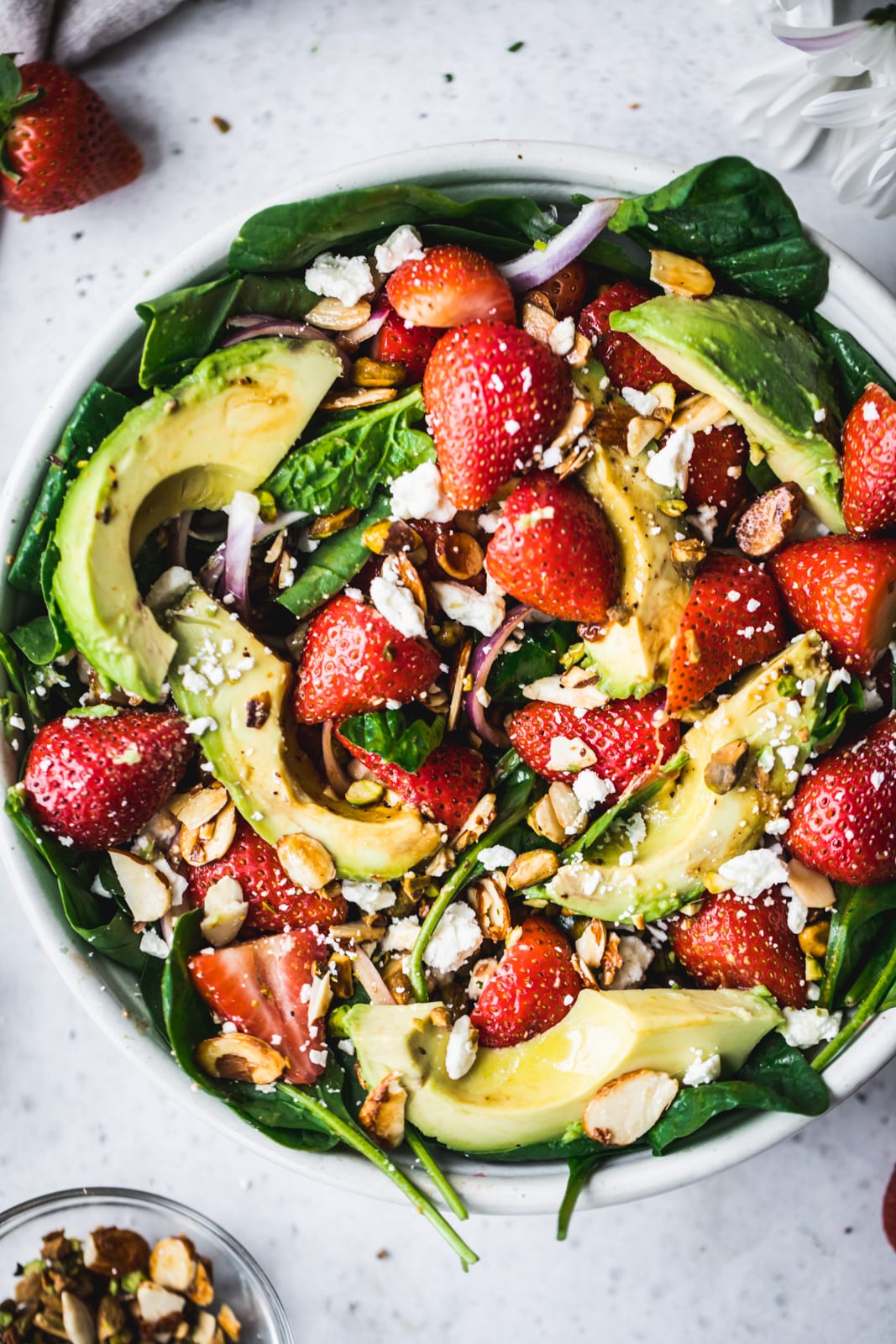 With beautiful contrasting colors between ripe strawberries and creamy avocado, this spinach-based salad is delicious on its own. Topped with balsamic strawberry vinaigrette, it's simply perfect.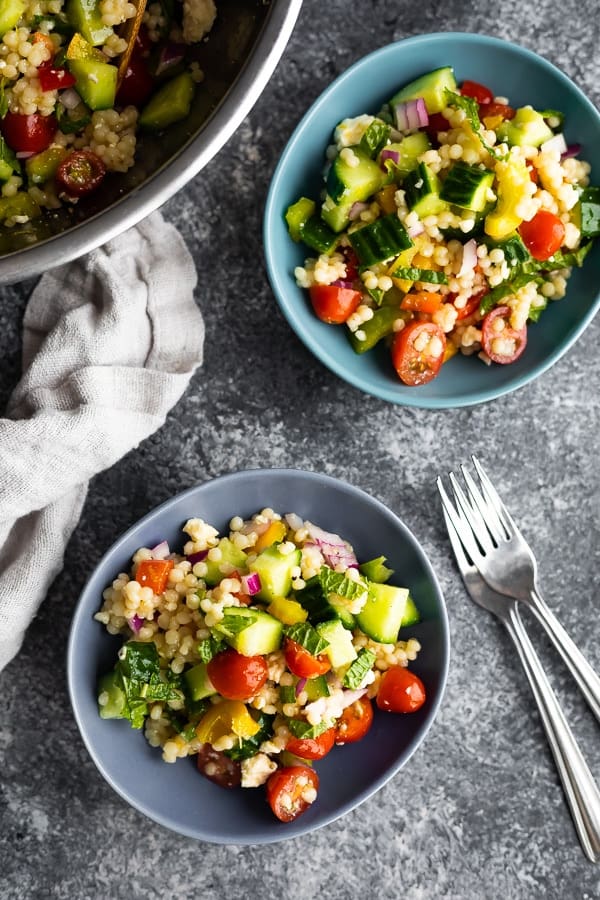 Couscous is super versatile, and it's an ideal base for a more satisfying salad, together with cherry tomatoes, bell peppers, cucumbers, onions, feta, and mint. Tossed with a Dijon-honey vinaigrette, this is couscous like you've never tried before.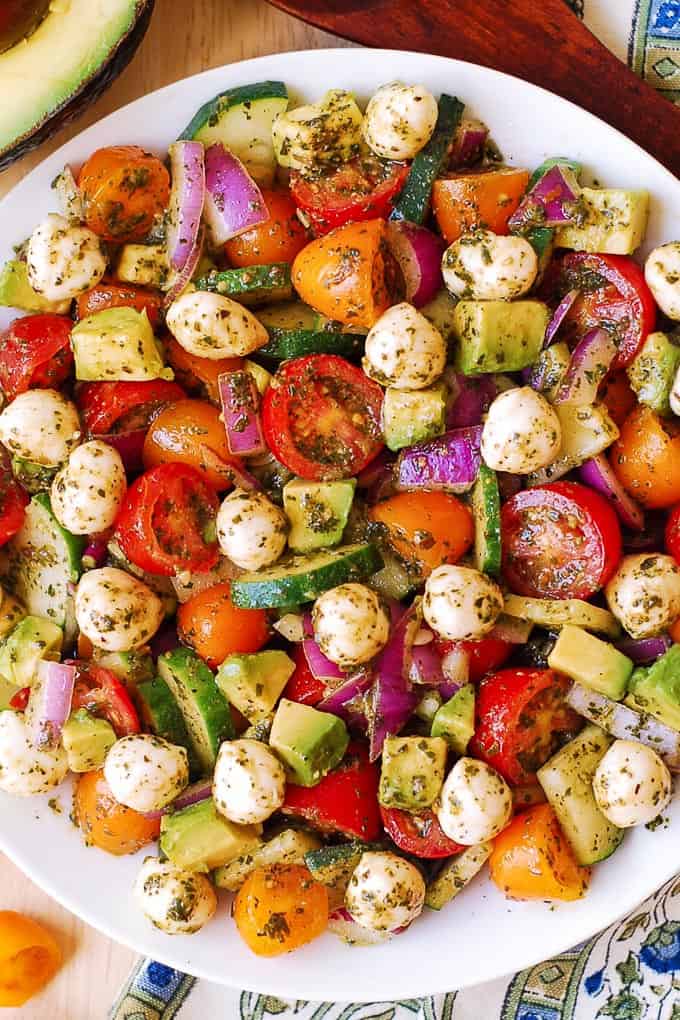 Rolling the small mozzarella balls is the hardest part of this recipe. The rest is tossing cherry tomatoes, cucumbers, onions, and diced avocado. Even the basil pesto dressing is easy!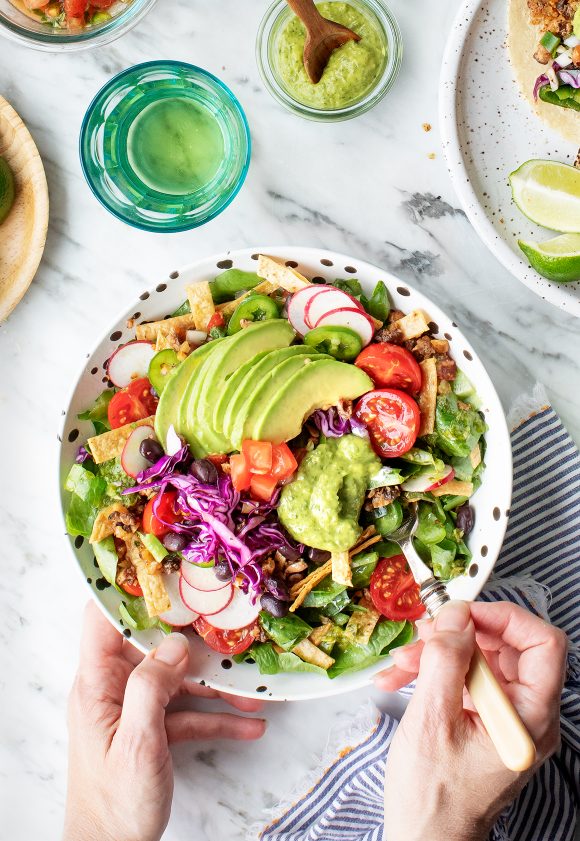 The coolest part here is that shiitake taco faux meat. Tossed with tortilla strips, avocado, jalapeño, and other veggies. This salad really has a taco feel to it.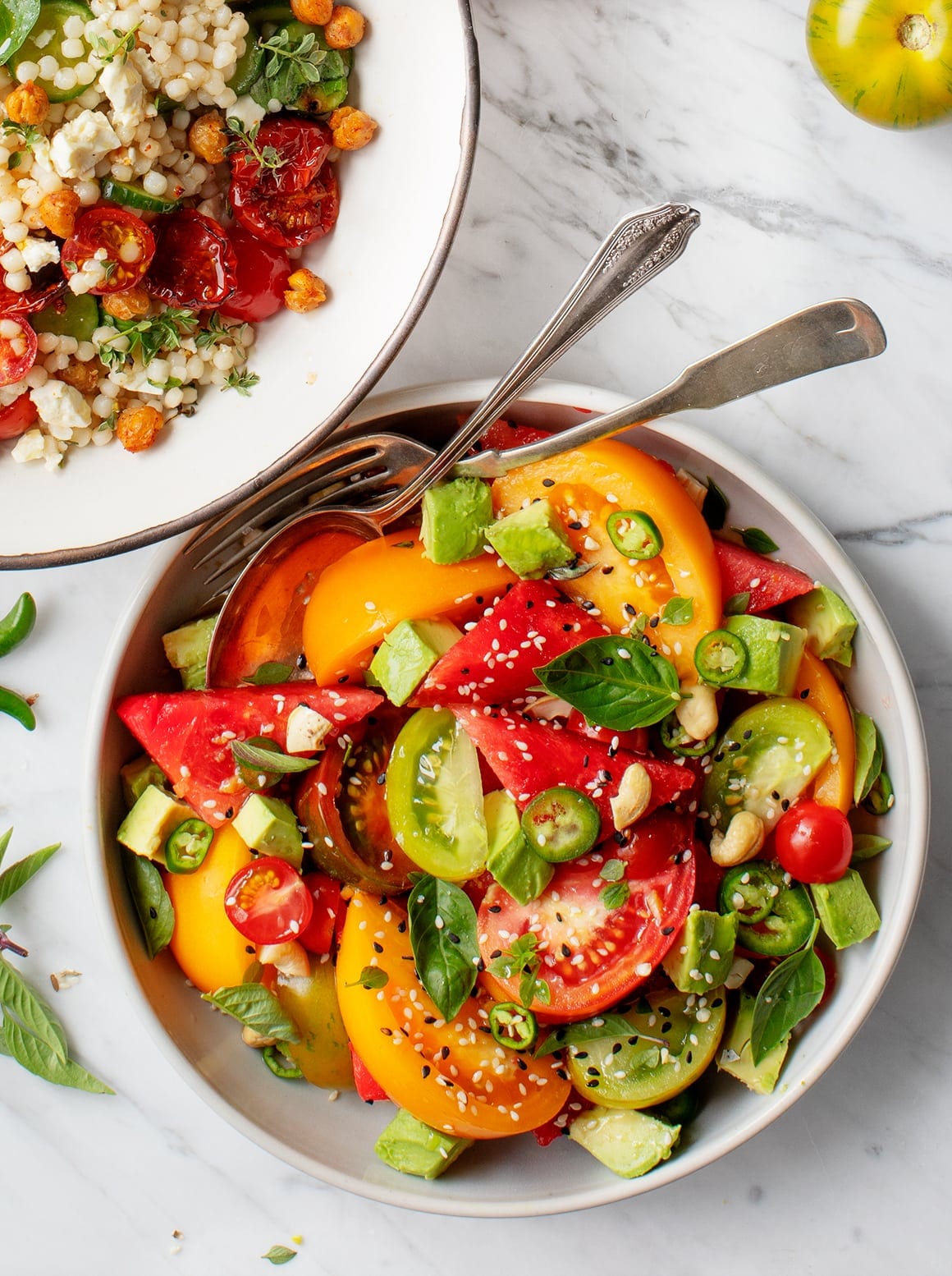 Heirloom tomatoes are essential here and contrast nicely with fresh watermelon chunks. Flavored with the thick Tamari sauce and Thai basil, and with the added crunch of crushed cashews, this is what I mean by a well-thought-composed salad.
Butter or Bibb lettuce steals the show here. You only need sliced radishes, avocados, and chives to make it shine. The citrusy Dijon-honey mustard is lovely too.
When Holly and Natalie say tropical, they're not kidding. Think of mango, mint, macadamia nuts and many other colorful treats over a bed of kale. The coconut curry lime dressing brings it all home.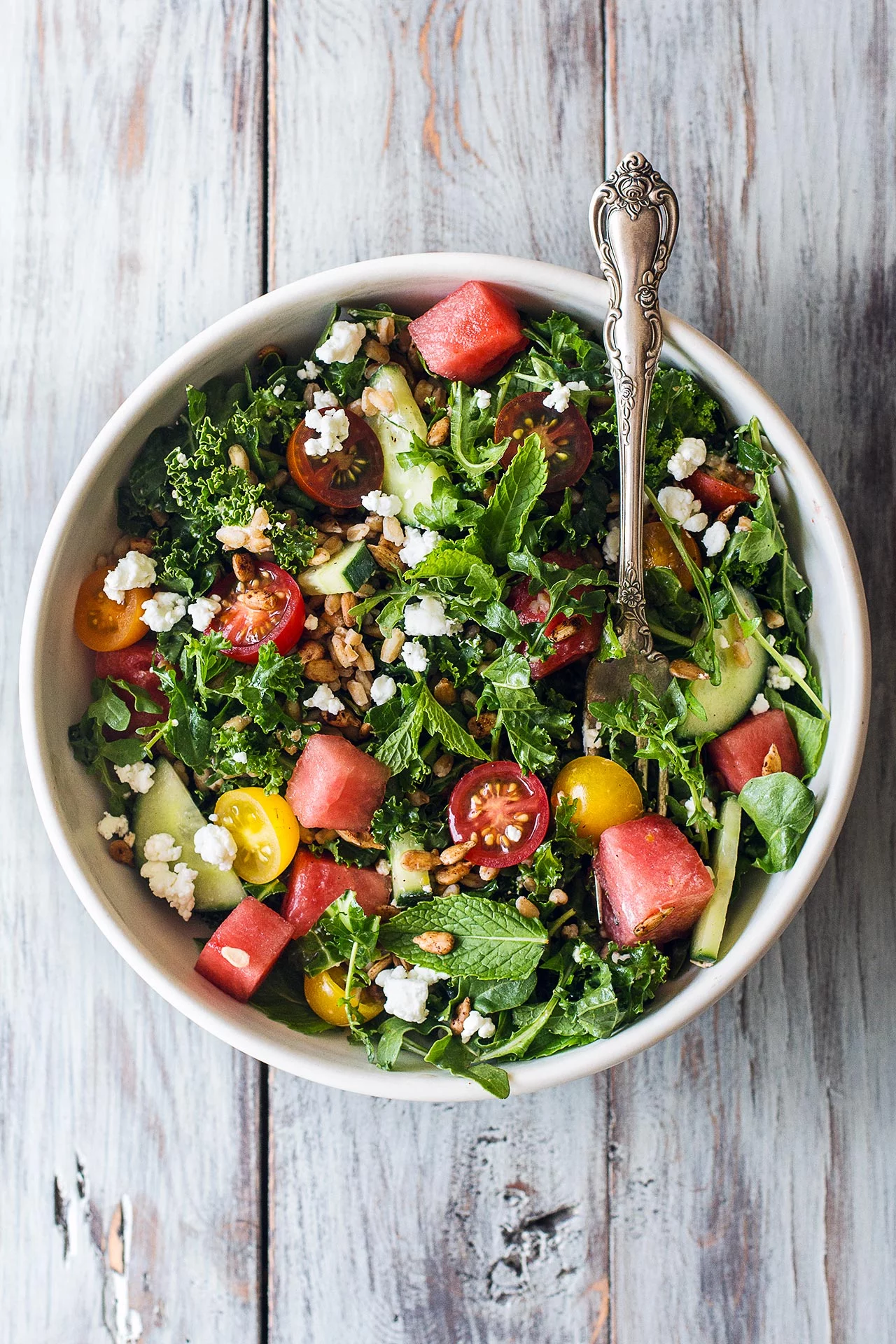 Farro is a distinctive whole grain that works marvelously here. Especially when tossed with cherry tomatoes, a kale-arugula mix, mint, goat cheese, and sunflower seeds. The red wine vinegar dressing is a nice touch too.
Will we ever get tired of kale? I think not. This dark green salad comes to life with nectarines, corn kernels, tomatoes, almonds and feta. You'll love the lemon-basil-tahini dressing!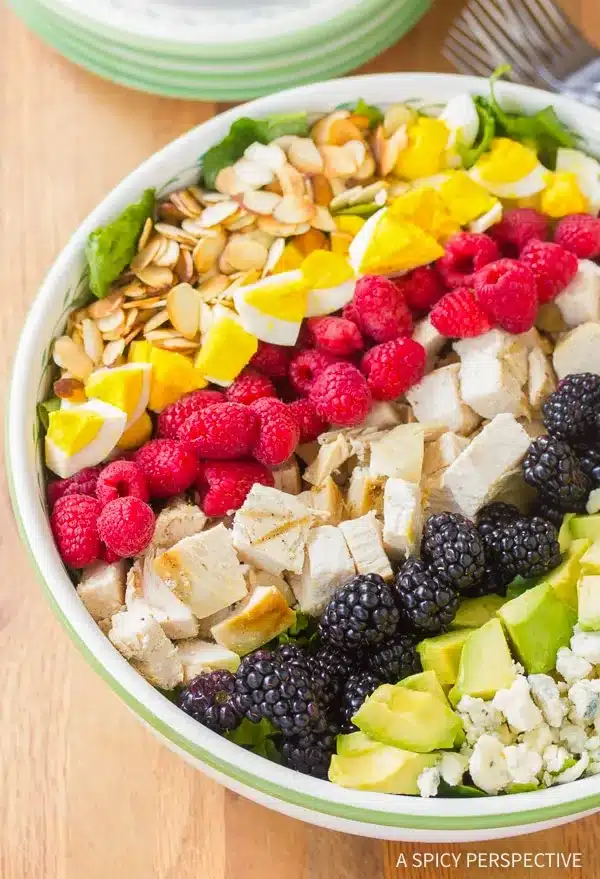 Sommer Collier devised this colorful composed salad to be a wholesome meal. Chicken, romaine, hard-boiled eggs, blue cheese, avocado, and berries make this a rich salad that could easily be the main course for lunch.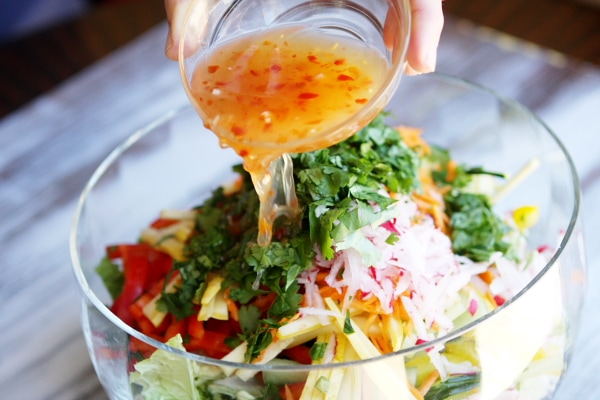 Pretty and uncomplicated. This colorful tossed salad relies on bell peppers, yellow squash, carrots and jalapeño peppers to create a crunchy and spicy experience. The dressing is classic Thai with fish sauce, lime juice and garlic paste.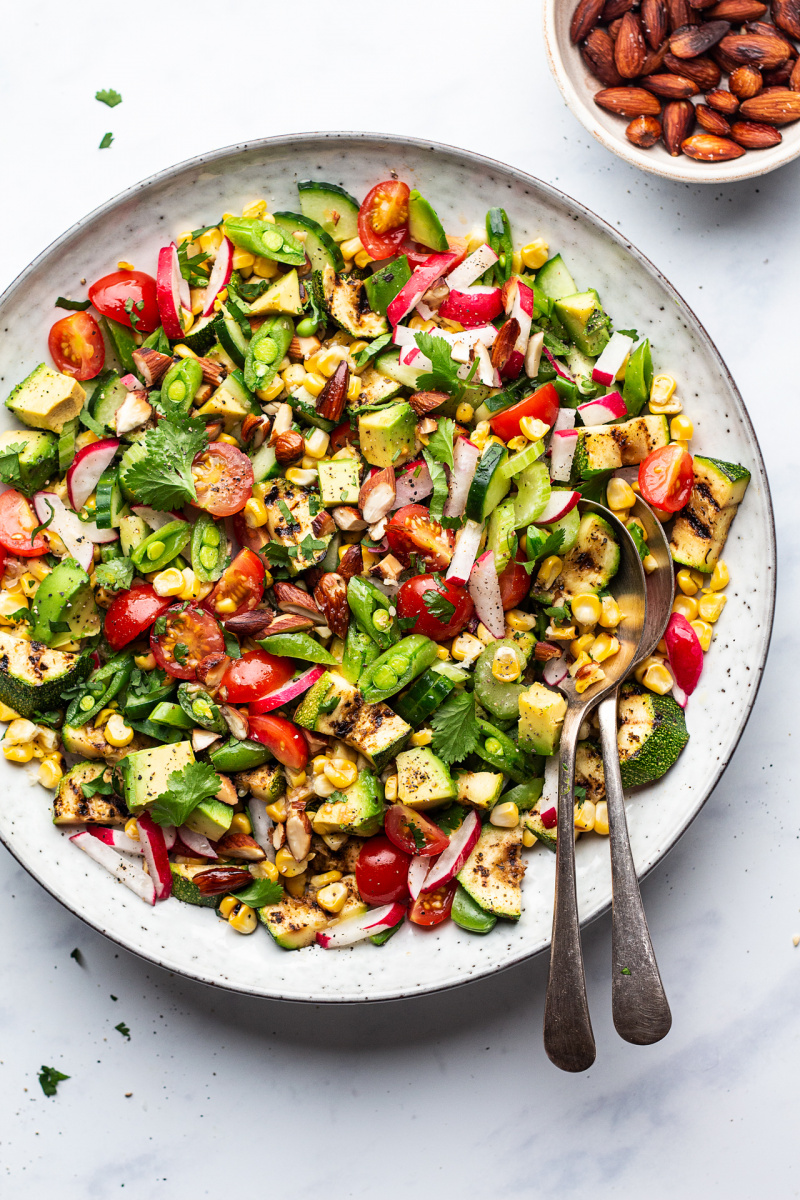 Ania's Vegan Summer Salad puts to work zucchini, radishes, cucumbers, avocado, snap peas and almonds for quite a complex salad. The dressing is sophisticated, too, with chipotle, lime and maple syrup.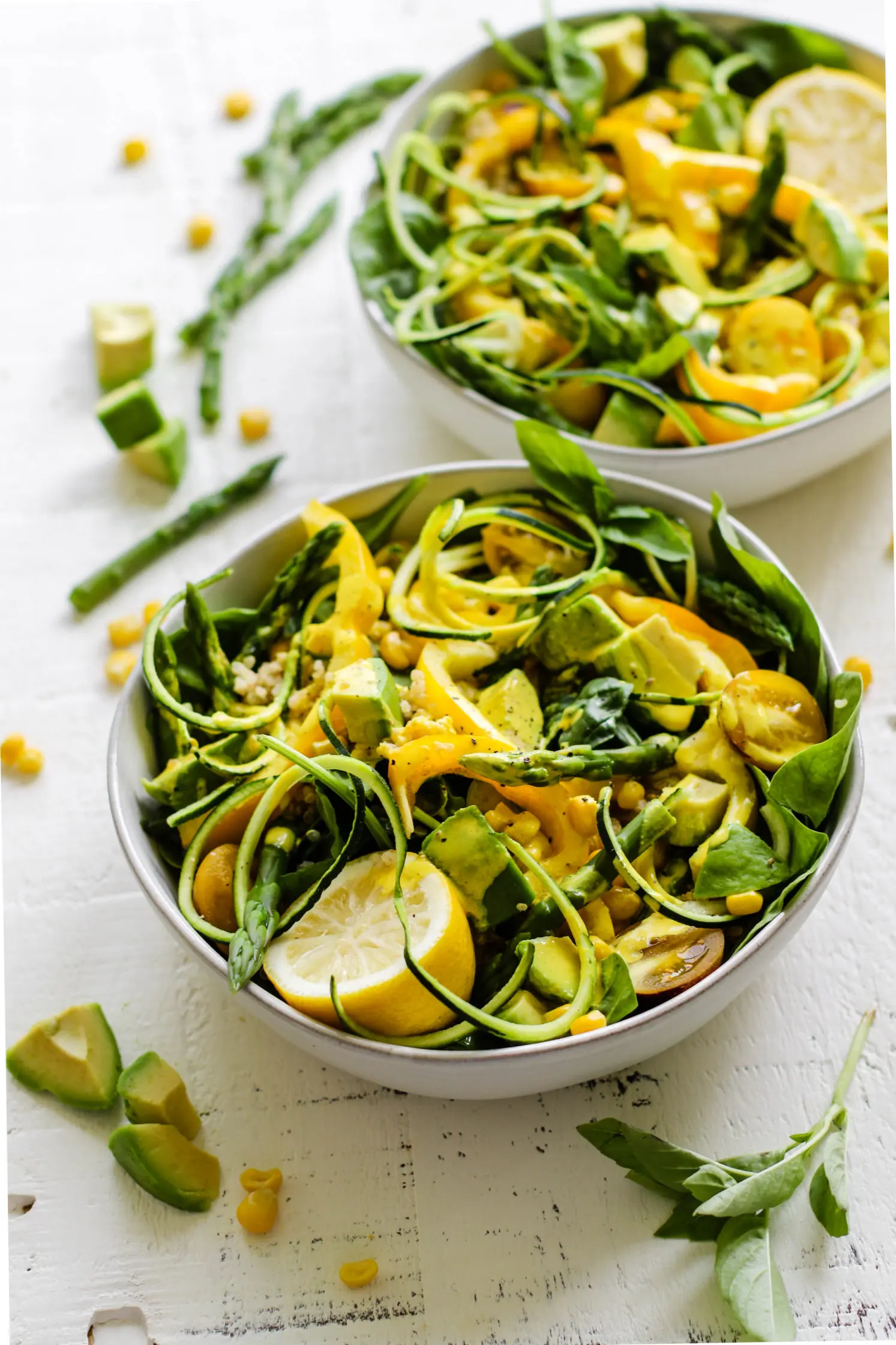 Quinoa is the base here, and it's the perfect bed for asparagus, corn, zucchini noodles, and much more. Then you have the turmeric, cider, and tahini dressing, elevating the salad to perfection.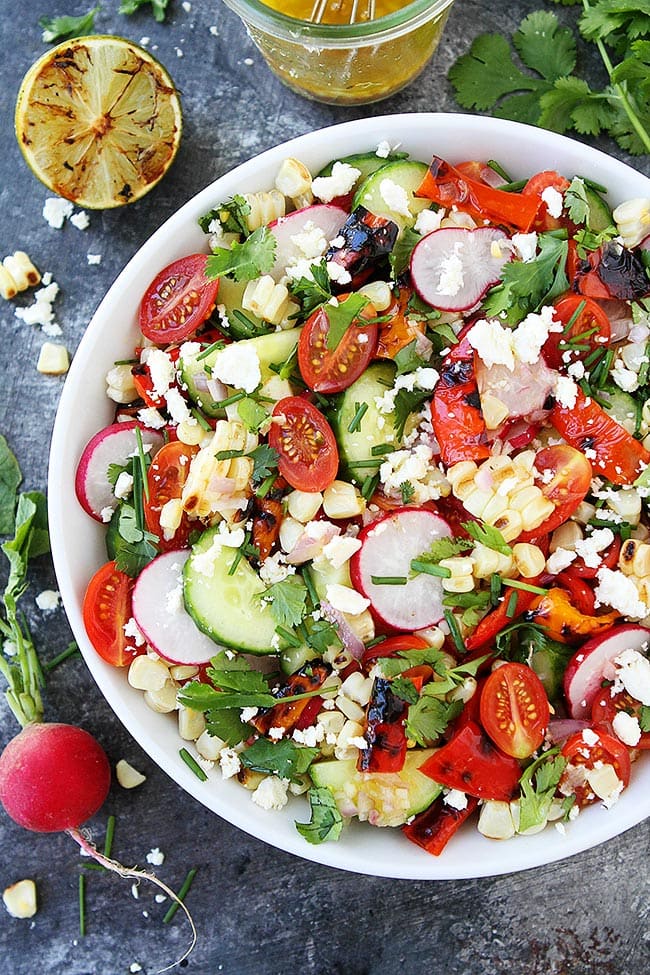 Maria knows her seasonal produce and makes this colorful dish with feta, cucumber, tomatoes, corn, and a lightly charred lime vinaigrette. Nice and simple, just what you needed for an easy salad.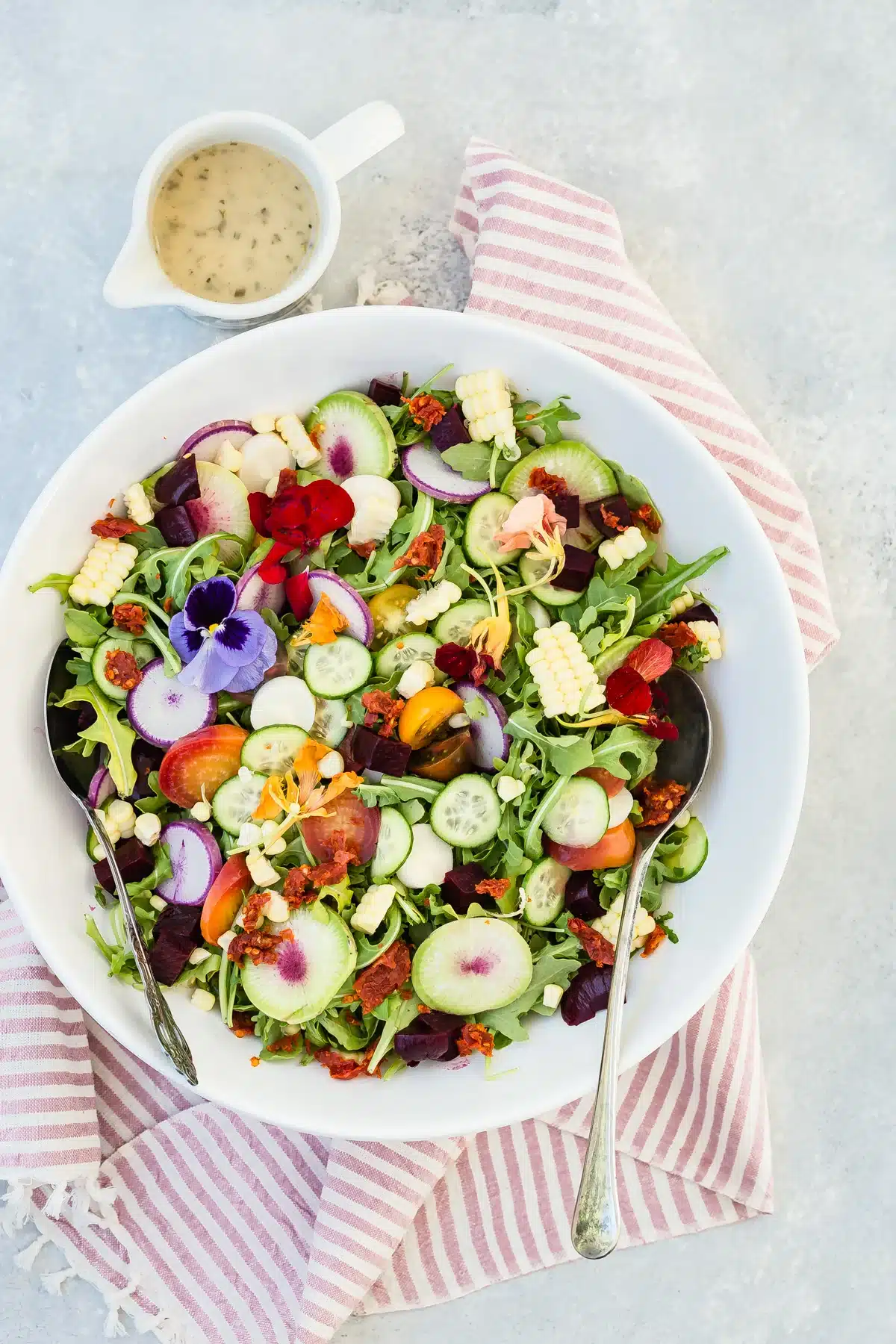 Bright and vibrant, this tossed salad is all about color. Corn, cucumbers, hearts of palm, beet, and some edible flowers are a nice combo. The Dijon-lime dressing is nicely seasoned, too!
The roasted strawberry poppyseed vinaigrette will elevate any salad to new heights. This one works well with more strawberries, almonds, feta, onions and avocado. You want to add some roasted sweet potato in there as well.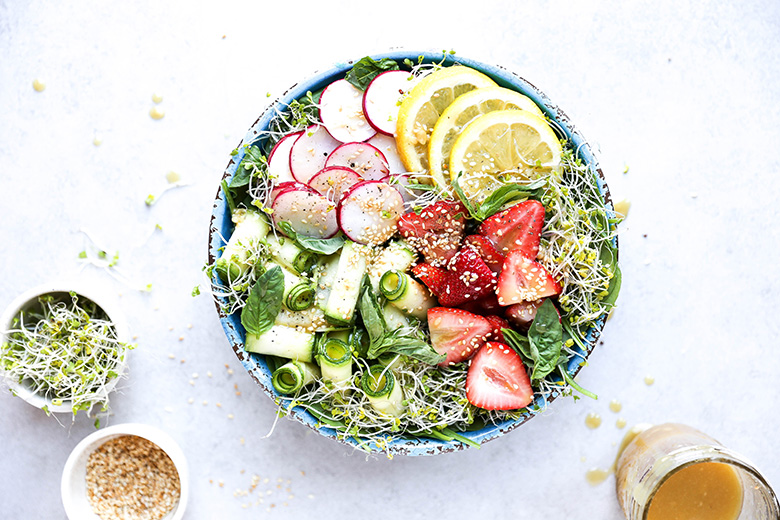 An Asian-flavored summer salad recipe? I'd love that. A classic Dijon-honey dressing is incredible when whisked with a few tablespoons of white miso paste. Then you use it to coat a combination of spinach, zucchini, sprouts, strawberries, radishes, and sesame seeds.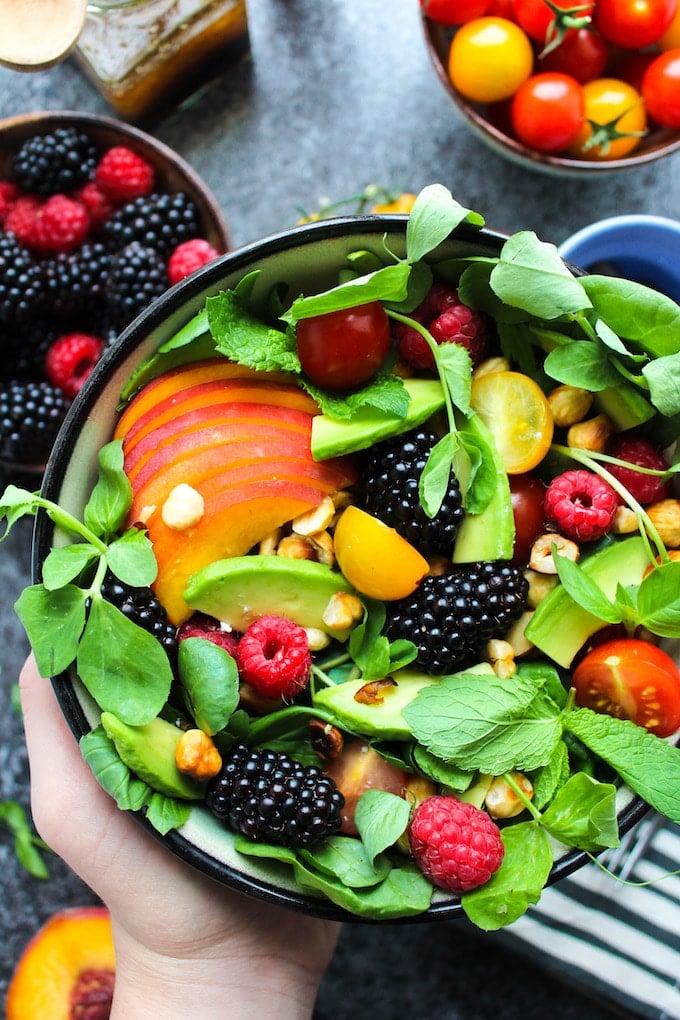 Sarah shows you how to make a nice, composed salad based on berries, tomatoes, peaches, avocado, goat cheese, and nuts. It all comes together with a honey balsamic vinaigrette. This is one of the summer salad recipes that will entice you to eat. Just look at how colorful those fruits are.
The trick to make this salad so flavorful is letting the vinaigrette sit. Let that chickpea marinate in the dressing.
The vibrance of this salad is undeniable against the quinoa. Sweet, juicy, and creamy in a plate of in-season ingredients.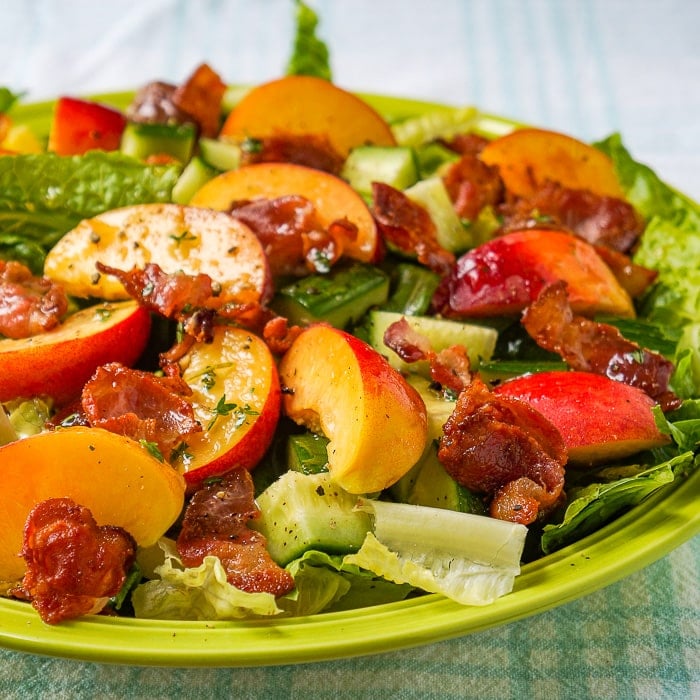 Crispy bacon in a bed of fresh peaches and cucumbers swimming in a delightful vinaigrette of honey lemon, this salad shouts 'hello summer'!
Any salad is obviously healthy already, but throw in ingredients that are vegan and gluten-free, this salad is three times the yumminess power.
Looking for a complete meal salad? This salad showcases the salad of summer. Fills you enough to satisfy and very light to the taste.
After a weekend of binge eating your comfort foods, starting the week fresh is good. This salad may look simple, but it's pretty loaded with your favorite summer vegetables.
Who said you can't play with your food? Making this melon salad is so much fun! Create and align those cubed melons into a checkerboard, and have your kids help to double the fun.
Very flexible and adaptable salad! Toss every summery fruit you have and glaze with a honey and lime combo.
You'll surely enjoy each crunch in every bite of granola present in this salad. Eight minutes is all you need to assemble everything and enjoy the delicious plump peaches and berries with the contrasting flavor of feta.
A party of flavors in your mouth is the name of the game! Peaches, almonds, mozzarella, and basil in a balsamic dressing. You'll ask for seconds once you have your fill of this salad.
There you have it, my top 30 summer salad recipes. Hope you try all of them and enjoy each flavor this summer.
Don't forget to share!