Perfectly flaky, sweet and savory honey garlic salmon. Easy and simple recipe, it's ready in a breeze and an excellent addition to your dinner rotation!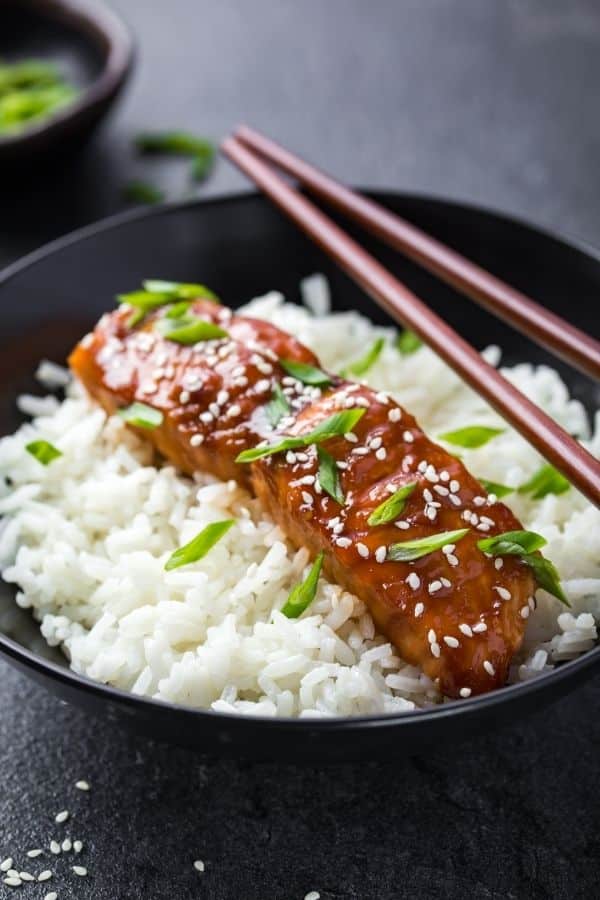 Did you know salmon is one of the healthiest foods on the planet? We're talking high-quality protein and lots of Omega-3 fatty acids. Salmon is good for you; therefore, try to enjoy it often.
It's my favorite fish ever. I love it in my sinigang, especially the head part of the salmon. I hardly see any other parts of salmon in any American grocery except the fillet part. I always go to Asian stores whenever I want salmon head or salmon belly. This salmon recipe goes well with these side dishes here.
But today, the fillet part of salmon is all what we need.
Salmon is also quite noble. It's utterly delicious and hard to get wrong. You can even eat raw salmon, like in sushi or smoked salmon over a cracker for superb finger food. Healthy and always tempting. How to beat that?
Today we're making a honey garlic glazed salmon. The flaky pink meat infused with honey's lovely sweetness and elevated with our favorite aromatic bulb.
Here Are The Key Ingredients for Honey Garlic Salmon
We'll need some salmon, of course. Thick 6-oz fillets are ideal but work with what you have.
Then we have the honey and garlic sauce. This syrupy concoction is incredibly fragrant and flavorful. We'll sauté our garlic in butter and throw in a splash of soy sauce, spicy sriracha sauce, lemon juice and half a cup of honey. It's ready in minutes, and trust me, this is restaurant-quality right here.
As a garnish, how about a fistful of coarsely chopped, intensely colorful parsley? You can use chives too and sesame seeds.
We're also using the oven to broil the salmon, and you'll want to have a large skillet in hand to put together your sauce.
How To Cook the Perfect Honey Garlic Salmon Every Time?
Before we head on to our recipe, I'd love to share some tips to cook salmon perfectly.
The most important thing is sourcing good salmon. You can't cook tasty meals without extraordinary ingredients, and that's particularly true for salmon. Look for sustainably farmed salmon.
Remember, Pacific salmon is almost always caught wild, and Atlantic salmon often comes from a farm. Wild salmon is often leaner, and the farmed type is fattier.
Let me tell you something. That pretty silver skin? That's packed with nutrition and flavor.
If you're cooking skinless salmon, you're missing out on the good stuff, especially if you cook it to crisp perfection. Of course, you can always go with skinless salmon if you prefer.
Here's another tip. Salmon cooks incredibly fast. I'm talking just a few minutes. Contrary to popular belief, you can (and you totally should) eat salmon a little undercooked.
Overcook salmon, and it dries out, meaning you need only to cook it for about three minutes per side, really! If the center is soft and flaky, you know you've got it right.
Tip number four, season your salmon. Yes, salmon is quite flavorful, but you can liven it with a little seasoning. A pinch of salt and pepper will do the trick, but feel free to experiment. Herbs de Provence are quite lovely.
Let's Get Cooking!
Now that we've covered the basics, let's get started with our recipe. Did I mention it's ready in less than twenty minutes? And four thick fillets will feed your entire family with ease.
Popular side dishes include mashed potatoes, grilled veggies or wild rice. Choose your favorite and enjoy one of the most flavorful sea bounties. Let's take a look at our recipe.
You can also make this recipe using an air-fryer and even make it spicy if you love a little bit of kick to cut the sweetness of the sauce!
You might like:
Honey Garlic Salmon
Perfectly flaky, sweetand savory honey garlic salmon. Easy and simple recipe, it's ready in a breeze. Enjoy a quick and easy salmon dinner recipe.
Equipment
oven-safe skillet or oven-safe pan
Ingredients
4

slices

salmon fillets

1/2

teaspoon

salt

1/2

teaspoon

black pepper

1/2

teaspoon

paprika

3

tablespoons

butter

1

tablespoon

olive oil

2

tablespoons

garlic, minced

1/2

cup

honey

3

tablespoons

soy sauce

2

tablespoons

lemon juice

3

tablespoons

water

1

tablespoon

sriracha
Instructions
Prehat the BROILER option of your oven for probably 10 minutes.

Meanwhile, prepare the salmon by patting it dry and season with salt, pepper and parika.

In an oven-safe skillet, heat butter and olive oil over medium-high heat. Saute the garlic until fragrant. Add the rest of the ingredients - honey, soy sauce, lemon juice, water, sriracha. Heat the sauce mixture for a minute.

Add the salmon in the sauce skin side down, let it cook for 3 minutes and at the same time spoon some sauce all over the salmon.

Transfer the skillet to the oven and broil the salmon for 5 minutes.

Sprinkle with sesame seeds and chopped scallions and serve with rice.