Unearth the full potential of this springtime favorite with our exciting collection of asparagus salad recipes. These dishes balance the crisp, distinct taste of asparagus with a variety of other fresh ingredients to deliver mouth-watering results.
Whether you're craving a classic asparagus salad with a tangy vinaigrette or looking to experiment with unique pairings like asparagus and citrus, we've got you covered. These recipes make a perfect side dish or light lunch, showcasing asparagus in both nutritious and delicious ways.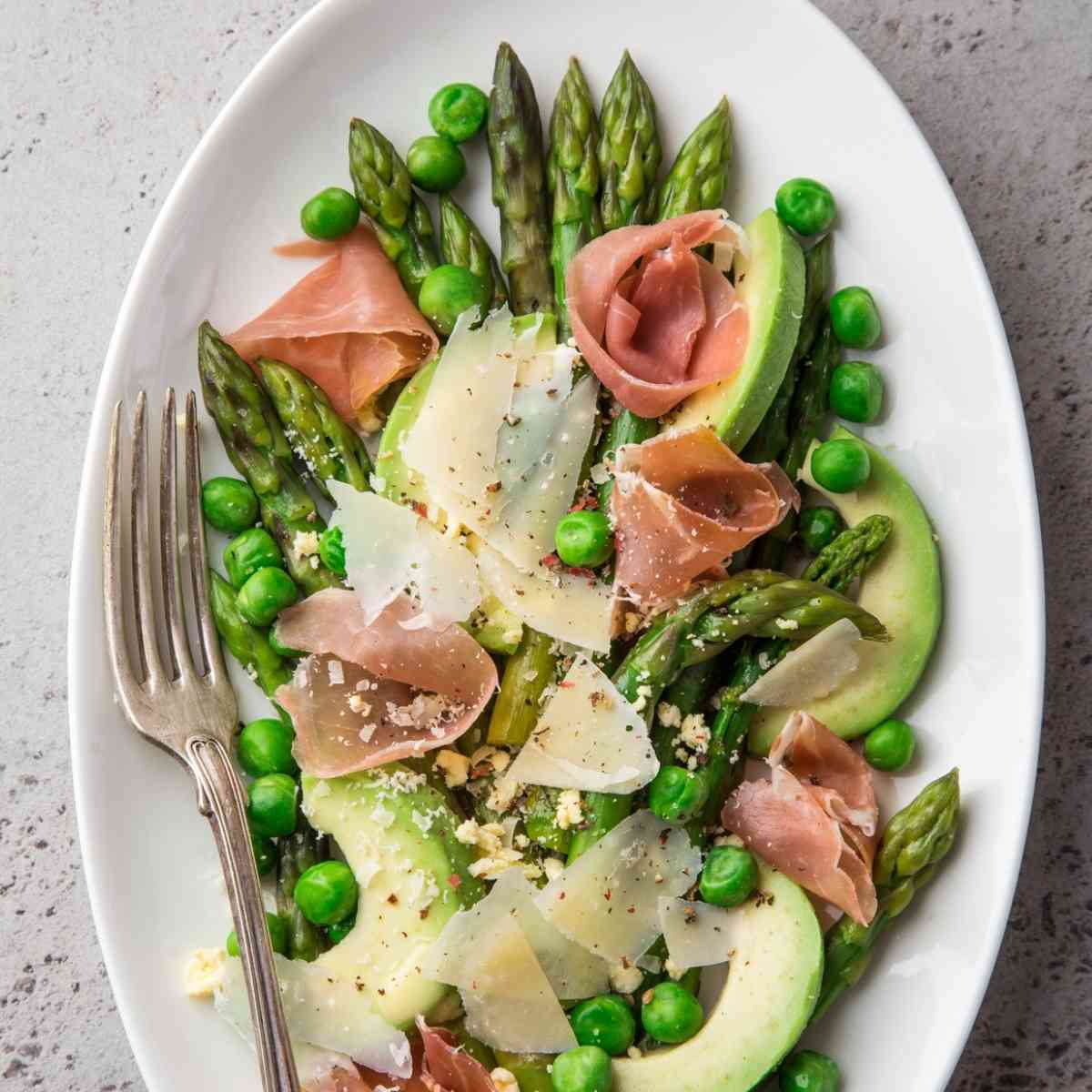 Asparagus salad is the perfect spring dish! It's light, healthy, and flavorful. Plus, it's easy to make (20 minutes or less) and tailor it to your liking. The ingredients are simple, but the flavor is complex – fresh, hearty, and crisp. Plus, asparagus is a good source of fiber, vitamin C, and antioxidants.
With its light, crisp flavor and fresh bite, you can easily serve asparagus salad and make every meal brighter. This dish is the perfect first course for an elegant dinner or an impressive addition to your next BBQ cookout.
If you want something alternative to asparagus salad that is also light and refreshing, you can make cucumber salads, or watermelon feta. Try a honey mustard chicken salad with avocado or Caesar salad for a protein-rich salad.
Here are a few of my favorite mouth-watering asparagus salad recipes.
A crowd favorite! This salad has a fresh and zesty crunch, thanks to the lemon vinaigrette dressing drizzled on top.
A quick and simple salad featuring shaved asparagus ribbons and romaine lettuce tossed with a dill shallot vinaigrette. Also comes with hazelnuts and fresh goat cheese toppings and is ready in just 20 minutes.
Best served cold! This is what this salad is! Toss tender asparagus, salty feta cheese, and sharp red onion in a bright lemon vinaigrette.
This fun and festive pasta salad features asparagus, cherry tomatoes, onions, and cubed cheddar cheese in a savory honey mustard dressing.
Yum! Perfect as a light meal, side to baked chicken, or any meat recipe!
One of the best asparagus salad recipes out there that use raw asparagus! Yes, you can eat raw asparagus in a salad, and it's really good.
I know because I've tried it and loved it. The key is to use fresh asparagus that has been trimmed and washed well. Then, chop it up into bite-size pieces and add it to your favorite salad recipe.
Add walnuts for crunch and parmesan to make it more tasty!
A great and healthy way to cook asparagus is by grilling. Here are some tips for how to grill asparagus perfectly every time:
First, preheat your grill to medium-high heat. Next, trim the ends of the asparagus spears and discard them. Drizzle olive oil or melted butter over the spears, and then sprinkle with salt and pepper. Grill the spears for 3-5 minutes, turning once, until they are crisp-tender.
Finally, top with a delicious mixture of roasted red peppers, feta cheese and Kalamata olives. The perfect combination of flavors and spring colors!
Tomatoes and basil in a bed of delicious roasted asparagus! What more can you ask for?!
A salad with tomatoes is not only healthy but also tasty and refreshing, just like this salad. The contrasting color of cherry tomatoes best complements the green of asparagus, making them perfect for each other, creating a festival of colors!
Also, tomatoes are flavorful and versatile. They can be used in cold and warm salads, and their sweetness pairs well with savory and sweet flavors!
I'm not sure why, but I always think of salads as more virtuous when they have hard-boiled eggs. Maybe it's because they're so filling? Or maybe it's because they add some much-needed flavor and texture? Whatever the reason, I know that I always enjoy my salads more when there are hard-boiled eggs involved.
This asparagus salad with egg really hits the spot, especially with its creamy Dijon dressing!
If you've never tried adding hard-boiled eggs to your salad before, I highly recommend giving it a try! You might be surprised at how delicious it can be.
I'm not sure what it is about lemon orzo in a salad with asparagus, but it's my new favorite thing. It's light, refreshing, and the perfect mix of savory and tart.
If you have never heard of orzo, it's a small, rice-shaped pasta that is delicious when cooked al dente. In this recipe, it is combined with lemon juice and zest to give it a bright flavor.
Asparagus adds another layer of freshness to the dish, while Parmesan cheese (if using) provides salty richness. This salad can be served either cold or at room temperature, making it the perfect potluck dish!
A salad that is a perfect combination of healthy and delicious! Quinoa is high in protein and fiber, while chickpeas are a good source of iron. Asparagus is a great source of vitamins A, C, E, and K. This salad is also low in calories and fat-free.
Making this salad is easy: cook the quinoa according to package instructions, then rinse and drain the chickpeas. Cut the asparagus into 1-inch pieces. Mix together the quinoa, chickpeas, asparagus, dressing of your choice (I like lemon vinaigrette), salt and pepper to taste. Enjoy!
I'm not sure who first decided that potatoes and asparagus would be a good match, but I'm certainly glad they did. The potatoes are soft and fluffy, while the asparagus is crunchy and slightly salty.
I really love a good warm potato salad. It's the perfect comfort food - hearty, filling, and delicious. This recipe is a little different than your average potato salad, though. It features fresh asparagus and a tangy sweet, garlicky dressing.
Grating egg on top of a salad or a sandwich is viral lately in every social media!
The great thing about the grated egg is that it adds bulk and protein to your salad without making it too heavy. It allows its flavors to distribute evenly throughout the dish.
It also gives the salad a nice creamy texture, which pairs well with crunchy vegetables like asparagus. Plus, the added flavor of the egg makes any ordinary salad taste special.
Broccolini is the perfect vegetable for a salad because it has a slightly bitter taste that contrasts well with the sweetness of asparagus. The two vegetables are also both relatively low in calories, making this salad a healthy option.
One of my favorite ways to enjoy broccolini and asparagus is a simple salad with olive oil, lemon juice, salt, and pepper. This easy asparagus salad recipe highlights the natural flavors of both vegetables without overpowering them.
The combination of broccolini and asparagus makes for an elegant yet simple side dish that everyone will love!
In this salad, asparagus is paired with sesame ginger dressing and chicken for a tasty and satisfying meal.
The asparagus in this salad is cooked until it is just tender, then tossed with a delicious sesame ginger dressing. The chicken is also cooked until it is nice and juicy, then added to the salad along with some chopped scallions and cilantro. This makes for a healthy, balanced meal that will leave you feeling satisfied.
If you are looking for something new and exciting to add to your salad repertoire, then be sure to give this asparagus salad with sesame ginger dressing a try. It's sure to become one of your favorites!
There's something about grilled corn and asparagus that make it perfect for a salad. The smoky sweetness of the grilled corn pairs perfectly with the slight bitterness of the asparagus, and the lemony dressing ties it all together.
This dish is perfect for a family picnic or potluck but also hearty enough to serve as a main course. So fire up your grill and get cooking!
Salmon is a popular fish that is often eaten in salads. It has a delicate flavor and a firm texture. It can be grilled, baked, or broiled and goes well with many different types of salad dressings.
Adding salmon to one of your asparagus salad recipes not only enhances the flavor of the dish but also ups its nutritional value.
If you're looking for an easy way to add excitement to your salads, consider grilled or smoked salmon as a topping! Not only will you enjoy the delicious taste, but you'll also be getting some important nutrients into your diet at the same time.
Shrimp in asparagus salad is just so irresistible to the palate. Pairing succulent, salty shrimp with the slightly bitter, earthy taste of asparagus is a match made in heaven.
And when you add some diced avocado and a handful of spinach with a light vinaigrette dressing? It's practically impossible to resist!
So if you're looking for something special to serve up this spring, why not give shrimp in asparagus salad a taste? You will never be disappointed!
A salad with strawberries makes you feel like springtime! Maybe it's the sweetness of the fruit, or the way they add a splash of color to an otherwise plain dish. No matter what it is, I can't get enough of them!
I always try to include strawberries in my salads whenever possible. They work well with greens (like asparagus) and fruits and add a delicious crunchy texture. Plus, their bright red color is always eye-catching.
If you're looking for a new way to enjoy salads this spring, I highly recommend making this strawberry asparagus salad!
Farro is one of my favorite grains to add to a salad. It has a nutty flavor and a slightly chewy texture that I really enjoy. It's also high in protein and fiber, making it a great option if you want something healthy to eat.
To make this salad, start by cooking your farro according to the package instructions. Once it's cooked, let it cool slightly before mixing in some chopped asparagus spears. You can either grill, steam or bake your asparagus.
Next, add in some almonds and crumbled romano cheese for extra flavor and texture. Finally, dress everything with your favorite vinaigrette lemon dressing. Give it a good stir until everything is evenly coated, then serve chilled or at room temperature. Enjoy!
Spring is a time for new beginnings, and there's no better way to welcome the season than with a fresh spring salad. This recipe features asparagus, peas, and goat cheese - all of which are in season during the spring months.
The salad is simple to make but packs a lot of flavor. The asparagus is roasted until tender-crisp, then tossed with fresh peas, boiled snow peas, and crumbled goat cheese. A light vinaigrette combines all the flavors, making this salad perfect for any springtime gathering.
So why not celebrate the arrival of warmer weather by whipping up a delicious spring salad? It's sure to be enjoyed by everyone at your table!
Arugula is the star of the show in this salad, and it's easy to see why. With its peppery flavor and slightly bitter taste, arugula adds a lot of character to any dish.
This particular salad pairs perfectly with asparagus, another vegetable that has a strong flavor profile. Together, they make a delicious and healthy meal that's perfect for any time of day.