This is going to be the best carrot cake recipe you'll ever taste! Easy to make, fluffy, and moist cake with fresh hand-grated carrots and covered with soft cream cheese frosting.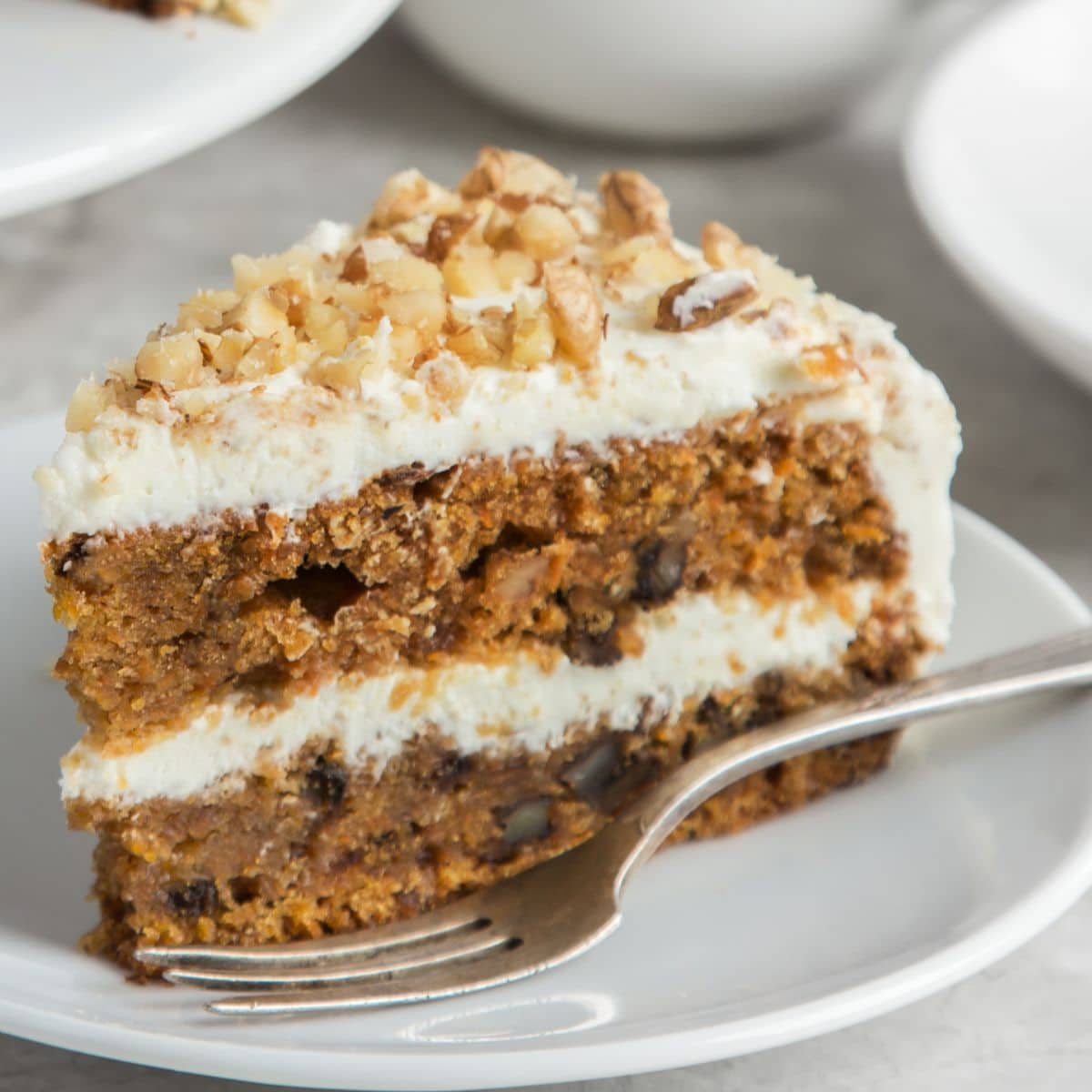 I love baking cakes. They are present in the finest moments and most special occasions. Cakes are never just a dessert; they're part of every celebration. Now, as much as cakes excite us when we are younger, we tend to stir away from them as we grow up. I guess it's the fear of carbs and sugar.
Well, carrot cake is nothing like that. It's a grown-up cake if you will, and although it's been around since the middle ages, it's still one of the most chick and sophisticated cakes out there. It's an everyday cake. I remember in my elementary days, I always buy carrot cupcakes in my school canteen during recess time.
The middle ages, really? Yes, food historians say people sweetened cake-like puddings with carrots. Remember, sugar and other sweeteners were not so readily available at that time. Besides, when cooked right, carrots are deliciously sweet!
You will absolutely love this homemade carrot cake recipe. Its soft frosting is done exactly right, not too sweet, and not bland at all.
Ingredients for Carrot Cake and Steps
As with any great cake, this one starts with all-purpose flour, a pinch of baking soda, and another of sea salt. For a carrot cake, of course, a little cinnamon goes a long way, so we'll throw in some in there too.
In a separate bowl, we'll add some canola oil, eggs, one at a time, sugar, and just a kiss of vanilla extract. Sounds promising already, right?
Now the best part — the carrots. Here's when we add three whole cups of grated carrots to our mix. And here's my personal touch, chopped pecans, and raisins.
The last touch, is a smooth cream cheese frosting dotted with crunchy chopped pecans.
By the way. For this recipe, you'll need two 9-inch round cake pans, parchment paper, a couple of medium mixing bowls, a whisk, or a stand mixer.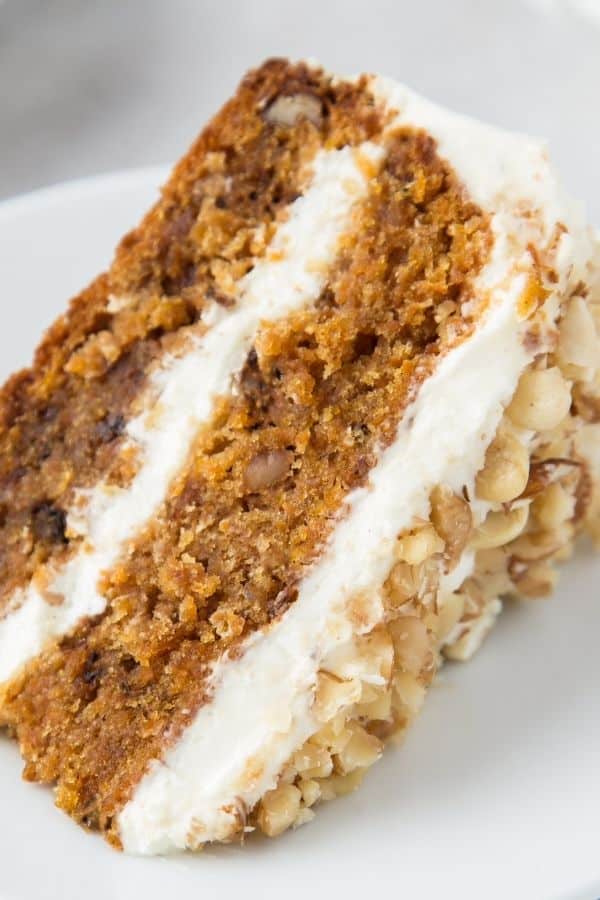 Tips to Bake the Perfect Carrot Cake
Although most carrot cakes are already tasty, moist, and fluffy, there are some tips to make the most out of this recipe for carrot cake. Here are my favorites:
Roast your pecans for a few minutes in a hot pan. All the flavorsome oils are released. You can also use other types of nuts like almonds or walnuts.
Measure Everything. Carrots release lots of moisture, so you must use the right amount of flour and sugar to get the right consistency. For some recipes, you can just eyeball the ingredients, but not for carrot cakes, so be precise.
Grate your carrots finely by hand (recommended). It takes a bit more time, but it's important. Large carrot chunks might not cook all the way through, and no one likes crunchy bits of carrot in their cake.
For your frosting, use cold ingredients. The cream cheese and the heavy whipping cream are better handled straight from the fridge. If you leave them too long at room temperature, your frosting will be runny!
Don't apply the frosting while your carrot cake is still warm; it will just melt. Wait until the cake is nice and cool, and you'll achieve stunning results.
Do not overmix the batter.
Now we're ready to bake our carrot cake. Enjoy making this one with a warm pumpkin spice latte in hand because the most important thing is to have fun!
This recipe is perfect for cupcakes too. It is equivalent to 24 cupcakes. Bake at 350 degrees F for 15-18 minutes. Though I have not tried it yet, you may also use a loaf or bundt pan to bake the batter, make sure to research the exact bake time and temperature.
You will also like: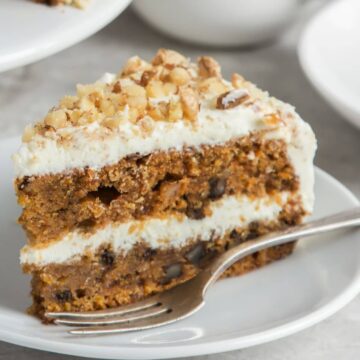 The Best Carrot Cake Recipe
This is going to be the best carrot cake recipe you'll ever taste! Easy to make, fluffy and moist cake with freshly-grated carrots and covered with cream cheese frosting.
Equipment
9-inch round cake pans (2 pieces)
Ingredients
For the Cake
4

large

eggs

1 1/4

cups

canola oil

1

cup

granulated sugar

1

cup

brown sugar, lightly-packed

2

teaspoons

pure vanilla extract

2

cups

all-purpose flour

1 1/2

teaspoons

ground cinnamon

1/2

teaspoon

salt

2

teaspoons

baking soda

3

cups

freshly-grated carrots

1/2

cup

raisins

1

cup

chopped pecans
Soft Cream Cheese Frosting
8

ounces

cream cheese (1 block)

1 1/4

cups

powdered sugar

1/3

cup

heavy whipping cream

1/2

cup

chopped pecans or walnuts, for topping
Instructions
Preheat oven at 350 degrees F and prepare two round 9-inch cake pans by lining them with parchment paper then greasing them with oil.

In a large bowl, whisk together the eggs, oil, sugars, and vanilla. Add in the flour, cinnamon, salt, baking soda. Mix and be sure to scrape the sides to combine. Add the carrots and stir. Fold the pecans and raisins.

Split the batter into the prepared pans. Bake for 40-45 minutes. Insert a toothpick in the middle and if it comes out clean then it's baked. Let it cool inside the pans first for 10 minutes before turning it out to a cooling rack for further and complete cooling.

To make the frosting, in a bowl, using a mixer, beat together the cream cheese, powdered sugar and heavy cream until smooth and creamy. Cover and chill. Frost the tops of the cake leaving the sides uncovered. Put them together and sprinkle the top layer with pecans.
Notes
Notes:
Frosting recipe is not meant to cover the whole cake. It's only a soft frosting ideal to frost the top layer and the layer in between.
This recipe is perfect for cupcakes too. It is equivalent to 24 cupcakes. Bake at 350 degrees F for 15-18 minutes.