You will absolutely love this banana bread easy recipe! As for me, I love bananas and I love bread! When these two combined, it's a bake heaven!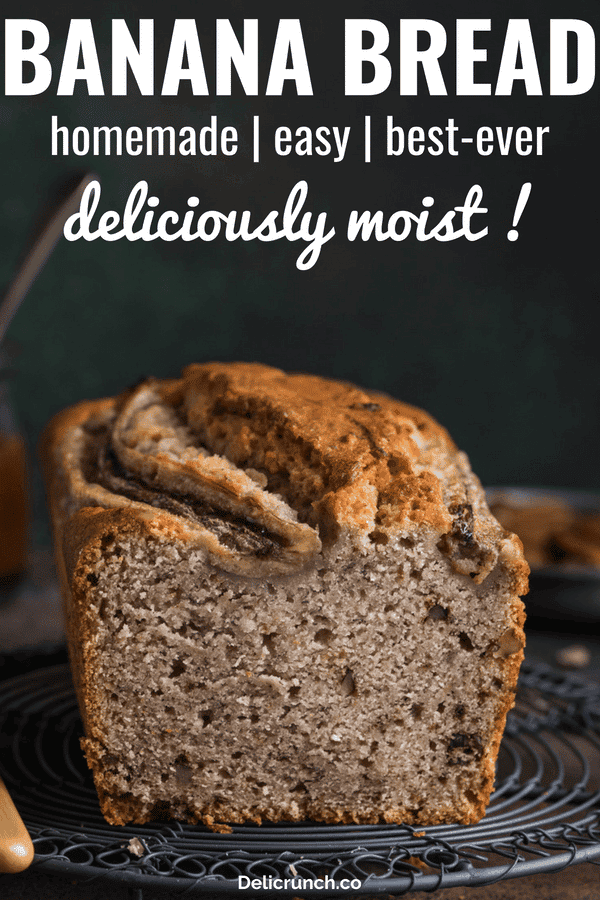 Previously, I made a low carb banana bread (keto-friendly) and you can find it here.
But today, I am going to share a classic banana bread recipe. It is baked to perfection and deliciously moist! So, don't you ever let any overripe banana you have in your pantry go to waste.
Banana is not only a breakfast staple for many years in every household but also a snack anytime of the day or even at work. Also, banana bread is the most searched bread recipe online.
What's wonderful about this homemade banana bread easy recipe is that you can modify and tweak every ingredient to your liking.
How to Make Banana Bread
There is just a long creative list of how you want to make your own banana bread:
Baking it plain is absolutely fine if you only have the basic ingredients or adding nuts to your recipe like walnuts, raisins, or chocolate chips for added crunchiness is wonderful too
Making this banana bread a healthy recipe like vegan, gluten-free, or paleo is doable too if you have diet restrictions
Substituting or omitting some of the ingredients like replacing regular flour with almond flour. You can even go flourless. If you don't want any flour at all in your banana bread, replace the flour with traditional oatmeal. You can even go eggless, sugar-free or dairy-free to suit your dietary needs.
Mixing in some other fruits and veggies too like zucchini or applesauce if you don't have enough bananas.
Even adding buttermilk, sour cream or cream cheese for extra moistness and texture. There's just so many ways on how moist you want your banana bread be.
Finally, baking it in a muffin tin for a much faster baking is so friendly with the kids
The Ingredients
Overripe Bananas. This recipe calls for 2-3 bananas but you can add more up to 5 bananas. It's important that the bananas are overripe. You can tell if it's overripe if the banana peelings have black spots like dalmatian. Sample photo of an overripe banana, click here.
Unsalted Butter. The butter should be softened, not melted.
Eggs. You can crack the eggs directly to the mix or you can beat them separately.
Milk. It does not matter what kind of milk you want to add but not soy milk.
Vanilla. The aroma of vanilla on breads helps to make it more delicious.
Sugar. Brown sugar is used in this recipe it helps to make the bread gorgeous brown in color. You can actually combine it with granulated sugar or even reduced the amount of sugar too because banana is naturally sweet.
Flour. Regular flour is fine, you can also use almond flour.
Salt. To balance the taste.
Cinnamon. Another aromatic spice for an extra special banana bread.
The Baking Process
Note: You do not need an electric mixer to make the banana bread batter. Manually mixing it with a fork and a bowl is totally fine.
Preheat oven. Before you start mixing the ingredients, preheat the oven to 350 deg F while preparing your loaf pan at the same time. Grease your loaf pan (8x5) with oil and powder it with a little bit of flour. You can also line it with parchment paper instead of greasing it.
Cream the butter and sugar. Soften your butter in the microwave, do not melt it into liquid. Once softened, mix it with the sugar until fluffy in a bowl.
Add wet ingredients one by one. Add the rest of the wet ingredients. Start with the eggs, then milk and vanilla. Mix them until smooth.
Add the bananas. You can mashed the bananas beofre hand or you can add them sliced. Mix.
Sift and add dry ingredients. Using a strainer or sifter, sift the dry ingredients first to make them lighter and easy to mix. Slowly add them to the mixture. Be sure not to over stir, or over mix the ingredients in order for it to not become dense and dried out after baking.
Fold in the nuts or choco chips if using. Sprinkle them on top of the batter on the baking pan.
Transfer the mixture to the loaf pan. Pour in the batter into the loaf pan until level to the pan. Be sure to scrape all the mixture from the bowl.
Bake 45-60 minutes. Depending on the amount of banana used, the amount of baking time varies as well. Using a toothpick peek through the loaf bread, once it comes out clean, you have a perfectly baked and moist banana bread.
Cool and enjoy! Set it aside in a cooling rack to cool for about 5-10 minutes. Slice and serve.
I can say that this banana bread recipe is hell yeah 😉 and is better than Starbucks!
Classic Banana Bread Printable Recipe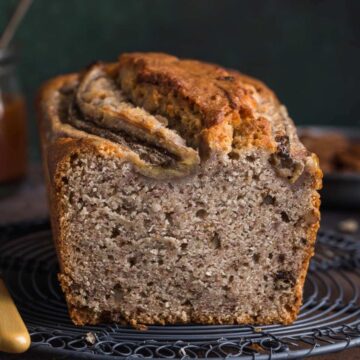 Deliciously Moist Banana Bread Ever!
This easy and homemade banana bread recipe is the best ever! It's deliciously moist and yummy! It can be baked using loaf pans or muffin tins. Perfect for breakfast, snack or dessert! Simple to do and you can add walnuts, pecans or chocolate chips!
Ingredients
Fresh Ingredients
2-3

overripe bananas

mashed
Wet Ingredients
1/2

cup

unsalted butter

softened

2

eggs

1/4

cup

milk

1

tsp

vanilla
Dry Ingredients
1 1/4

cups

brown sugar

2

cups

flour

1/2

tsp

salt

1/2

tsp

baking soda

1/2

tsp

ground cinnamon
Optional Ingredients
1

cup

chopped pecans or walnuts
Instructions
Preheat oven 350 degrees F. Grease and flour your loaf pan or muffin tins.

In a bowl, cream the butter with sugar until light and fluffy. Add the rest of the wet ingredients. Also, add the mashed banana.

In a separate bowl, sift the dry ingredients. Then gradually add them to the wet mixture. Add nuts if desired.

Bake for 45-60 minutes if using loaf pans or 20-25 minutes if using muffin tins. Use a tester or a toothpick after the minimum time needed to cook, if it comes out clean then it's cooked! Remove from pans/tins and let them cool on baking racks.