Creamy potato soup recipe — a rich, chunky and silky soup in a flavorful chicken broth base and livened by fatty bacon. Loaded with more bacon pieces, cheddar, sour cream and green onions! This is one of my favorite classic recipes for this root veggie.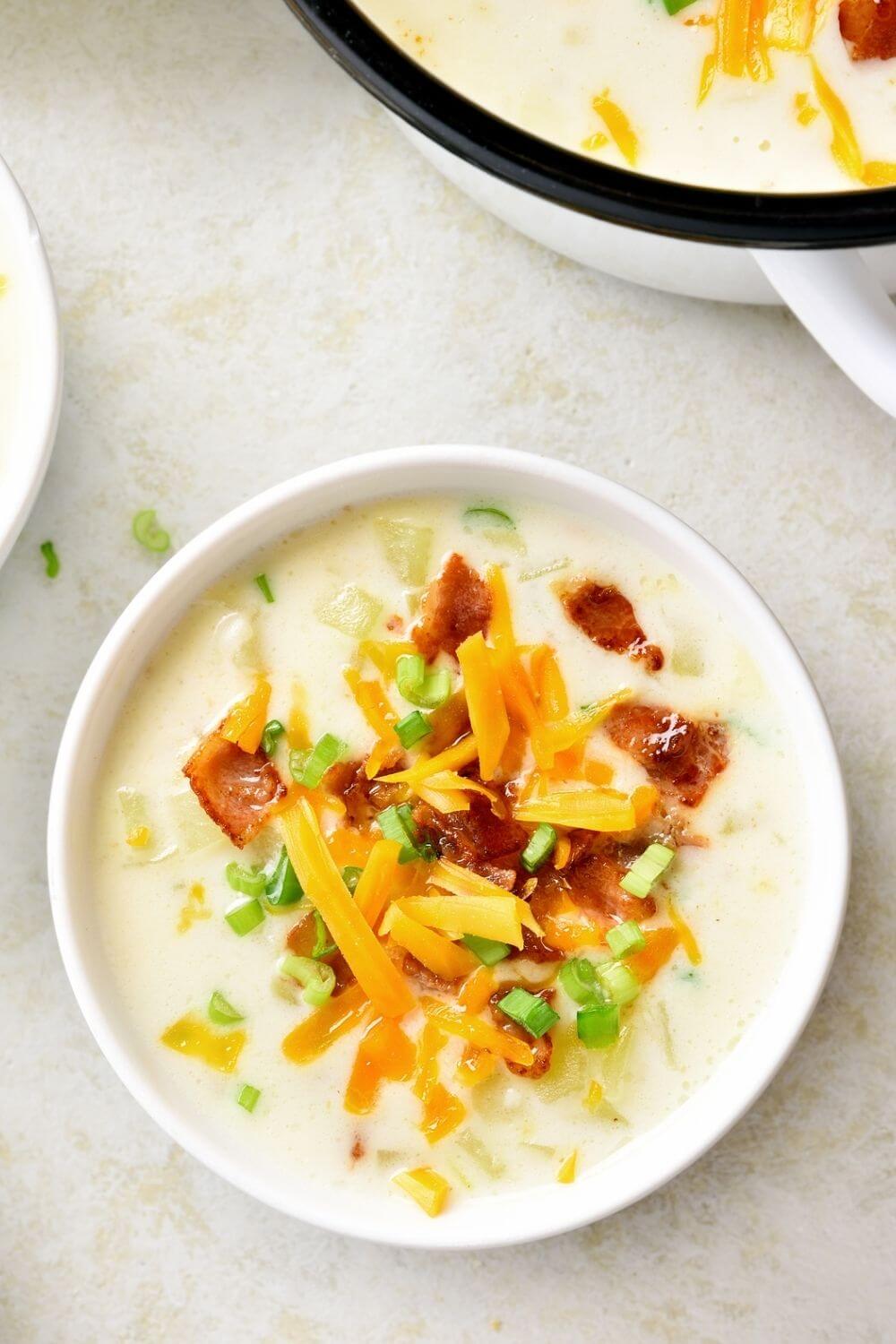 I always have potatoes in my pantry. They are inexpensive, always available and super satisfying, making any meal better and filling! There are dozens of ways you can cook potatoes. May it be mashed or french fried, they always turn out all right.
This creamy potato soup is perfect for both warm and cold weather. It's vibrant enough to liven a hearty lunch and sufficiently sophisticated for upscale dinners. It's ultimately a comfort food done right.
Creamy Potato Soup Ingredients
Crispy fried bacon pieces including its fat.
Chopped yellow onion
Minced garlic
Butter either slated or unsalted
All-purpose flour to thicken the soup
Gold potatoes or
Chicken Broth
Milk and heavy cream
Salt and ground pepper to taste
Sour cream
Toppings for serving: bacon pieces, more sour cream, cheddar cheese, chives or green onions
How Do You Make Creamy Potato Soup?
To make creamy potato soup recipe, you need around six medium to large potatoes. This will serve 6 bowls of delightfully hearty soup.
We'll sauté diced onions and garlic in bacon fat as a base for the soup, and we'll thicken it with chicken broth and all-purpose flour.
We're also using a few dairy products — butter, milk, and heavy cream. And you can top the soup with sour cream and Cheddar for an extra creamy starter.
Top with crispy bacon bits and colorful chives next to make it fully loaded. This half-blended soup ends up really delicious. I can taste it already! Have some salt and pepper on hand to season as needed.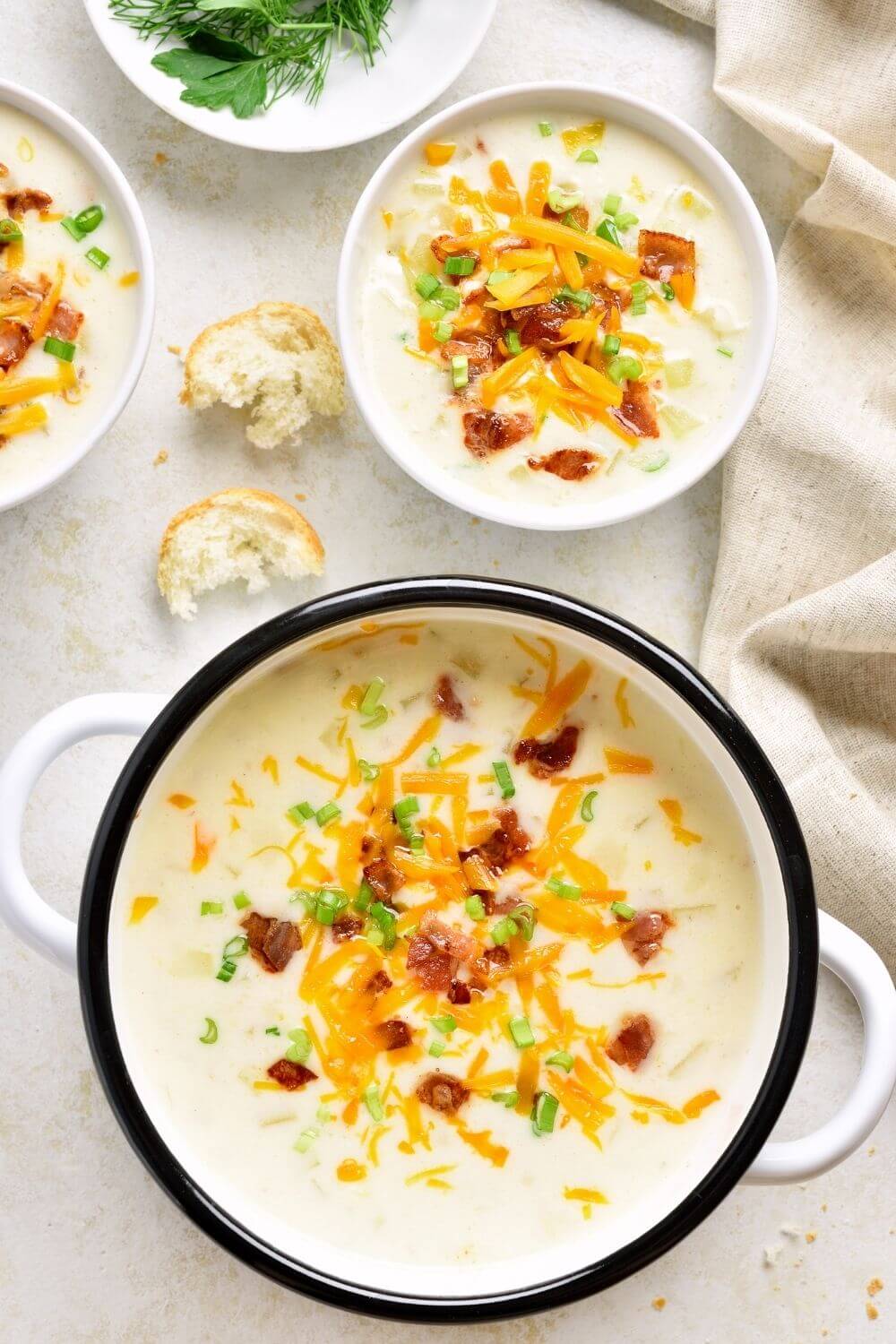 Helpful Tips
The best potatoes for soup are those with little starch and high moisture. They hold better and won't break apart that easily, giving the soup a more consistent texture. Try using waxy potatoes, but Yukon Gold and Fingerling potatoes will work just fine. [Source]
Turn the soup into a gluten-free delight by substituting the wheat flour for cornstarch. A few tablespoons will do. Dissolve it first in the milk and watch the soup thicken nicely.
Make a vegetarian potato soup using olive oil instead of the rendered bacon fat and top the soup with tofu bacon bits or sautéed mushrooms!
Fun Variations
What goes with potato soup? A classic and creamy potato soup can become a wide variety of exciting new dishes.
Simply pouring the soup inside hollowed bread buns can change the entire experience. That's a fancy restaurant trick!
If you want to make more significant changes to the soup, add crab meat, clams and shrimp after blending for a faux-clam chowder that takes you to the coastline and back with every spoonful.
Adding sweet corn kernels to potato soup adds beautiful layers of flavor and vibrant color. Potatoes and corn are super compatible.
Substitute the potatoes for sweet potatoes for a fall-scented creamy soup that just tastes like the holidays.
You might think cauliflower is not very exciting, but it will add freshness to the soup and an entirely different texture. It's lovely!
Potato Soup for Days!
To store leftover creamy potato soup, let it cool at room temperature, transfer it to a BPA-free plastic container with a lid and store it in the fridge for up to five days.
You can also make the soup beforehand to enjoy on a future date. Let it cool and store it in a vacuum freezer bag for up to three months.
To reheat, simply warm the soup on the stovetop over medium flame and add a splash of chicken broth or water if it's too thick. Having a homemade potato soup in hand to enjoy year-round is a lifesaver. What a way to treat yourself and your loved ones!
Creamy Potato Soup
Creamy potato soup recipe — a rich, chunky and silky soup with a rich chicken broth base and livened by fatty bacon.
Equipment
dutch oven or any large pot

immersion blender or blender or potato masher
Ingredients
6-10

strips

bacon

1

cup

chopped yellow onion

1

tablespoons

minced garlic

4

tablespoons

butter

1/3

cup

all-purpose flour

2

pounds

yukon gold potatoes, chopped in bit-sized chunks

4

cups

chicken broth

2

cups

milk

1

cup

heavy cream

salt to taste

ground black pepper to taste

1/2

cup

sour cream + more for topping

1/2

cup

shredded cheddar cheese, for topping

chives or green onion, for topping
Instructions
Fry bacon until crisp in a dutch oven or large pot. Remove the bacon from the pot, leaving its fat. Cut the bacon into small pieces and set aside.

Add the chopped onions and saute until transluscent. Add the minced garlic and cook until fragrant. Add butter, once melted add the flour. Whisk until the flour turns lightly brown.

Add potatoes, broth, milk, heavy cream, salt and pepper. Cook until potatoes are tender. Using an immersion blender puree the soup leaving a little bit of chunks. You may use potato masher and mash the soup directly inside the pot but also leaving some chunks. (Or altenatively, transfer half of the soup into a blender and blend until smooth. Then pour back the blended soup back into the pot.)

Add sour cream and bacon pieces. Stir. Simmer for 10-15 minutes. Serve and top with more sour cream and bacon pieces. Also add cheddar cheese and chives.
Don't forget to share!