What to serve with pork tenderloin? Whether you want your pork tenderloin grilled, roasted, pan-seared, sauteed, or braised there are many side dishes you can eat with it. You can have your pork tenderloin with roasted vegetables, grains, salsa, salads, soups, or even grilled fruits. Here are some of the best pork tenderloin side dishes and recipe recommendations.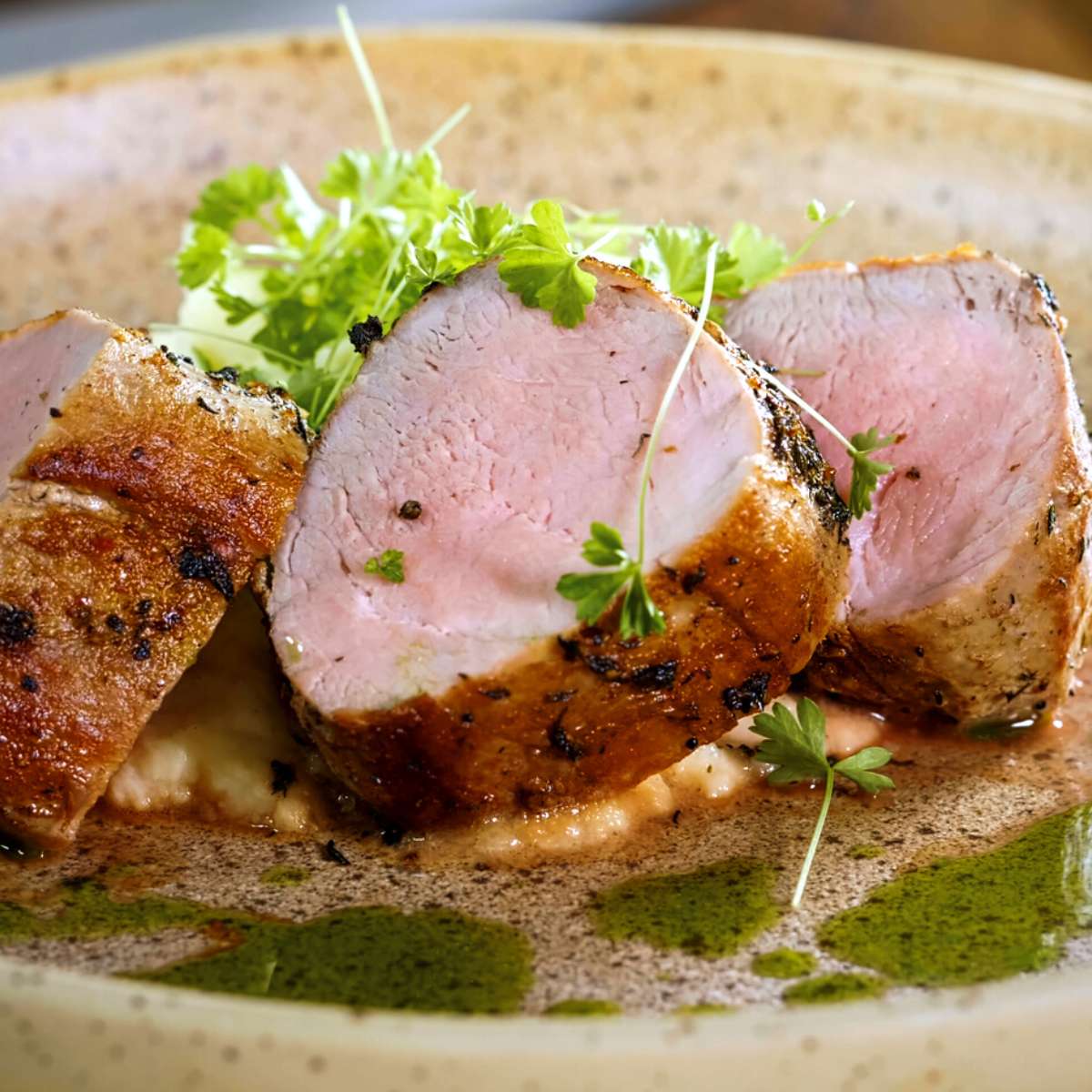 Kimchi (Fermented Napa Cabbage)
Grilled pork tenderloin with kimchi is the best combination you will ever experience. This combo is popular in Asian bbq parties and even casual dining. The kimchi adds a tangy and spicy flavor to the dish that complements the savory taste of the grilled pork.
The fermentation process of kimchi not only adds flavor but also increases the nutritional value of the dish. Just like my ultimate favorite Korean kimchi stew.
When serving kimchi as a side dish for pork tenderloin, it is best to serve it cold or at room temperature. This allows the flavors of the kimchi to be more prominent and not get lost in the heat of the pork.
Air-Fried Brussels Sprouts
Air-fried brussels sprouts make for a delicious and healthy side dish when paired with succulent pork tenderloin. The crispy exterior and tender interior of the sprouts complement the tender and juicy pork perfectly, creating a balance of textures in each bite.
To prepare the brussels sprouts, trim the ends and cut them in half. Toss them in olive oil and season with salt, pepper, and any desired herbs or spices. Place them in the air fryer and cook for about 10-15 minutes at 400 degrees Fahrenheit.
Perfectly cooked sprouts have a golden brown exterior and are fork-tender. The air fryer method allows for a crispy texture without the added fat and calories of deep frying.
Easy Fried Rice
Fried rice is a dish that is so versatile that you can add any protein of choice to it including pork tenderloin. Adding slices of pan-seared pork tenderloin to fried rice will turn it into a complete and satisfying meal.
You can replace the scrambled eggs with slices of pork or you can have them both.
Caesar Salad
Caesar salad is a classic side dish that pairs perfectly with pork tenderloin or any other meat dish.
To make a Caesar salad, traditional ingredients include chopped romaine lettuce, croutons, grated Parmesan cheese, and a homemade dressing made from olive oil, garlic, anchovies, lemon juice, and Dijon mustard.
When serving Caesar salad as a side dish for pork tenderloin, it's best to make the salad just before serving to ensure that the lettuce stays crisp and the croutons retain their crunch. This also allows for the flavors of the salad to meld together and intensify, making for a more flavorful dish.
Creamy Potato Soup
A comforting dish that is perfect for a cold winter evening. It is also a great dish to make ahead of time, as it can be reheated easily. The soup is versatile that you can add different vegetables or proteins to it to make it your own.
When serving the soup alongside a pork tenderloin, be sure to ladle a generous serving of the creamy soup into a bowl, and top it with a few slices of tender pork.
Watermelon Feta
Watermelon feta is a unique and delicious side dish that will elevate any pork tenderloin. The sweetness of the watermelon and the tanginess of the feta complement the rich and savory flavors of the pork perfectly.
This dish can be served as a side dish or as a salad. You can also add some fresh herbs like mint or basil to add an extra layer of flavor. This dish can be prepared in advance and is perfect for a summer BBQ or a casual dinner party.
Pasta Stuffed Shells
This creamy vegan pasta stuffed shell provides a perfect balance to most protein-rich dishes, making for a comforting and enjoyable meal. Serve them alongside a pork tenderloin seasoned with a blend of herbs and spices, such as thyme, rosemary, and garlic powder.
Fire Roasted Vegetables
One great way to prepare fire-roasted vegetables is to toss them in olive oil and seasonings such as salt, pepper, and garlic powder before roasting them on a grill or in the oven. This gives them a nice char and a deep, rich flavor that is perfect for pairing with pork.
Some popular vegetables that work well with pork include bell peppers, onion, zucchini, and eggplant. These vegetables all have a nice sweetness that is complemented by the smoky flavor of the fire.
When it comes to serving these vegetables as a side dish for pork tenderloin, there are a few different options. One is to plate them alongside the pork, allowing the flavors to mingle and complement each other. Another is to toss them in with the pork, creating a delicious and hearty one-pan dish that is perfect for a weeknight meal.
Grilled Fruits
Grilled fruits make a delicious and healthy side dish for pork tenderloin. The natural sweetness of the fruits pairs perfectly with the savory flavors of the pork, creating a balance of flavors that is sure to please any palate.
Here are the best fruits that you can grill and serve with pork tenderloin: pineapple, peaches, watermelon, apples, pears, apricots, and plums.
Grilled Sweet Potatoes
These sweet and tasty tubers are a perfect complement to the smoky grilled pork tenderloin.
To prepare the sweet potatoes, first, peel and slice them into thick rounds. Then, toss them in a mixture of olive oil, salt, pepper, and your choice of herbs or spices. Some popular options include garlic powder, thyme, or cinnamon.
Mashed Potato Pancakes
To make the pancakes, start by mixing together leftover mashed potatoes, flour, and an egg to form a batter.
Next, heat a skillet over medium-high heat and add a small amount of oil. Once the oil is hot, drop spoonfuls of the batter into the skillet and flatten them into pancakes.
Cook the pancakes for 2-3 minutes on each side, or until they are golden brown and crispy. Serve the pancakes alongside a pork tenderloin that has been seasoned with salt, pepper, and herbs, and garnish with chopped parsley.
Ranch Potatoes
Serve these ranch roasted potatoes alongside your pork tenderloin for a delicious and well-rounded meal. The potatoes are perfect for soaking up any juices from the pork, making them a great complement to the main dish.
These potatoes are crispy on the outside and tender on the inside with a bold ranch flavor.
Garlic Smashed Potatoes
These spuds are like your regular mashed potatoes, but with a garlic punch that will knock your socks off.
Picture this: tender, buttery potatoes that have been gently smashed to perfection, infused with the heady aroma of garlic. It's like a love letter from your taste buds to your nose.
Sweet Potato Curry
This dish is a total flavor powerhouse. The combination of sweet potatoes, curry powder, and coconut milk is like a party in your mouth. Every bite is a new adventure, with hints of cumin, ginger, and turmeric dancing on your taste buds.
Not only does the sweetness of the potato complement the savory pork, but the curry spices add a depth of flavor.
Plus, it's a great way to add some color to your plate. Just imagine that beautiful orange sweet potato contrasting with the pink pork.
Vegetable Kabobs
These vegetable kabobs are here to steal the show and complement that pork tenderloin like a boss. With a colorful medley of bell peppers, zucchini, and onion, these kabobs bring a fresh and vibrant flavor to the plate.
These colorful skewers of veggies add a pop of color and a healthy dose of vitamins to the plate. Plus, they're the perfect vehicle for all that delicious marinade you've been working on.
Pico De Gallo
If you're looking for a side dish that packs a punch of flavor, look no further than this classic Mexican salsa. Made with fresh tomatoes, onions, cilantro, and a hint of lime, it's the perfect complement to the rich, tender pork.
Not only is pico de gallo delicious, but it's also incredibly versatile. You can serve it as a dip with chips, spoon it over tacos, or even use it as a topping for your morning eggs.
But when it comes to pork tenderloin, it's the perfect sidekick - adding a burst of freshness to the plate and cutting through the richness of the meat.
Creamed Spinach
This rich and creamy green goodness is like a warm hug for your taste buds. The tender spinach leaves, coated in a silky sauce, provide a delicate balance to the bold flavor of the pork. Moreover, spinach is has lots of vitamins and nutrients, making this side dish not only delicious but also healthy.
It's a creamy and flavorful side dish that of baby spinach leaves in a rich and creamy sauce. This dish is usually served as a side dish with pork tenderloin, steak, roast chicken, or grilled fish. The creamy sauce is made with butter, flour, and heavy cream. Seasoned with salt, pepper, and nutmeg, giving it a unique and delicious flavor.
Creamy Mushroom Sauce
Creamy mushroom sauce is a rich, savory sauce that is a combination of sautéed mushrooms, heavy cream, and other ingredients. This sauce is perfect for adding a touch of luxury to any dish, whether it's pasta, chicken, or vegetables.
The creaminess of the sauce balances perfectly with the earthy flavor of the mushrooms. Making it a popular choice among home cooks and professional chefs alike.
Air-Fryer Green Beans
Air-fried green beans are a delicious and healthy alternative to the traditional deep-fried version. This cooking method uses hot air to cook the beans, resulting in a crispy and crunchy exterior without the added fat and calories. It is an easy and quick way to prepare a side dish for any meal in a busy weeknight dinner.
The air-frying process locks in the natural flavors of the green beans, making them a tasty and nutritious addition to any meal. Whether seasoned with spices or tossed with oil and salt, air-fried green beans are a must-try for any health-conscious cook.
Fried Mac & Cheese Balls
Fried mac and cheese balls are an delicious and irresistible snack. A combination of the creamy, cheesy goodness of macaroni and cheese with the crispy, golden exterior of a fried ball.
Made by mixing cooked macaroni and cheese with breadcrumbs and deep frying until golden. These savory balls are the perfect comfort food for any occasion.
Whether you're looking for a quick and easy snack or a fun party food, fried mac and cheese balls are a sure hit. So grab a fork and dive in to this cheesy, gooey, and crispy delight!
Rainbow Quinoa Salad
Rainbow quinoa salad is a vibrant and healthy dish that combines the nutritious benefits of quinoa with a rainbow of colorful ingredients.
This dish is not only visually stunning but also bursting with flavors and textures that excite the taste buds. The key to making this salad is to use a variety of fresh and seasonal ingredients, including red and yellow bell peppers, cherry tomatoes, avocado, red cabbage, and fresh herbs like cilantro and basil.
The quinoa is cooked to perfection and combined with a simple lemon vinaigrette that brings all the flavors together. This salad is perfect for a light lunch, dinner, or as a side dish for roasted pork tenderloin or potluck. So, let's dive in and discover the rainbow of flavors and nutrients in this delicious salad!
Farro Pilaf
Farro Pilaf is made from farro, a type of ancient grain that is rich in fiber, protein, and vitamins.
This dish is a flavorful and healthy alternative to traditional rice pilaf. It is perfect for those who are looking for a tasty and nutritious way to add more whole grains to their diet.
Farro Pilaf is versatile, and it can be paired with a variety of different ingredients, such as vegetables, herbs, and spices, to create a unique and flavorful dish.
Sous Vide Asparagus
Sous vide cooking is a popular method for preparing a variety of dishes, and asparagus is no exception. This cooking technique involves sealing food in a vacuum-sealed bag and cooking it in a temperature-controlled water bath.
With sous vide asparagus, you can expect perfectly cooked, tender stalks with vibrant green color and crisp texture. The gentle heat and consistent temperature of the water bath allow the asparagus to cook evenly, retaining its natural flavors and nutrients.
They're perfect to serve with pork tenderloin and other roasted or pan-seared mains like fish, steak and chicken.
Mexican Street Corn
Mexican street corn, also known as Elote, is a popular street food in Mexico and has become a staple in Mexican cuisine. It is a simple dish that consists of corn on the cob that is grilled to perfection and topped with a delicious combination of spices, cheese, and chili powder. T
his dish is often served as a snack or side dish and is a staple at many Mexican festivals and gatherings. The combination of the smoky, grilled corn with the tangy, spicy, and cheesy toppings creates an explosion of flavors in the mouth.
Mexican street corn is a must-try for those looking to experience authentic Mexican cuisine.
Sauces and Glazes
Make sauces or glazes if making another dish to serve with pork tenderloin is out of the table. Sauces and glazes can add depth and complexity to the taste of the pork tenderloin, elevating it from just a simple dish to a gourmet meal.
Some suggestions I can recommend are:
sweet and tangy BBQ sauce
honey and garlic glaze
balsamic reduction
peach and ginger chutney
creamy apple and sage sauce
apricot and thyme glaze
cranberry and orange relish
spicy peanut sauce
In conclusion, pork tenderloin is a versatile meat that pairs well with a variety of sides and accompaniments. The key to finding the perfect complement to pork tenderloin is to consider the flavors and textures of each dish, as well as the overall meal. Whether you opt for classic comfort food or more contemporary options, there is sure to be a delicious and satisfying side dish to serve with your pork tenderloin.