What to serve with chili besides cornbread? It's true that chili night is never without cornbread and nothing can beat this classic combo. But what if you are out of cornbread ingredients or probably just want to add more dishes to the traditional chili-cornbread combo? Are there other side dishes that you can serve with chili besides cornbread?
Yes, there are plenty of side dishes you can have with chili. To find a dish that goes well with chili, you have to consider first the nature of chili. What does it taste like? What are its texture and flavor?
Chili has a rich, hearty flavor with a combination of savory and spicy notes, so you might want to consider these tips in mind when looking for chili side dishes.
Complementary flavors: A dish that complements the flavors of the chili is a good choice to serve with it. For example, a dish with a similar spice profile or a dish that has a cooling element to balance out the heat of the chili.
Textural contrast: A dish that provides a textural contrast to the chili is a good option. For example, a dish with a crunchy texture such as a salad, or a dish with a creamy texture like sour cream or avocado.
Starch-based dish: A starch-based dish like rice, potatoes, or tortillas is great too as it helps to absorb the sauce and make the dish more filling.
Freshness: For example, a dish with fresh herbs, lime, or cilantro can add a bright and fresh flavor to the chili.
So, what to serve with chili besides cornbread? Here are the 25 best sides that go with different chili dishes like white chili, chili con carne, vegetarian chili, and the like.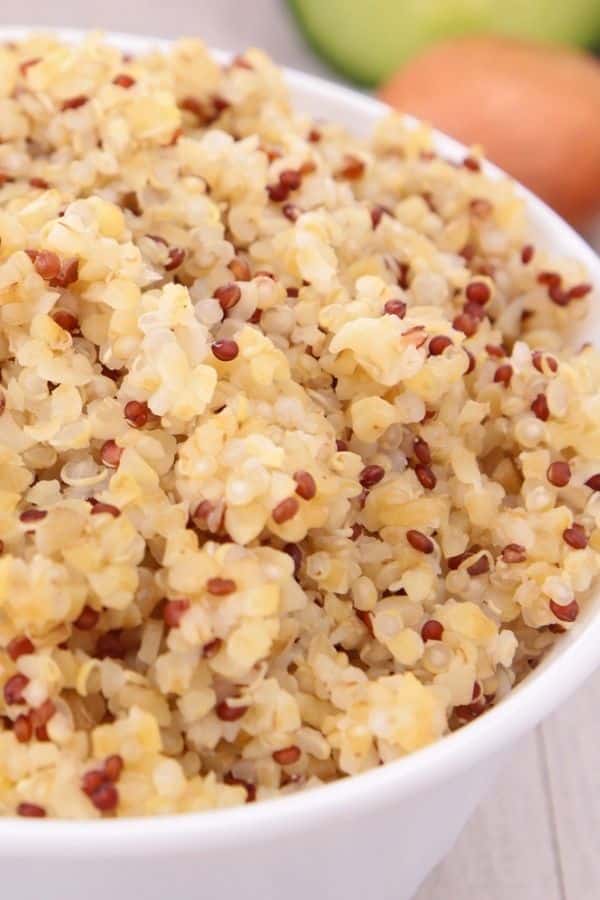 Quinoa is a great grain to pair with chili because it has a nutty flavor and a slightly chewy texture that complements the bold spices and flavors of chili. You can serve the quinoa as a side dish, or mix it into the chili for added texture and protein.
Get the recipe for Fluffy Quinoa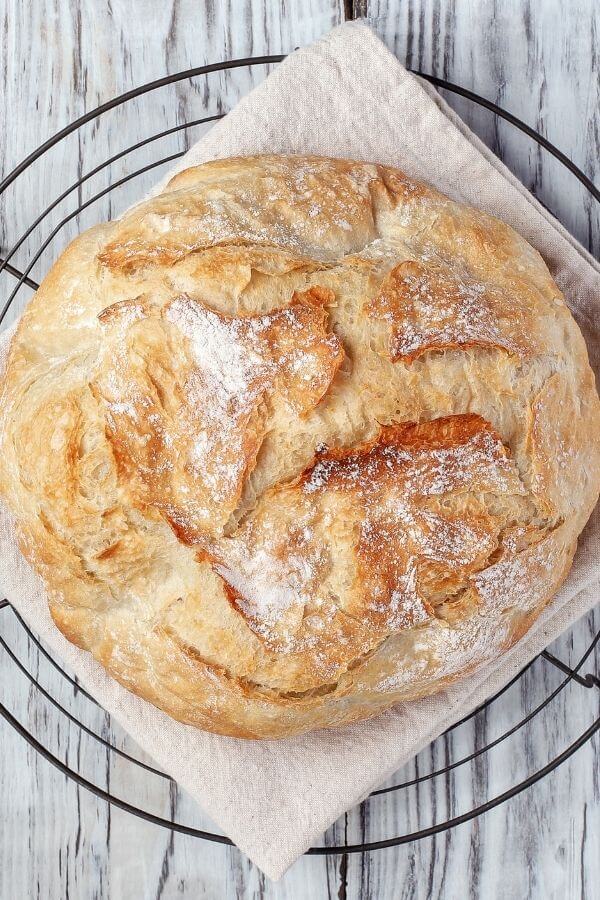 The crusty texture of the bread works well with the warmth and spices of chili, making for a satisfying and comforting meal. You can also serve the bread with butter or a spread, or even cut it into small pieces and use it as a topping for the chili.
Recommended recipe for No-Knead Bread
Fried plantains are a great way to add a touch of sweetness and starchy texture to any meal, especially chili. This combination is a popular dish in many Latin American and Caribbean countries, where plantains are a staple food.
Get the recipe for Fried Plantains
Southwestern salad is a great accompaniment to chili because it adds a fresh and crunchy contrast to the rich and hearty flavors of the chili.
The salad includes ingredients such as lettuce, tomatoes, corn, beans, avocado, and cilantro, which provide a variety of textures and flavors that complement the spices and meat in the chili.
Additionally, the salad is often dressed with a tangy vinaigrette or lime juice, which helps to cut through the richness of the chili and adds a refreshing burst of flavor.
Suggested recipe for Southwestern Salad
Corn pudding is a delicious side dish to serve with chili as the creamy texture of the pudding can balance out the spiciness of the chili.
Both corn pudding and chili are comforting and satisfying dishes that are perfect for a cold winter evening. They are both easy to make, in large batches, making them perfect for feeding a crowd.
Get the recipe for Corn Pudding
Pasta is a filling dish that you can eat with chili. Simply cook your pasta according to package instructions, and then top it with your desired amount of chili.
Some popular pasta dishes with chili include chili mac (chili with macaroni noodles), chili spaghetti (chili served over spaghetti noodles), and chili con queso (chili served with cheese-covered pasta).
Some variations include adding cheese, sour cream, or green onions as toppings for added flavor.
Get the recipe for Chili Mac
Roasted or grilled vegetables can be a great addition to chili. The char from grilling or roasting can add a smoky depth to the chili and the vegetables can also help to bulk up the dish and make it more filling.
Roasting or grilling the vegetables first can bring out their natural sweetness and intensify their flavor, which can complement the spices in the chili.
Some popular vegetables to add that you can grill or roast are bell peppers, onions, asparagus, eggplant, squash, and zucchini.
Get the recipe for Roasted or Grilled Vegetables
Hotdogs and chili have a long-standing relationship in American cuisine, as chili is often served as a topping or condiment on hotdogs.
This combination is often referred to as "chili dogs," which are hotdogs topped with chili and cheese.
They are often served with a side of fries or onion rings and can be found at baseball games, fairs, and other outdoor events.
Get the recipe for Chili Dogs
Hamburger and chili is a popular combination in American dining and is often called "chili burger."
You can serve chili on top of the hamburger patty or on the side as a dipping sauce. Some variations also include adding chili to the beef mixture before grilling the hamburgers.
Get the recipe for Chili Burger
Nachos is a dish consisting of tortilla chips topped with melted cheese, jalapenos, and other toppings such as sour cream, guacamole, and salsa.
The relationship between nachos and chili is that chili can be used as a topping for nachos. This combination is often referred to as "chili con queso" or "chili cheese nachos."
In this dish, the chili is heated and spooned over the tortilla chips and cheese, creating a delicious and filling snack or meal.
Get the recipe for Nachos
Crackers
Crackers can be a good accompaniment to chili, as they provide a crunchy texture and can help to soak up some of the excess liquid from the chili.
Some people also like to crumble crackers over the top of their chili for added texture and flavor.
They are readily available in grocery stores for a dollar or two.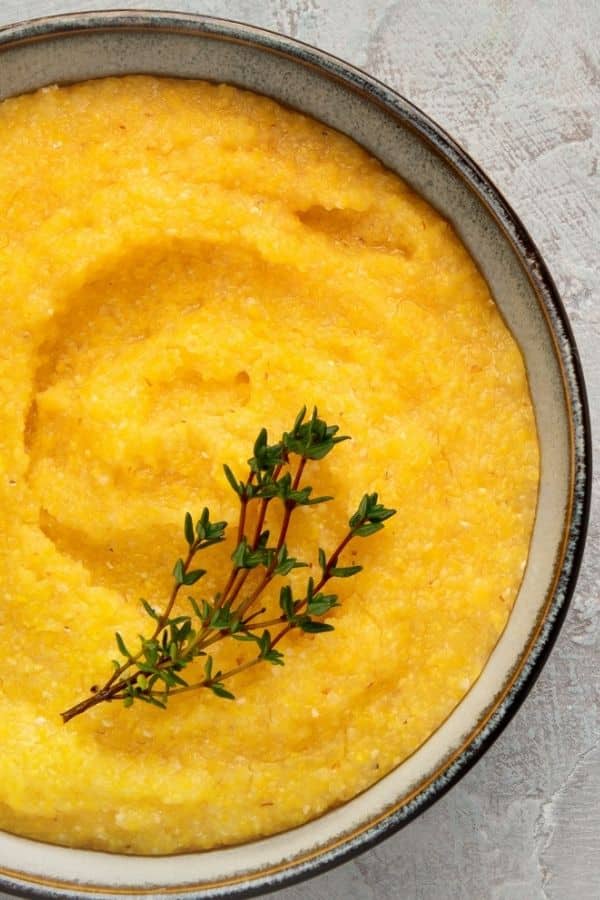 Polenta is a great side dish to serve with chili. It adds a creamy, comforting texture and can help balance out the chili's spiciness.
You can serve the polenta as a creamy, cheesy side dish or a crispy fried polenta cake. Both options pair well with chili and provide a great contrast to the bold flavors of the chili.
Get the recipe for Creamy Polenta
Another bread side dish that goes perfectly well with chili. The soft, warm dinner rolls provide a perfect vessel for scooping up the hearty and flavorful chili, making for a satisfying and comforting meal.
The bread also helps to soak up any excess liquid from the chili, making for a more enjoyable eating experience.
Additionally, the addition of dinner rolls can make chili feel like a more complete and substantial meal.
Get the recipe for Soft Dinner Rolls
Fries and chili have a harmonious relationship and when combined they are known as Chili Fries. The dish typically consists of fries (either crinkle-cut or straight-cut) topped with hearty beef chili and sometimes cheese.
Variations may include toppings such as sour cream, diced onions, or jalapeños.
To mention, here are some vegetables that you can make into fries: potatoes, sweet potatoes, zucchini, eggplant, and carrots. Top with chili, and they will turn out great and mouth-watering every time.
Get the recipe for Homemade Fries
Potato salad has a creamy and tangy taste, combining mayonnaise, mustard, and vinegar or lemon juice.
The potatoes have a slightly starchy and earthy quality and can be either soft or slightly crunchy depending on how they are cooked and prepared.
It is a common side dish that can complement the flavors of the chili and add a creamy, cool contrast to the heat of the chili. You can also add diced onions, pickles, or hard-boiled eggs to your potato salad to give it some extra flavor.
Get the recipe for Potato Salad
Another starchy-based dish that is perfectly fine with chili. To make, start by washing and scrubbing a bunch of potatoes, then piercing them with a fork or knife to allow steam to escape while baking.
Place the potatoes in a preheated oven and baked them until it is tender and fluffy on the inside and crispy on the outside.
You can serve baked potatoes with chili and top them with sour cream, cheese, or chives.
Get the recipe for Baked Potatoes
There are several sweet potato dishes that you can make that can complement chili.
Because sweet potato is a starchy root vegetable and is naturally sweet, it can enhance the texture of chili. In fact, you can add sweet potatoes as an ingredient to a chili dish to make it thicker and enhance the flavor.
Some sweet potato dishes that you can serve with chili are baked or roasted sweet potatoes, sweet potato mash, sweet potato cornbread, and many more.
Get the recipe for Baked Sweet Potatoes
Chili and tacos are a favorite combo in Tex-Mex cuisine. Tacos are a traditional Mexican dish that consists of a corn or wheat tortilla filled with various ingredients.
One common ingredient used in tacos is chili, which can be added as a topping or used as a filling.
Get the recipe for Tacos
Burrito-chili combo is another Mexican-inspired dish. Chili is a popular topping or filling option for burritos.
You can add chili to the filling of the burrito or serve it as a topping on the side. Some popular chili options include beef, chicken, or vegetarian chili.
Get the recipe for Chili Cheese Burrito
Buttery and melt-in-your-mouth biscuits are another bread type that you can serve with chili.
Chili is often poured over a bed of biscuits. The biscuits provide a warm and flaky contrast to the comforting bowl of chili, both perfect for cold weather or casual meal.
Get the recipe for Buttermilk Biscuits
Coleslaw is a mix of shredded cabbage, carrots, and onions tossed in a creamy dressing.
It has a tangy and creamy taste due to the dressing (mayonnaise and vinegar). The cabbage provides a crunchy texture and a slightly bitter taste.
The addition of other vegetables such as carrots and onions can also add sweetness and a slight crunch to the overall taste.
Refreshing and creamy coleslaw can help cut the heat from the chili, making it more palatable for those who find it too spicy.
Get the recipe for Coleslaw
Corn on the cob and chili have a complementary relationship. The sweet and slightly crunchy texture of the corn on the cob pairs well with the spiciness of chili.
The corn can be grilled or boiled and served as a side dish to the chili, or it can be cut off the cob and mixed into the chili for added texture and flavor.
The combination of the two is a classic and popular dish in many parts of the United States, particularly in the Southwest.
Get the recipe for Grilled Corn on the Cob
Can you serve a grilled cheese sandwich with chili? Yes, in fact, it's a comfort food like no other and often labeled as a chili cheese sandwich.
This sandwich has a crispy and golden brown exterior, with a gooey and melted interior. The taste is a combination of the salty and buttery bread and the rich and tangy flavor of the cheese.
For another layer of flavor, add toppings such as lettuce, tomato, and onions to the sandwich.
Get the recipe for Grilled Cheese Sandwich
If you like your bread with some hints of herbs and garlic, try focaccia. Focaccia has a savory flavor that is rich, buttery, and slightly salty. It has a chewy, light, and airy texture, with a crispy outer crust.
You can dip a piece of focaccia into the chili, or you can top the focaccia with chili for a tasty dish.
Get the recipe for Focaccia
Toppings
If making another dish is out of the table, top your chili with tried and true toppings like shredded cheese, sour cream, chopped onions, sliced jalapenos, crushed tortilla chips, guacamole, cilantro, green onions, salsa, and diced tomatoes.
More Side Dishes