Are you looking for a way to get a delicious dinner on the table quickly? No worries, these thin-sliced chicken breast recipes are your best buds on busy nights!
Whether you're using strips or cutlets, these satisfying meals are mostly ready in 30 minutes to less than an hour. Moreover, they are all flavorful, and the thin slices of chicken always come out tender and juicy! That is why this versatile protein is an all-time favorite ingredient.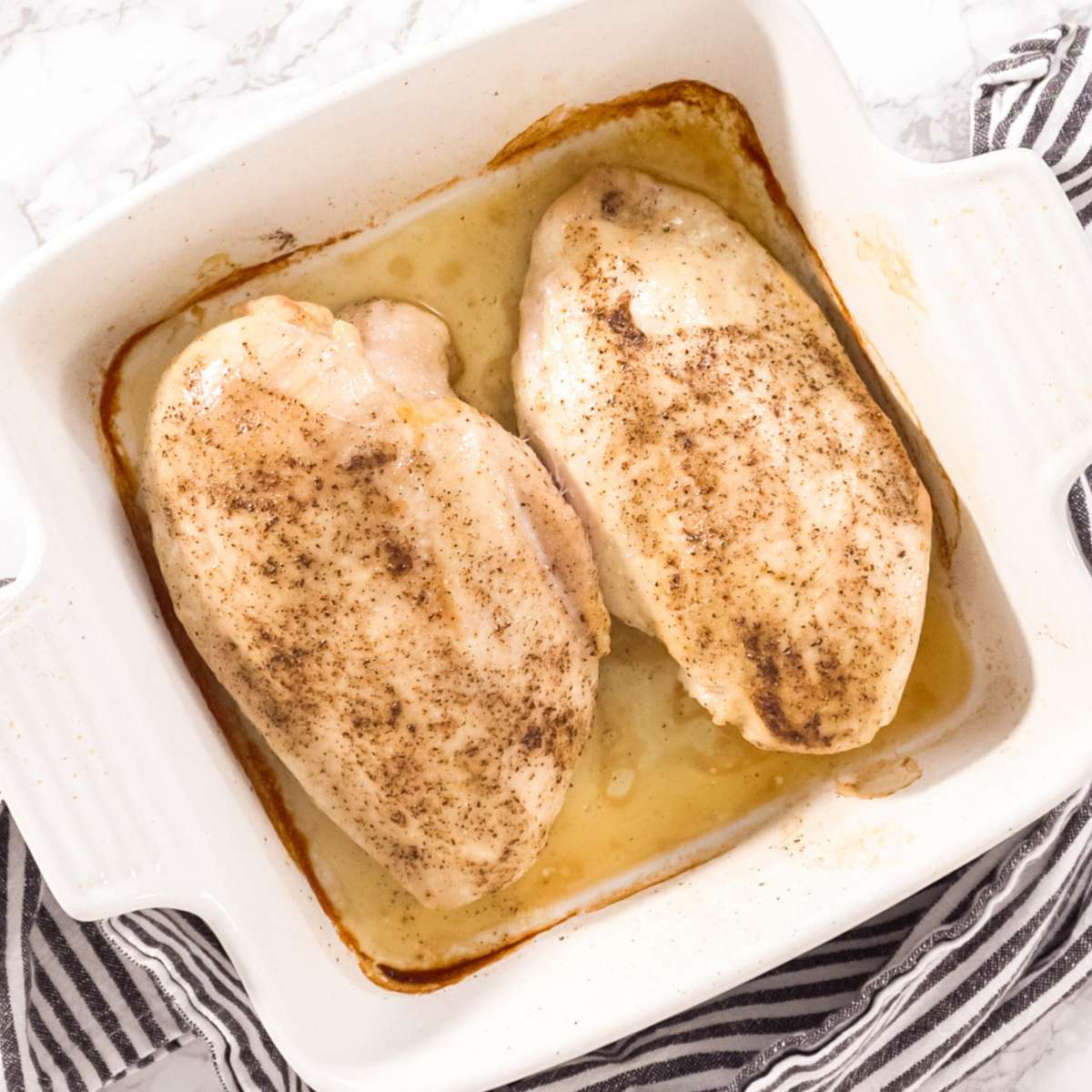 One great thing about slicing chicken breast into cutlets or strips is that it can help to speed up cooking times and ensure even cooking. Thin cuts of chicken cook more quickly than thicker pieces, which means you can have a flavorful meal on the table in no time!
You can easily add them to salads, stir-fries, or sandwiches. Season or bread them to consume on their own. And if you're feeling extra, have them with some side dishes like pasta, veggies, or your choice of sauces.
Below are the best recipes for thinly sliced chicken breast. Most of these dishes require no effort and are delicious, no less! Also, find tips on the best ways to cook chicken breasts, like air-frying, baking, grilling, and pan-frying.
What to love about it: no oil needed, crispy, breaded
Mess-free and no-fuss ways of cooking boneless, skinless, thinly sliced chicken breast in the air-fryer. And you'll get the same crispiness with those deep-fried chicken in gallons of oil. Best paired with air-fryer Brussels sprouts.
What to love about it: keto, low-carb, all you need to know about baking thin cuts of chicken breast in the oven in one place.
For your chicken slices not to turn out bland and rubbery, tenderizing the meat is recommended. Applying seasonings, rubs, and marinades are examples.
Cutting the chicken into 1/2 inch thickness and pounding with a mallet are other options. The recipe calls for a 15-minute marinade and another 12-minute baking time at 450 degrees F.
What to love about it: meal-prep friendly, cheesy, 15-minute recipe
If you love Italian dishes, this recipe will fix your cravings. It's garlicky and cheesy, and the thin slices of chicken breast are so tender and rich.
You can keep the leftover in the fridge for 5 days. The recipe uses 1/4-inch thick chicken cutlets pounded flat.
What to love about it: crispy, cheesy, 15-minute cook time, one-pan recipe
The recipe uses cutlets that are coated with a heavenly blend of parmesan cheese and panko bread crumbs. The chicken comes out nice and crispy with a cheesy, crunchy coating that's totally addictive.
What to love about it: gluten-free option, 5-minute cook time
The juicy and tender chicken is perfectly complemented by the crisp vegetables and rich, savory black pepper sauce that begs you for seconds.
The best part? This thin-sliced chicken breast recipe takes no time to put together, and it's even gluten-free friendly so that everyone can enjoy it!
Trust us when we say this dish tastes better than your usual Chinese restaurant takeout, and you won't even have to leave the comfort of your own home to enjoy it!
What to love about it: plenty of garlic, 15-minute cook time, one-skillet recipe
Indulge in the succulent and tender garlic butter chicken, basked in a luscious garlic butter sauce with a hint of wine, elevating its flavor to new heights!
This super easy stovetop recipe takes only 15 minutes to prepare and will surely become your family's favorite dish in no time!
Best served with rice or salad or any chicken side dishes you desire.
What to love about it: garlic sauce, 20-minute recipe, freezer-friendly
Get ready for an explosion of flavors with this Creamy Garlic Chicken! Picture juicy thin slices of chicken in a savory garlic cream sauce, all cooked in one pan for added convenience.
What to love about it: 4 ingredients only! 30-minute cook time, freezer-friendly
This is one of those thin-sliced chicken breast recipes that are creamy and flavorful that melts in your mouth, providing a sense of warmth and coziness on any evening.
With only 4 ingredients and a baking time of 30 minutes, you can enjoy this hearty dish quickly!
What to love about it: freezer-friendly, meal-prep-friendly, 30-minute recipe
Maximize your weeknight dinner game with this savvy ranch chicken breast recipe! Boasting a creamy sauce and bold ranch seasoning, this dish is the perfect way to add flavor to your meal rotation.
Serve alongside some fresh vegetables for a balanced plate, and drizzle the sauce over warm baked potatoes for a truly elevated experience.
What to love about it: flexible 30-minute recipe, seasonings can easily be substituted
This recipe features juicy chicken breast tossed with tender pasta in a creamy cajun garlic sauce, and it's easy to make in just a few simple steps.
For a complete meal, serve it with a slice of no-knead bread to soak up the sauce and a Caesar Salad to balance the flavors.
Expert tip: It is recommended not to use reactive pans like cast-iron - it will turn your sauce grainy.
What to love about it: easy date night recipe, 30-minute cook time
Treat your taste buds to a romantic Italian dinner with Chicken Marsala! This tantalizing dish features juicy pan-fried chicken cutlets and earthy mushrooms drenched in a luxurious Marsala wine sauce.
Allow yourself to be transported to a cozy Italian trattoria and savor the romantic flavors of this dish with your loved one.
What to love about it: low-carb, dairy-free, gluten-free, kid-friendly
Interested in trying a new twist on Kung Pao chicken? This recipe swaps out peanuts for cashews and adds additional vegetables for a balanced meal.
The dish still delivers on the spicy and savory flavors Kung Pao is known for, but with a unique twist. The recipe uses thinly sliced chicken breasts, making cooking easy for 30 minutes.
What to love about it: meal-prep friendly, creamy, 25-minute recipe
Don't settle for boring old chicken dishes – try this easy chicken piccata recipe and take your taste buds on a journey to Italy!
With a zesty lemon butter caper sauce that's bursting with flavor, this dish is sure to become a staple in your recipe book.
And the best part? It's quick and easy to make, with just a handful of ingredients you probably already have in your kitchen.
What to love about it: Mexican flavors! 30-minute recipe
This chicken fajitas recipe is an absolute winner and will surely become a favorite in your household.
Juicy and tender chicken breasts are paired with crisp peppers and sweet onions that are seasoned with a homemade blend of spices.
To elevate the dish further, try topping the fajitas with cheese, sour cream, guacamole, and Pico de Gallo.
What to love about it: beginner-friendly, 18-minute cook time
You don't have to be a chef to make this amazing Chicken Alfredo recipe!
Just fry up seasoned chicken breasts, toss in some tender noodles, and smother everything in the creamiest, dreamiest sauce you've ever tasted.
And the best part? It's all done in just over 33 minutes!
What to love about it: protein-loaded, a complete meal, 20-minute recipe
Who says fried rice has to be a side dish? This fried rice is packed with flavor and texture, from the perfectly seasoned chicken to the medley of veggies, fluffy eggs, and salty bacon bits.
And since it's hearty enough to serve as a meal on its own, it's the perfect solution for those days when you want something filling and satisfying without much fuss.
You will also love my version of egg fried rice.
What to love about it: flexible spice level, customizable ingredients, 25-minute recipe
Who needs takeout when you can make this incredible chicken curry at home?
It's seriously better than anything you'll get at a restaurant, with a creamy and flavorful sauce and customizable veggies all cooked up in one skillet.
Expert tip: Slice the chicken breast into small strips, and cut against the grain.
What to love about it: smoky flavor, 10-minute cook time
Ready to take your taco game up a notch? These healthy chicken street tacos are the answer!
Imagine juicy chicken breasts coated in a flavorful spice rub, grilled to perfection in a cast iron skillet, and nestled in warm, charred tortillas with all your favorite toppings.
Sounds amazing, right? And the best part is, they're healthy too!
Expert tip: Cut the chicken breast into same thin slices for even cooking.
What to love about it: meal-prep friendly, refreshing taste, 30-minute cook time
If you're looking for a dish that will transport you to a world of Asian flavor, look no further than this chicken satay recipe.
The marinade is absolute perfection, infusing the chicken with a mouthwatering blend of fish sauce, lemongrass, sugar, lime, and turmeric.
And when paired with the homemade spicy peanut sauce, it's an unbeatable combination.
What to love about it: meal-prep friendly, freezer-friendly, low carb option, 15-minute cook time
If you're tired of the same old boring dinners, it's time to switch things up with these delicious chicken gyros.
With juicy herb-marinated chicken strips, a refreshing cucumber salad, and creamy tzatziki sauce all nestled inside soft pita bread, this recipe is bursting with flavor.
And because it's quick and easy to make, it's the perfect solution for busy weeknights.
What to love about it: the sauce! smoky charred thin cut of chicken breast, 6-minute cook time
What to love about it: light, fancy, loaded with veggies, can be made ahead
What to love about it: 20-minute cook time, lemony, restaurant-quality
What to love about it: the sauce! cheesy Mexican flavor, 25-minute recipe
What to love about it: Italian flavors, crispy, 30-minute recipe
Expert tip: Butterfly the chicken breast into thin cutlets and pound to tenderize them
There you have it! In summary, thin-sliced chicken breast recipes are your go-to dishes on nights you are short on time and only have a few ingredients on hand. They are all a must-try and are absolutely delicious!